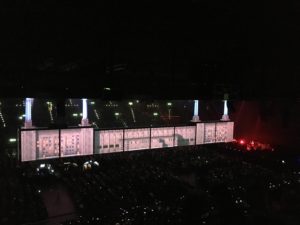 Switzerland with all its wealth, calmness and neutrality cannot be further away from the messages and images that Roger Waters tries to convey. Perhaps only the abundance of nuclear shelters, located in almost each building can somehow fit into grim tale that Floyd's former basist tries to convey. Well, he made a joke about them just before encores – "they won't help you", he said.
Waters brought to Zurich his standard set of songs – a mixture of Pink Floyd classics and a couple of songs from his newest record. His choices for the setlist have been already disputed for a very long time. Some of the classics he decided to play are rich in Gilmour notes, what, at least for me, makes his selection odd and their vibe (still very good) lacking this sublime amalgamate of David's voice and screaming guitar. Most likely, for the casual fans it does not make any difference. At least partial justification for playing WYWH or Time comes with the songs from his solo album (only the last one, unfortunately): most of the people use them for bio-breaks and beer refills. Would it be any different if he decided to play some of the earlier solo or Floyd materials?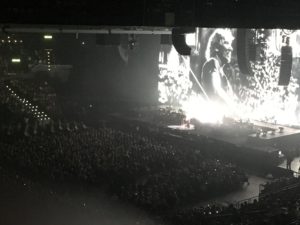 His rendition of "Animals" is the highlight of the show. It is really powerful in terms of visuals, but most importantly music. For me it is the only moment during the show, where Sean Evan's style mixed with the old Floyd style really works. The rest of his visuals is either clear recycling form The Wall tour from a couple years black or candy mirages that bleak when compared against the old Floyd visuals. Pink Floyd were famous for the light shows, even during the solo tours David and Roger kept some of this affection and served fans some light art during their tours. Roger's light show is rather dull and extremely simple. Again, the whole show is like a sinusoidal – great moments are separated by not so good.
If there is one thing that really annoys me during the show, it is the Lucius singers. They are doing great job on backing vocals and I believe their take on A Great Gig in the Sky is getting pretty decent. But their behavior on t
he stage forces me to look somewhere else!
For the person who made out a pretty decent income from complaining about the lack of contact with his audience, the show is rather to the contrary of this scenic outlook. He points, he looks, he hits his chest a lot, but all of this looks like acting and not a real interaction with the fans. Enough to say that the only time he speaks to the audience comes just before the encores.
Overall it is a typical Roger Waters' show – full of politics, Pink Floyd classics and spectacle (including acting and deceiving the audience). Is it worth to see it? Yes, definietly. Is it the best Roger could offer? Rather not, but for me the 30 minutes with Animals compensates the cons.
Review Courtesy Of Jakub Zimoch
---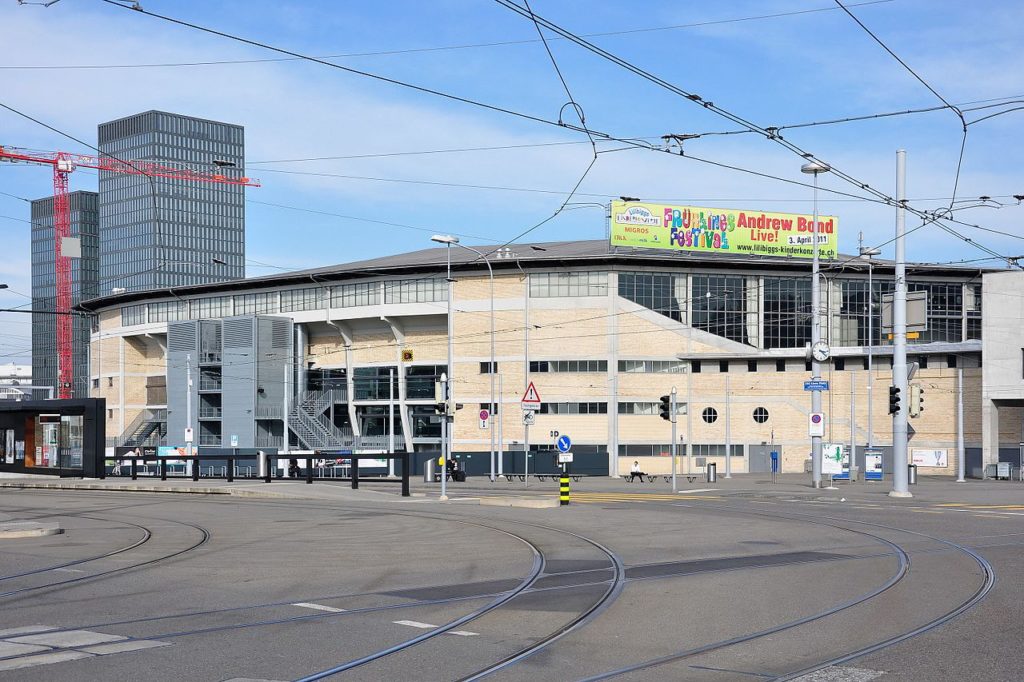 Capacity 17,000+
The Hallenstadion (German: Zürcher Hallenstadion, Zürich Indoor Stadium) is a multi-purpose facility located in the quarter of Oerlikon in northern Zürich.
It is home to the ZSC Lions of the National League (NL) and has a capacity of 11,200 spectators. Designed by Bruno Giacometti, it opened on November 4, 1939, and was renovated in 2004/2005.
---
Can YOU help? We are looking for any material related to this show. Scans of posters, news items, ticket stubs, show pictures, or anything else you may think be of interest to our visitors. Thanks. Please send any show material to liam@pinkfloydz.com