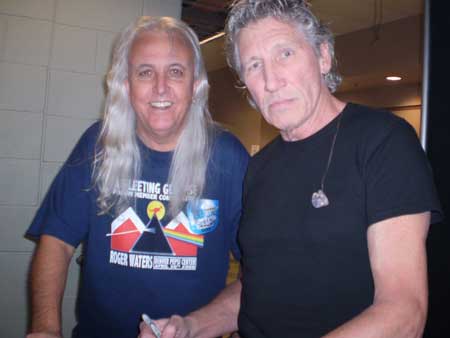 This is not a review of the show more like a sharing of some of my experiences whilst in Denver.
I arrived in Denver in the late afternoon, the day before the show. I had spent the two previous days in Vegas, trying to shake the jet lag after a long trip from Australia. (It didn't work, because the nightlife in Vegas kept me out until the early hours of the morning both nights I was there!)
My trip had been sponsored by members of the PINK FLOYD FORUM and I managed to catch up with around 30 of them for dinner that night. (Great night, pictures & comments in forum).
The day of the show, I had a quick look around Denver, that was baked in brilliant sunshine. (Not like the next morning when it snowed!) Then early evening it was off to the Pepsi Center with a whole bunch of other forum members.
We arrived early, and met up with even more forum members at the local bar, and got to meet & greet some folk who hadn't been able to make dinner the night before.
I had to get into the venue early, as I had been invited to meet Roger backstage prior to the show. I was allowed one guest, and took along my friend MikeWiseman.
Mike & I were escorted backstage by Roger's Security Manager Dave Sauter (Thanks Dave!) and shown to the hospitality area and invited to eat or drink what we wanted, whilst we waited for Roger. (We passed Jon Carin on the way in). Then we sat there for a few minutes chatting to some of the crew (and watching Chester put on his cowboy hat and glasses & proclaim "I am Andy") (In joke).
Then a very good friend from the forum, called us over to meet some other members of the band.
First to arrive was Graham Broad, who at first looked a bit bemused by my firmly grabbing his hand, and vigorously shaking it! However I think Graham soon realised that I wasn't there to steal his wallet, when I reminded him of our previous meeting in Sydney in 2007. (I was staying in the same hotel as Roger & the band, and bumped into Graham in the hotel lobby, where we had a conversation about the show, and his then upcoming trip to New Zealand).
Next to arrive was Dave Kilminster. Dave had spent time answering questions on the forum back in January, so we had an immediate affinity. We greeted each other with a huge hug, and I felt as if I had known him personally all my life. Spent quite some time chatting to Dave. I have to say I think he's a HUGE talent, and will go on to be a highly successful artist in his own right. (Bigger than he already is that is).
Poor Snowy White was the next victim of my handshake. Snowy said he remembered meeting me in Sydney in 2002, and Brisbane in 2007. We had a quiet chat. Snowy is such a shy and unassuming person.
Next victim to step up to the plate was the effervescent Ian Ritchie. I hadn't had the pleasure of meeting Ian before, but must say he has the cheekiest grin! I also thanked him for the link to my site. (Another in joke)
After all the stampede of meeting the band, Roger's Manager Mark Fenwick, and Tour Manager Andrew Zweck came out to meet us. I had met Mark before in Brisbane in 2007, and Andrew briefly in Sydney in 2002, so it was nice to have a starting point to talk about.
I had quite a long conversation with Mark (and obviously thanked him for his hospitality) and was knocked out by some of the nice things he had to say about me, and the site. We had a bit of a laugh & joke about an envelope I had given to him to give to Roger, and I felt really welcomed by him.
Same with Andrew. We had a good chat about a number of things, especially about Australia (where he was born). Andrew also admired the T-shirt I was wearing, and asked me who designed it (It was RonToon from the forum). I asked him why they did 'fly ins', at some venues (Where Roger and the band fly into a city, and fly out again straight after the show.) Andrew said that way the band and crew get more rest days between gigs.
'5 minutes to the show' somebody announced. Oh no! I thought, we are going to run out of time to meet Roger again (as happened in Brisbane in 2007, when he only had about a minute to chat with me).
Mark (or maybe it was Andrew), could see that time was running out and the show had to start on time. So, he suggested we come backstage again during the interval to catch up with Roger.
So walking on air, we managed to get back into our seats just as the show began. I was high on life for the first part of the show, and just got totally into it, with a great inner glow, knowing that I had just met the majority of the band. (OK, so I'm an old groupie!)
The first set went by in the blink of an eye, and as the final notes to Sheep were played I got myself psyched to meet Roger.
I made my way backstage again, and met Michael there. A couple of the band were milling about, and Mike & myself both congratulated them on a great first set.
We then made our way back to the hospitality area, and a couple of minutes later, we caught of with Mark Fenwick & Andrew Zweck again. Once again, they were both very affable & friendly, and made me feel like I was a special guest.
Time to go. Roger appeared outside his dressing room, and signed a few baseballs, and then Andrew took us over to meet him.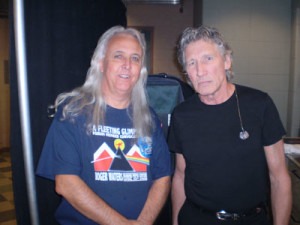 We shook hands (I tried to be gentle!) and I introduced myself. I mentioned our meeting in Brisbane in 2007, and he said 'Oh Yeah' when I broached the subject. He was in a very happy mood. We then had a quick trip down memory lane, when I mentioned seeing him at UFO (I think this is the third time I have mentioned it to him!) He seemed aware that I had flown over from Australia especially to see the show, and I did tell him that I thought the show was just fantastic, and that is really what I think!
At one stage I lapsed into Aussie mode and started to call him mate. He was quite relaxed about it, and started to refer to me as mate in return.
Whilst all this was going on, Mark Fenwick was taking the pictures you see on this page of Roger & myself.
Then Mike came in, and I introduced him to Roger. They had a brief chat, and I could see that Mike was beaming from ear to ear!
Then it came time for Roger to sign some things for us both. Roger asked me who I would like them made out to (Ben, if you read this, mission accomplished mate!) . When it came to an album cover I wanted Roger to sign, I asked him if he could please make it out to COL. He said COLE and I said, no, that's how you spelt it in Brisbane last year. He said 'It's the way you pronounced it mate' and I shot back with, 'no, it's the way you are hearing it' and we both had a laugh over that.
I then plucked up the courage to say one other thing to him, and said, 'Hey Rog, can you please keep touring forever'.
He gave me a wry grin.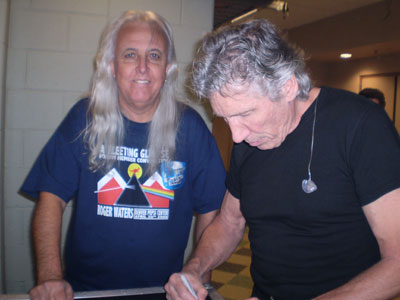 Special thanks to Mark Fenwick, Andrew & Mike Zweck, Kate Watkins, Dave Sauter. (And of Course, Roger Waters)
From the forum, special thanks to Mike Wiseman, Suzanne, Ron Toon and all the others who made this possible.
I have decided not to review the show, as Ron Toon has written one of the best pieces I have had the pleasure to have read for a long time. You can read Ron's thoughts below.
Also, don't forget our sister site BRAIN DAMAGE have full coverage of this tour.
—————————————————————————————————————————
Show Review & Comments By Ron Toon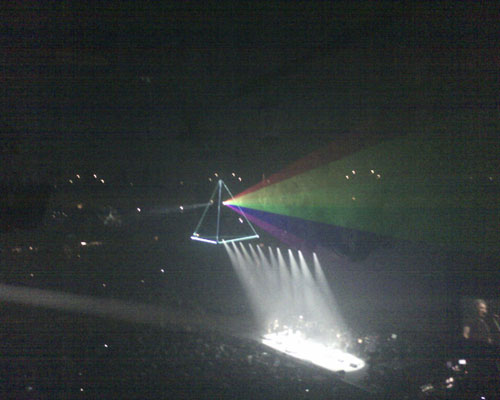 I've seen a few Pink Floyd shows in my day along with all of their solo tours. This is the 2rd time I'm seeing this DSOTM tour, each one almost a year apart. I've been critical of this show/tour in the past but still have praised it for the most part despite some criticism. I complained about Roger singing along with a pre-recorded vocal track at times (not what I would call lip synching), playing DSOTM in its entirety (which I felt came off like a cover band doing it since Roger simply plays bass for most of it with few vocals, and covering Gilmour's at times…since he only really sang the closing tracks on the album), and not playing nearly enough of his solo material (Perfect Sense being the only song performed… along with the unreleased Leaving Beruit, which we've only heard as a demo). But before I start my review/rant I'd like to explore the evolution of this artist in order to establish a context of this man's solo career.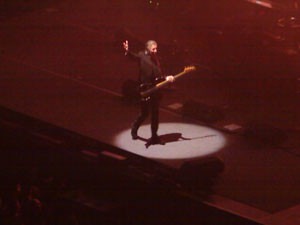 What has happened to Roger since 1984? He left the band to become a solo act releasing a very uneven Pros and Cons album. The stage show was very elaborate but the entire 2nd half merely confused and bored a large percentage of the crowd (not counting the hardcore fans of course, but we were in the minority at these shows). After years of avoiding the press as Pink Floyd and creating anonymity for the band members, Roger attempted to establish himself as a solo act by distancing himself from "classic" Pink Floyd songs by reinventing/reworking the songs and putting a new spin on them. Personally, I hated what he did to songs like WYWH. He struggled with the 1984 tour a bit and realized that the Pink Floyd name thrown in for good measure might help get him recognized a bit more and started adding it to tour ads and even the tour program was changed.
The KAOS tour was a paradox, distancing himself even more yet trying to credit himself for the old material at the same time. This was a very dark time for Roger, competing with the touring Pink Floyd machine who was once again selling out stadiums while Roger couldn't fill up smaller venues. Again the classics were reworked and Jim Ladd reminded us during the performances that these were the "words and music of Roger Waters." Many people still didn't know who Roger was and most didn't care, opting to see what they perceived as the "real thing" instead.
In the early 90's Roger released ATD, what many consider his best solo effort. But Roger didn't tour to support this album. Maybe this was a new catalyst to add to the further mystique of the man and also start a snowball effect of fans craving to see Roger tour once again. The establishment of the internet also helped Roger earn a lot of recognition that was lost over the past years.
By the time Roger came back in 1999 for a new tour, we were all raving and drooling and ready for the return of this legend. Roger approached this tour with some hesitance. Let's face it… it was pretty scaled back and low budget at first. I'm sure that Roger wasn't ready for the amount of popularity he had gained over those dormant years. He finally started to feel the love from his fans, gaining the personal popularity he genuinely deserved as a solo artist. He embraced his Pink Floyd past full on this time. Without having new solo material to support, he dug into the Floydian cannon bringing back the classics and performing them as they were originally recorded. Instead of distancing himself from this material, and alienating some fans by doing so, he embraced his past and performed them faithfully. The solo material was received well by many, but still signaled bathroom breaks for quite a few. I'm sure that this was very apparent from the point of view of everyone on stage. The tour grew and continued for the next few years and the low budget visuals got a kick in the ass along the way. But most of all, Roger was in love with performing again and most of this as due to the reception that he was getting from fans during and after the shows.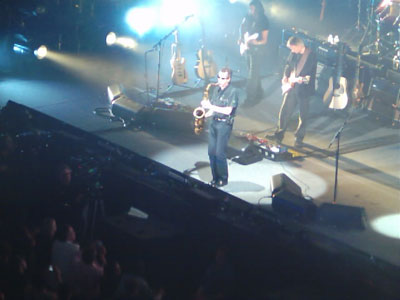 Live8 was the clincher. He was already happy and was putting the past animosities to rest. He was deeply moved by joining his old band mates on stage. The tide had turned. The bitter old man was gone, replaced by the man who now had every right to reclaim his past glories. This was finally Pink Floyd once again, and when the 4 men left the stage that night, things would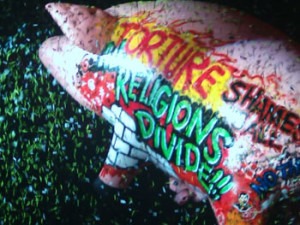 never be the same. Roger was once again in love with his past and had come to terms with all that had happened since the final cut. Some may ask why it took so long, but hindsight seems to put this all into perspective. It was now time to regain the thrown.
Fast forward to this current tour, now going on its 3rd year. There is no question of who Roger is or what he's done. He's giving the masses what they've been craving for, the "classics", forgoing almost all of his solo material. While many hardcore fans are disappointed by the lack of solo material, the other 90% of the crowd could care less. He's giving the people what they want, big budget visuals, which are brilliantly and THEMATICALLY conceived, and all the classic Floyd stuff that most could handle before collapsing into exhaustion. The old timers like me are loving it all right along side a new generation who may have only recently discovered DSOTM and The Wall. While I loved Gilmour's OAI shows, it is now Roger who has grabbed the Floydian batton and is running with it like a youthful sprinter.
Now, how about that Denver review Ron?
Un-fucking-believeable! This is a band that has played this show together for 3 years. They are more than tight… they know each other, and like each other and this has become very apparent. Nobody is Gilmour but David himself but Kilminster is the greatest guitarist that has ever stepped into his very large shoes. He is simply phenomenal. The sound at the Pepsi Center was loud (but not too loud) and crystal clear. The visuals, while not on the scale of the recent (and "legendary") Cochella show, were still impressive and vital to the show.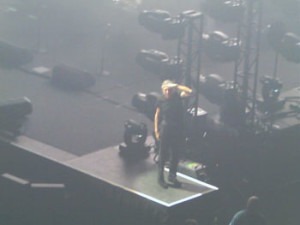 In The Flesh was an amazing start and immediately whipped the crowd into a frenzy but Roger just as easily settled everyone down for Mother. Set the Controls has evolved into a masterpiece. The duel between Ian and Jon is now amazing but its the incendiary solo by Snowy that climaxes the bridge into a musical explosion. I was jumping up and down the entire time, and that's not easy to do after only a day in mile-high Denver. I even forgave Roger for dropping the 2nd part of Shine On, abridging the 1st half of the suite. It was simply wonderful and once again Ian recreated Dick Parry's solo very faithfully. WYWH always seemed to be more of a song for Gilmour to perform, but now that Roger is performing it faithfully to the original, I could care less about David and Co's version. The Final Cut songs were terrific and surprisingly well received by the crowd. And as for Fletcher, the vocals actually sounded different here. Where Roger used the pre-recorded track on almost every performance (as one can witness from the countless bootlegs from these tours) I could swear that there were some subtle differences this time around. As soon as some recordings surface from this show we'll know for sure. For some reason, Perfect Sense is now being embraced by much of the crowd and even the folks who are unfamiliar with it are digging this song. The nuances of PP's vocals, along with her physical performance is inspiring and is better than it has ever been. The crowd, and I mean everyone, went nuts at the climax of this song. No inflatable spaceman, but IMHO, that was one of the weakest (and dopiest) part of the visual presentation. Then there's Leaving Beruit. This song is a bit of a schizophrenic paradox to me. On one hand, its a poignant memoir of a youthful Roger's experience hitch hiking home from Lebanon and being taken in by a poor family. This is portrayed during the moving instrumental passages which are fantastic. Chester did a fine job subbing for AFL, staying faithful to Andy's past performances and at the same time adding a bit of himself to the mix. I love the fact that he was wearing glasses and a cowboy hat seemingly channeling Andy by doing this. But I'm afraid that most of the lyrics portray a political agenda, taking a stab at modern day politics, and alienating quite a few people at the same time. A beautiful and poignant memory turns into a Bush/Christian right tongue lashing. I still love this song even though I find it seriously flawed. And the new climax, with Chester's final solo being accompanied by the lady's escalating backing vocals was a welcome and surprising moment that gave me chills. A few folks left (for good) during this song, but hey… that's their loss. If anyone was bored or confused by this song then Sheep quickly rejuvinated the crowd, and for me was the crowning moment of the 1st set. Another song that had me jumping in place to the point of exhaustion.
The DSOTM set was wonderful and I no longer look at this group of musicians as simply a cover band… they go way beyond that and I now feel that I was wrong in ever thinking anything otherwise. By treating this piece, along with all of the other Pink Floyd compositions as classical pieces to be respected and recreated as pieces of "classical music" puts a new perspective to this masterpiece. I loved every note. The highlight was Ms Kenyon's mind-blowing vocal performance of GGitS which brought tears to my eyes. This woman's knees/legs were shaking during her vocal performance and her physical actions were simply breathtaking. After the 1st 3rd of the song finally wound down the crowd erupted into a volume of applause that went beyond any previous response/reaction of the night. At the end of the show the 3 singers were introduced to the crowd with Carol being the last of the 3. Once again the crowd erupted as if she has just finished GGitS. Simply amazing.
The encores were a glorious celebration of The Wall. In particular, Bring the Boys Back Home seemed to have a new meaning for us all. Taken out of context of the album, I don't think that there was one person in attendance who was singing along at the top of their lungs who wasn't thinking about our current situation and our brave men and woman who are currently serving overseas. After Comfortably Numb, I don't think that we could have handled any more.
I've always said that the Animals tour was my favorite and that the original Wall show had the best visual presentation but now I am hard pressed to place them along side of this show. But why the need to even compare? Isn't it just enough to say that this was one of the best, if not THE best show I've ever seen despite some (what are now) minor criticisms. And having 30+ new and wonderful friends in attendance certainly helped to raise this show to a new level. But don't take my word for it, I think you may all soon be able to see exactly what I'm talking about.
Roger is back and better than ever and IMHO, THIS was the show to be at!
Show pictures thanks to Tim Scribner