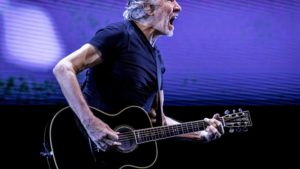 From out of the dark two looping sentences rebound and echo around Spark arena, tumbling into each other repeatedly before erupting into laughter.
"I've been mad for f**king years. I've always been mad."
A controlled shrieking from one of Roger Waters' two platinum blonde back-up singers rises above a cacophony of helicopter engine noise, heart beats, cackling thunder and a deep rumble that reverberated up from the floor and and shook your bones before the soothing, medicated chords of Breathe (In the Air) washed the madness away.
Waters doesn't sing on this one but the opening song's sedate groove and soaring guitar lines are anchored by his languid bass licks. Clad all in black and looking healthily grizzled Waters attacked the notes, aggressively striking his instrument, hunched over and contorting.
That's how he plays the mind-expanding flights of Pink Floyd's stoner rock. On the next song he really cut loose. Taking the spotlight he brutalised an extended run through the Dr Who style intro of Floyd's psychedelic jam One of These Days, even sneaking in a sly bass solo before the band kicked in to its hard rock outro.
It's on Time that he first takes the mic, gnarling his words, his body jerking and his neck violently snapping back at the end of each lyric. He stood in stark contrast to the shaggy hippy vibe given off by his rhythm guitarist who took on the Dave Gilmour role in Waters' crack band.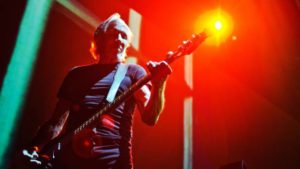 Well, Pink Floyd was always about that contrast. They were also about putting on a show and last night Waters put on something truly spectacular. There was no wall but after the intermission a screen barrier descended from the roof, dividing the arena and showing various projections. It was the Animals factory, a wall and, in stunning graphics, a savage attack on Trump.
After a highlight reel of the President's most offensive quotes and a looping sample of Trump bragging 'I won," the band launched into a searing run through Money, complete with that jazzy sax solo and brain piercing gat solo as ultra stylised memes of Trump and Putin cosying up fryed our eyes.
Welcome to the Machine
was another fierce highlight, bathing the audience in an unnerving red light while Waters thumped around the stage beating his chest and egging the crowd into pumping their fists in the air, political rally style.
Another Brick in the Wall was potently funky and saw Waters joined by a line of Auckland kids, clad in ISIS jumpsuits and hooded masks that they eventually shed to belt out the song's iconic lyric, "We don't need no education". This also saw Waters cracking a rare smile as he watched the kids doing their synchronised dance.
Waters didn't say much, but when he did it was heartfelt. "I promised I wouldn't make a political speech", he said before applauding our nuclear free policy ("F**king good for you!") and giving a personal shout out.
"I can't let this opportunity go by, being in New Zealand, to tip the hat to one of your own, Lorde," he said. "If anybody knows her tell her I'm trying to get hold of her to share a glass. You're a strong, brave woman and I admire you."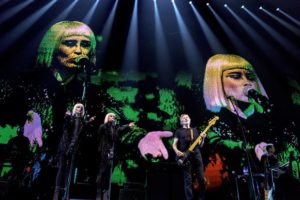 It was the first gig of the year for Waters and he was clearly feeling it. A little later, his eye caught by the impressive CGI graphics playing on the giant screen behind him, saw him pause and say, "Sorry, I'm gonna take a moment to enjoy it. Thank God for German technology," before wryly adding, "Not that there is a God, but you know what I mean."
Yes, a giant inflatable pig made an appearance circling high above the arena to the delight of everyone. It's pretty hard to top a flying pig but Waters managed it. How? Lasers.
As the anaesthetised chords of Comfortably Numb wafted over us a towering laser pyramid shot up and out over the audience, recreating Dark Side's iconic cover and floating above our heads before exploding into a shower of confetti as the fantastic gat solo wailed away to end the show.
The Floyd songs, of which the set was mostly composed, obviously soared. The way those moments of searing anger and heaviness melt away into trippy floaty jams of light and relief never failing to immerse. Matched with the never ending visual feast which took you from the outer limits of space right down to the back alley's, juxtaposing suits with pigs, war time drone footage with children, dancers and casualties it was equally outstanding and effective.
Waters has lost none of his fiery anger, his targets as familiar as the riffs from his catalogue of hits. Not only did Waters put on one hell of a show, he left you with a lot to think about. He plays again in Auckland on Friday before heading down south so whatever you do, don't wish you were there, just go.
Review Courtesy Of Karl Puschmann
---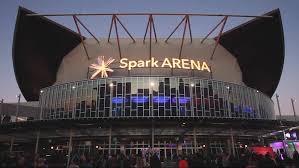 Capacity 12,000+
Tickets
Spark Arena (formerly Vector Arena) is a multipurpose arena in Auckland, New Zealand.
Named for sponsor Spark New Zealand, the venue is located at Quay Park, Parnell, very close to the former The Strand Station. The arena cost approximately $94 million, and of this sum ratepayers contributed $68 million for the facility to be managed by QPAM, the NZ operator, in New Zealand's first big public-private partnership. This runs for 40 years before ownership is transferred to the city.
After delays due to construction-related issues, the arena's first concert was Rock Star Supernova on 24 March 2007.
---
Can YOU help? We are looking for any material related to this show. Scans of posters, news items, ticket stubs, show pictures, or anything else you may think be of interest to our visitors. Thanks. Please send any show material to liam@pinkfloydz.com