By Col Turner
We arrived in Sydney around 2pm on Thursday 4 April (The day before the first Sydney show). I had arranged to meet Keith Collyer (an internet friend & a member of the mailing list Echoes ) who had just arrived that morning from the UK. So I phoned Keith and set up a meeting for 3.30pm at his hotel lobby.
My wife and I set off for the Regent Hotel to meet Keith and he duly appeared promptly at 3.30pm. Within minutes his wife Janet joined us in the lobby of the Regent, where we had a few minutes getting to know each other in person.
It was then that I spotted a very familiar face at the Hotel reception desk. I excused myself from the group and went up to reception armed with my camera. It was there that I introduced myself to none other than Harry Waters. Harry was with a young woman, whom I assumed was his girlfriend.
I chatted with Harry for a few minutes, telling him that I had seen his father perform many times before he was even born. Harry said that he was having a great time touring with his Dad and that it was a wonderful experience for him. He seemed quite surprised that anybody had recognised him and I said that I had picked him out because I had a number of photos of him on my web site. He was very interested in this and asked me the URL (He actually said "URL" so I assume he uses the net). He then asked me to repeat the URL, than said he had "got it" and said he would have a look at my site later on that night.
Feeling somewhat bold I then invited him and his lady friend out for drinks. To my surprise, he actually thought about that for a while but then said he wasn't sure what had been arranged for them that night but thought they might be going out for dinner.
He said it was fine to take some pictures, which I duly did. I thanked him for his time and then went back to join my wife & Keith and Janet.
It was only then that I realized that I didn't have a picture of myself and Harry, so I grabbed hold of Keith and we both went back to where Harry was standing and asked if he minded having his picture taken with the 2 of us. While we were getting organised to have the picture taken, I asked Harry about his sister India Waters and quick as a flash Harry turned to the girl he was with and introduced me to her as his sister!
As soon as I looked at her I could see the resemblance to her father and she was absolutely charming to me and gave me the cutest smile!

We then had a series of pics taken (which sadly didn't turn out too well). I asked both Harry & India if they would be at the back stage meeting I was going to have with Roger the next night and they both said they hoped to be there. We thanked them and let them go on their way, with many smiles and a wave of the hand.
MEETING ROGER
This was the big day. I was due to meet Roger at 7pm that night, half an hour prior to the show, but I received a phone call asking if I could be at the meeting point at 6.45pm instead. This wasn't a major hassle but I had set up a pre-show meeting of fans in the local pub (Glasgow Arms) at 4.30pm and this meant I would have less time to spend with my internet friends.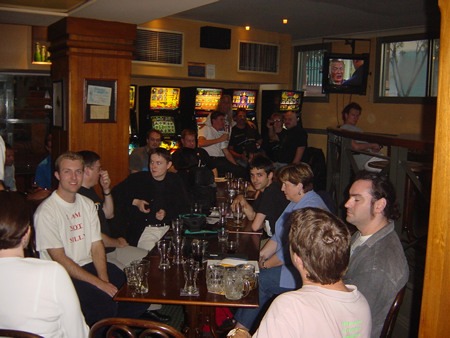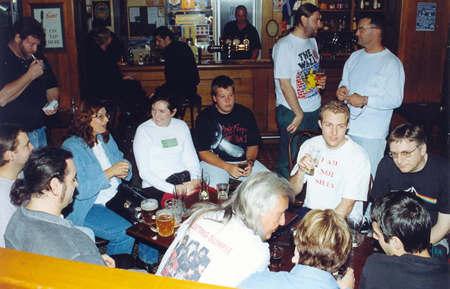 What a great turn out this was! I counted 43 people, somebody else counted 47 and yet another said there were 30! So let's say around 40 Roger Waters fans had a great few hours getting to know each other! I am not even going to attempt to name everybody, as I would be bound to forget some and they would be offended. However, we did have 3 English guests, including Keith Collyer, who had met Harry & India Waters with me the day before and John Elliot & his wife whose name I never got. There was also a good turn out of Kiwi's who had flown over for the concert/s.
AND NOW
The moment I had been waiting almost 36 years for was rapidly approaching. I had had plenty of chances to talk with any of guys from the Floyd in the past at UFO. They literally were within a few feet of me many times (including Syd) and I had never really plucked up the courage to speak to them then. Now I was about to do something I should have done all those years ago.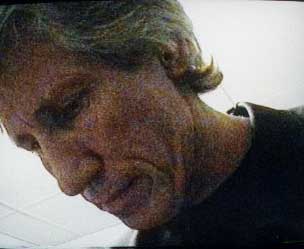 But First….
We had arranged to meet the folk who were taking us in at the front ticket office. I had been told that I was allowed to bring one guest and I chose my good friend Dion Johnson to join me to meet Roger. Dion & I decided to take our partners with us on the off chance we may be able to get them in as well, we were not very hopeful though! At 6.40 we presented at the front ticket office and waited for our escorts.
I had on my 'Fleeting Glimpse' T-shirt that was getting a LOT of attention from the crowds that were starting to build up. One bloke stopped and had a chat and introduced himself to us as Michael, We told him we were just about to go in and meet the man himself and Michael was gobsmacked! Then our escorts arrived and we were put with some of the folk who had won a competition to meet Roger. Time was slipping by and a few of the winners hadn't turned up! It was getting ever more evident that if they didn't turn up soon then they were going to miss out. Finally our escorts said it was time to go but still only 4 of the 10 prize winners had turned up! So………..Chris (my wife) and Nerine (Dion's girlfriend) suddenly became winners! But wait, there's more! Remember Michael? Well Michael became an instant winner to! I will never forget the look on his face when I invited him to meet Roger "I Love you man" he simply said.
If you are doing your math, you will see that there were 9 of us going to meet Roger, two prize winners and their partners and my four guests and myself ! We probably could have snuck in another three people as well!
This was it, the big moment had arrived! We were taken to the stage door and asked to wait with security. The show was due to start at 7.30pm and it was already 7.05pm and we were still waiting! Then another small drama when one of the missing prize winners turned up at the front door but it was too late to let them in, so they missed out.
Finally the door was opened and we were let in to a long corridor that ran under banks of seating and down to the left hand side of the stage. There we were shown into a dressing room and asked to wait for a minute. I was close to the door and kept sticking my head around to see if I could see Roger. It was while I was doing this that India walked towards the dressing room, I called out "Hi India" and she looked at me, gave me a brilliant smile and said "Oh Hi, how are you". I was flattered that she remembered me!
Now the tension was starting to really build, it was almost show time and in walked Andrew Zweck (Tour Manager) who told us what to expect when Roger came in to see us. He said that we should not ask questions as Roger wouldn't answer as he was saving his voice for the show! He also added "he won't be able to speak anyway as he will be sucking a lolly". I was devastated. I had memorised about a dozen questions , many of which I had selected from other fans. Then another rather likable guy came in and said he wasn't as tough as Andrew and that Roger would speak to us and sign items 'within reason'. We were then given instructions about what order we would be met in and how we should arranged the things we wanted signed.
Then he walked in! I didn't know how to react, here was a person I had looked up to for the majority of my life.
I was introduced to Roger Waters.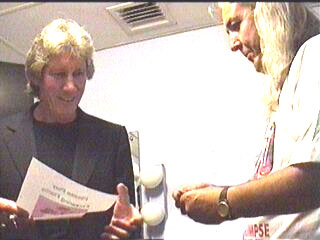 What happened next is a blur! We spoke about UFO, he said he had 'fond memories' of those days. I said I first saw him there almost 36 years ago. He called me by name certainly once and possibly twice. I then handed him the pictures I had taken before of Harry & India. He looked at them and thanked me. He then passed them on to his 'man' who in turn passed them to somebody just out of sight behind the door. A loud female voiced squealed "Where did these come from?" and I interrupted my meeting with Roger to stick my head around the door and say "I took them yesterday India". India smiled at me again and said 'Oh thank you, they are beautiful".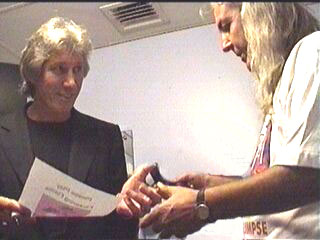 I then turned my attention back to Roger and asked him to sign a Flickering Flame poster. Before he signed it, he looked at it and acknowledged he was aware of A Fleeting Glimpse!
He said he was enjoying the tour immensely. I then stood behind him as he signed something for somebody else, as he did so Roger flicked the earpiece he had in his right ear backwards almost clipping me on the nose with it! As he flicked it out he said "What's that bloody thing doing in there? Ah that's better"
He then moved on and spoke to Chris (my wife) who also presented him with a Flickering Flame poster, not to sign but to lean on to sign something else. He took the poster from Chris and read every word on the poster out loud, he then indicated to Chris that he was aware of the campaign I was running from my site!!
Then after a few more pleasantries he said he had to get on stage. As he started to walk out of the dressing room it suddenly occurred to me that none of us had had our photos taken with him! So I called out to Roger and he waved me into the passageway with him, where we posed for photos. Sadly, none of these turned out due to me pulling the whole roll of film out of the camera and ruining every last picture!
However, the whole thing was filmed and so most of the pictures you are now seeing are stills taken from the video footage. Dion also managed to get to pose with Roger and his pictures luckily came out.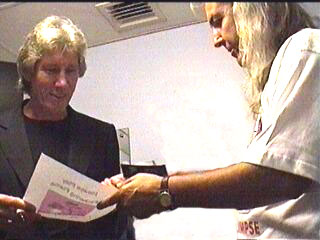 And then it was over……..Or was it??????
We were then all hurriedly shepherded out of the area but I had left some stuff in the dressing room and had to retrieve it. As I came out of the room, Roger stood there calling all the band members together. To my amazement, all the band members got in a huddle, all locked their arms over each others shoulders and formed a circle. They than began an amazing mantra that built in intensity every second. It was a wonderful sound to hear all those beautiful voices chanting in unison. The chant became a roar and just as it reached it's peak I was spotted and quickly had to leave!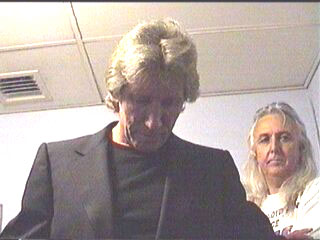 And then it was over……..Or was it??????
We quickly took our seats (Fairly close to the stage) as the band took the stage. I am not going to review the show in detail because others have already done that but there is something that happened in the show that will live with me for ever. As Roger was singing Comfortably Numb, when he got to the line 'I Caught A Fleeting Glimpse' he shielded his eyes with one hand, looked out to where I was sitting and pointed directly at me!
Now you would think that being invited to meet Roger was brilliant (and it was) but there was even more to come!!! I had now been invited to rehearsals in Melbourne and there was another long drive in front of us…….
We had safely arrived in Melbourne a couple of days earlier and today was another big one! As in Sydney, I had arranged a pre-show meet up at a pub (Phoenix) but early in the day I received a call to say that we had to be at rehearsals at 5.00pm which was earlier than I anticipated and presented a problem! The pub meet was set up for 4.30pm and it was a 15 minute walk from the pub to rehearsals. This meant I only had around 15 minutes to meet & greet anybody who showed up before I had to leave. The only thing I could do was to leave my apologies with the few that had already gathered, to pass on to anyone that came later. I'm told around 25 people eventually turned up, I never got to meet any of them (Except the few early arrivals) and now offer a direct apology to those I missed. (I think you will agree I had a pretty good excuse not to stay at the pub!)
So at 4.45pm I set off with Chris (my wife) and we had a hurried walk across to the venue. There we were almost immediately shown in by security and were met by a really outgoing and nice guy who goes by the name of Chris Lamb.
Now it turns out that Chris is Roger's Production Manager and a close personal friend of his. As soon as Chris clapped eyes on me, he shouted in a loud American accent "Hey, I know you don't I". I could only assume he recognised me from Sydney! He then put his arm around my shoulder and explained that Roger had asked him to look after us as he was too busy to meet us again because of rehearsals. Although I had an inkling that there may have been a second chance to meet Roger, I never realized just how close I had come!
Chris then took Chris (my wife) & myself around the stadium as Roger & the band were warming up on stage. He invited us to ask any questions about the show we wanted, so I got stuck in!
Some info gleaned was:
1) There are 65 guitars used in each show.
2) The oil slide effect that are used in the show (as video I think) was actually done by using the old fashioned method of squeezing printers ink between 2 pieces of glass and sticking the whole mess into a projector. The ink heats up with the warmth of the projector and the ink 'pops' making the 60's lava lamp effect. The whole thing is then put on video and used in the show. (Little did Chris know that I actually used this effect with an oil slide that I projected on Pink Floyd at Middle Earth in 1967!)
3) The technical term for the mirror ball that is used in the show is a 'thingy'! Chris told us this as we walked back stage and I was within 10 foot of Roger again although he couldn't see me.
4) According to Chris, Roger's band are 'lot better musicians than Pink Floyd ever were". He said "let's face it, Pink Floyd were just a bunch of college kids, these guys are professional musicians" I thought of a million things to say but kept quite!
We were then shown all around the back of the stage, Chris even opened the door that Roger uses for us so we could see Roger (see right), even though it was only his back! Some of the crew were working on equipment back stage and we were greeted with smiles and nods from all.
We were then taken to the mixing desk and introduced to the sound engineer, whose name I have forgotten! As we were introduced to him Chris said that he was normally Madonna's and Paul McCartney's sound man.
After getting a few pics of Chris and myself together, Chris sat us down, about 1 block of seats back from the stage. I had previously been told by security that no photo's were allowed but by accident a few shots were taken and can now be seen here!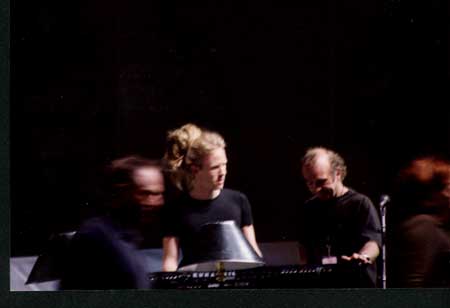 We the sat down and watched something really really special. I was treated to my own personal Roger Waters show! Well, that's how it felt to me. There were only a handful of other people there and most of them were crew, so it really was an intimate experience. It was then that I realized that my life dream had come true and the tears welled in my eyes.
I sat in awe for 1 hour and 45 minutes watching and listening to Roger and the band going through various songs. It was brilliant hearing Harry saying to Roger "What should I do during this bit Dad"!
From time to time Roger would leave the stage and come into the audience area to check out the sound from various spots. It was on one such walkabout that Roger spotted us and waved across the floor to us! I was blown away!
If I had had a small video camera with me I would have a video of MONEY (Real Media Zipped) and it would have run for around 2m 32s and it would be pretty jerky and fade to black towards the end but at least I would have it wouldn't I? : ~}
Just as well I didn't record BRAIN DAMAGE (Real Media Zipped) or I may have heard Harry talking at the end of a 1m 49s clip.
But BEST OF ALL. It's a good job I didn't record FLICKERING FLAME  (Real Media Zipped) or else we all could have heard Roger talking about the 2nd Sydney Show and giving technical music instructions! The clip might have gone for 2m 5s as well.
Sadly, it all ended too soon. However there was still the show to come. Once again, I am not going to review the show but I do want to say thank you to all the fans who greeted me when I entered the floor of the arena. I was suddenly surrounded by friends and well wishers who were congratulating me for my site! Hundreds of people were looking at me thinking I must be somebody well known or something! I had my 15 minutes of fame and I thank all who were involved for that. :~}
There was one last unplanned surprise. At both the Sydney & Melbourne shows I took with me a contraption called a 'skyliner'. It's a small 'twirly thing' that looks like a small version of the rattles the English use at football games. Only this thing doesn't make a noise, instead it spins out LED messages! In between each number (and sometimes during, if I wasn't obscuring anybody's view) I would spin out a message to the band. The first message I twirled on both nights was 'UFO 1967' (which was also emblazoned across my T-Shirts, one of which Roger had seen me wear). I KNOW Roger saw this. But the best was when I spun out the word SMILE and Snowy White who had his head down playing and looking rather glum, looked up, saw the word SMILE and a large grin spread across his face to the delight of the crowd who saw what was going down!
Well there you have it. This was a truly amazing 8 days for me. Probably the most exciting days of my life. Thanks for just being here reading this, it makes the effort of running my site truly worthwhile.
Love & Peace Col Turner. Gold Coast. Australia. 16 April 2002