The first of the two concerts that Roger Waters has played at the Mediolanum Forum in Assago (Milan) for April 17 and 18 has just ended – tomorrow i will post tommorows review – which will be followed by the four in Bologna (21, 22, 24 and 25 April) and those of 11 July in Lucca and 14 July in Rome.
Here is the setlist of the first concert in Milan:
First Set
Breathe
One of These Days
Time
Breathe (Reprise)
The Great Gig in the Sky
Welcome to the Machine
Déjà Vu
The Last Refugee
Picture That
Wish You Were Here
The Happiest Days of Our Lives
Another Brick in the Wall Part 2
Another Brick in the Wall Part 3
Second Set
Dogs
Pigs (Three Different Ones)
Money
Us and Them
Smell the Roses
Brain Damage
Eclipse
Encore
Mother
Comfortably Numb
Review Courtesy Of Mura Storiche
---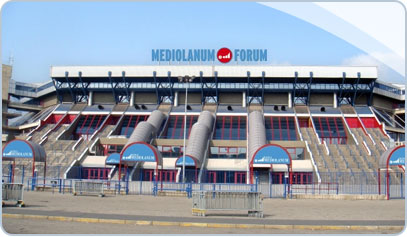 Capacity 12,000+
Tickets
The Mediolanum Forum (originally the Forum di Assago, formerly the FilaForum, DatchForum) is an indoor sports arena that is located in Assago, near Milan, Italy. The arena has a seating capacity of 12,700 and is primarily used for ice hockey, basketball, tennis & live concerts. The venue is the home ground of the Italian League professional basketball team Pallacanestro Olimpia Milano.
The Forum received the European Prize for Architecture for sports venues awarded by CONI and the Council of Europe. It is also one of two facilities in Italy, along with Palalottomatica in Rome, to be part of the European Arenas Association network. In January 2009, the arena changed its name to the current name of Mediolanum Forum, replacing the old name of DatchForum
---
Can YOU help? We are looking for any material related to this show. Scans of posters, news items, ticket stubs, show pictures, or anything else you may think be of interest to our visitors. Thanks. Please send any show material to liam@pinkfloydz.com