Thanks to Peter Agnos And His Wife For Sending In The Photos
---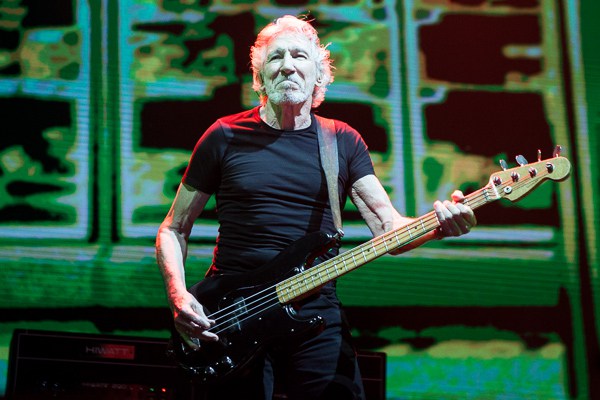 It's been 33 years since Roger Waters called time on Pink Floyd, igniting a lengthy legal battle over the use of the band's name. Gilmour and Mason limped on, releasing new material under the Floyd banner while Waters pursued a solo career. The primary creative fuel for the band following Syd Barratt's departure in 1968, Waters has toured Pink Floyd's material comprehensively, notably his magnum opus, The Wall.
The Us and Them tour is essentially a Floyd best-of, stripped back from the elaborate stage theatrics of The Wall tour but still featuring a fury of Trump-related imagery – and the obligatory flying pig. Waters has always used music to convey politics and this show is no exception; he might be turning 75 this year but Waters has lost none of his activist acumen, and it's delivered in droves here, vehemently at times.
Split into two halves, Waters and his exceptional travelling troupe of competent musicians and backing singers move through the best moments from the albums The Dark Side of the Moon, Animals, Wish You Were Here and The Wall. Money, Another Brick in the Wall, Great Gig in the Sky, Welcome to the Machine, Us and Them and Wish You Were Here are potent reminders of the depth of material from the Floyd back catalogue, but his solo work also fits seamlessly into the show.
It's unlikely that we'll see Waters down under again after this tour – he's only halfway through some 140 dates around the globe – but there are few around of his calibre who can deliver such a spirited and vibrant two-hour performance that justifies every cent of the price of a ticket. Probably the most disturbing realisation this evening is that the dark political themes explored in many of Floyd's songs remain as relevant in 2018 as they were when first written in the 1970s.
Roger Waters' stage tête-à-tête is virtually non-existent, but the show and its players will resonate long after the final note of Comfortably Numb – the last song this evening – has been played.
Article From Stack Magazine
---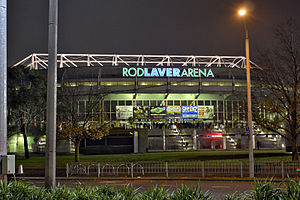 Capacity 16,000+
Rod Laver Arena has a seating capacity of 14,820, with a capacity of 15,400 for sports such as basketball, when extra seats are added around the court, and up to 16,200 for concerts with floor seating. The arena currently attracts over 1.5 million visitors per year.
The arena was the first in Australia to have a retractable roof venue, and it is the largest indoor arena in Australia without a permanent roof (not counting the 56,347 seat Docklands Stadium, also in Melbourne, which is classed as a stadium rather than an arena). It is also the second largest indoor arena in Australia behind the 21,032 capacity Sydney Super Dome. The arena's retractable roof allows competitors to continue play during rain or extreme heat.
---
Can YOU help? We are looking for any material related to this show. Scans of posters, news items, ticket stubs, show pictures, or anything else you may think be of interest to our visitors. Thanks. Please send any show material to liam@pinkfloydz.com