Pink Floyd Books
At a guess there are probably around 100 books that have been published in the English language alone about Pink Floyd. Many of them are dismal, but there are also some really great ones if you know what you are looking for.
To help you find your way through the maze of books, we have featured what we consider to be the best Pink Floyd books that are on the market today.
Most books have been given a rating and as you would expect, the ratings are high, because this is the best of the bunch in our opinion.
We have also given you direct links to Amazon where you can purchase your selections and at the same time assist this site.
Please note: It is in your own interest to check with Amazon to see if a book you are interested in has been updated.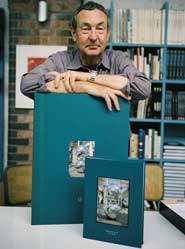 Inside Out by Nick Mason.

Nick Mason says: 'I started making notes for this book in 1994. We had just finished a world tour, and for the first time in many months I was not involved in trying to stuff another bundle of free T-shirts, tour jackets, hotel soaps and towelling robes into my suitcase.

With a certain amount of leisure time beckoning, I thought it might be time to start dealing with the questions I'd been asked for thirty-odd years – "How did the band get its name?", "Where's Syd?" and "What's it really like?". It's only taken ten years to come up with some answers. 'I eventually decided to avoid a rundown of every gig, venue, weather condition and moustache'.
Inside Out by Nick Mason. SPECIAL EDITION

  For some years now visitors to AFG have been able to order a signed dedicated hardback copy of Inside Out, Nick Mason's brilliant book about Pink Floyd. Many happy fans have ordered a signed copy and been delighted that not only has Nick signed the book, but he has in fact written a personal dedication (of your choice).
Take the following links to order Nick Masons 'Inside Out' and receive a personal greeting from Nick himself!  Nick is happy to write just about anything your heart desires when he personally signs your book, so be creative. Our personal thanks to Nick and company for making this possible. World Orders | North America Only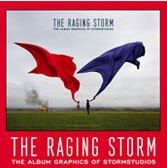 The Raging Storm – Our View Storm Thorgerson's new book The Raging Storm (Co-written with Peter Curzon) is here, and we stuck out noses into this latest offering from Stormstudios, and have to say were more than impressed. The first thing that grabs you is the landscape format, it's very much like opening a gatefold album (Ah, those were the days!) and so you get a much wider view of the graphics. And what graphics they are! The book is PACKED with images 'executed' (Storm's word) over the last 4 years. Just about all images are accompanied by explanations from Storm and, true to his style, are hilarious. This is not a Pink Floyd book, but images associated with them are liberally interspersed throughout. In addition, also featured are Biffy Clyro, Pendulum, Wombats, Shpongle, Disco Biscuits, Powderfinger, Muse, Steve Miller and Pink Floyd and many others. It's 160 pages of pure magnificence and can be ordered direct from TheRagingStorm

Our Verdict: Love the landscape style – Love The Book. 9/10   Amazon USA | UK | Canada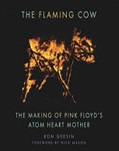 The Flaming Cow – The Making Of Pink Floyd's Atom Heart Mother : Ron Geesin is probably best known as the orchestrator and organizer of Pink Floyd's "Atom Heart Mother" (1970). 'The Flaming Cow', a new book by Ron, offers a rare insight into the brilliant but often fraught collaboration between Pink Floyd and composer Geesin, the result of which became known as Atom Heart Mother – the Floyd's first UK number one album. From the time drummer Nick Mason visited Geesin's damp basement flat in Notting Hill, to the most recent performances of the piece in France, this book is an unflinching account about how one of Pink Floyd's most celebrated compositions came to life. Alongside unpublished photographs from the Abbey Road recording sessions (the only ones taken) and the subsequent performances in London and Paris, Geesin goes on to describe how the title was chosen, why he was not credited on the record, how he left Hyde Park in tears, and why the group did not much like the work. The Flaming Cow also explores its recent performances, and its new-found cult status that has led to it being studied for the French Baccalaureat. With a foreword by Nick Mason, this book is a real joy to read. Full of amusing anecdotes, it will have you smiling as you enjoy each and every page. Add this one to your collection! (Review by Col)
Our Verdict: A great and amusing read! 9/10  Amazon USA | UK | Canada

Pink Floyd FAQ – Everything Left to Know…and More!: by Stuart Shea This is an annoying but well written book. Annoying, because it's a collection of material lumped together in obscure sections. For example, what does 'What are some forgotten gems from the Floyd collection' mean?, (as one chapter is called). I found it very difficult to work out where the author was coming from and how he arranged his chapters. That being said though, this is very well written, with an easy flowing narrative, if you forgive the layout. Treat this book as a story to be read from start to finish, rather than open it and look for specific facts, that way you will enjoy it. Soft Back 329 pages. (Review by Col)

Our Verdict: A somewhat disjointed, but well written book. 7/10  Amazon USA | UK | Canada | Publishers Website


For the Love of Vinyl: The Album Art of Hipgnosis by Storm Thorgerson & Aubrey Powell Hipgnosis produced timeless rock iconography–everybody knows at least one Hipgnosis cover, thanks to Dark Side of the Moon. The firm's inventive takes on the themes or titles of any given album opened up a new visual language in album cover art, one in which theatrical tableaux, trick photography and logo design played notable roles. For the Love of Vinyl is the first book to survey Storm and Powell's output in detail, focusing on more than 60 package designs–from cover to label–described with entertaining detail by the team who created them.

Pink Floyd The Early Years by Barry Miles. Brief, but one of the best Pink Fink books ever penned. Barry Miles was "of the time" at "Underground London Ground Zero," when it all first exploded. The author has a deep, organic, understanding of how bands like the Pink Floyd formed and flowered.  He offers a fantastic description of the UFO club and gives insight into how the famous Floyd "sound" originated.  Miles links it to their environment, Grantchester Meadows, Cambridge He provides neat pictures of the bands childhood homes.You get incredible quotes like this one by Gilmour about Barrett: "We spent a lot of time together as teenagers listening to the same music.  Our influences are pretty much the same. I don't want to go into print saying that I taught Syd Barrett everything he knows, 'cause it's patently untrue but there are one or two things in Syd's style that I know came from me." Which illuminates why Gilmour was the perfect replacement for Barrett, and why when you listen to "Piper" and compare it to later discs, it still sounds like the same band. (Review & pic thanks to Michael Forrest)

Mind Over Matter by Storm Thorgerson. Published to coincide with the 30th anniversary of the release of the "Dark Side of the Moon", this book explores the images of Pink Floyd album sleeves and the artwork they contain. Storm's memoirs of his time spent with Pink Floyd are combined with all the artworks he created to represent the band at each stage of their career. Thirty years on, Storm revisits the work he created for the album and tells the story behind it. This edition has been updated with extra artworks and memoirs of the recording and production of this groundbreaking album. 'This is a must for the Floyd fan, particularly if you're interested in graphic design. Thorgerson talks us through the making of all of the PF covers that were his, explaining how each one was done often with amusing anecdotes relating to bizzare things like giant chairs and immense metal heads. D. Williams
Our Verdict: We still love Storm. 9/10  Amazon USA | UK | Canada

The Black Strat (4th Edition) by Phil Taylor. I must admit it was with some trepidation that I opened this book. Not being at all technically minded, I thought I was going to read page after page of technical jargon, which to be honest, has very little appeal to me. However, I'm pleased to say that my initial thoughts were proven wrong, and this is a great little book (252 pages) and an excellent read! Packed with countless breathtaking pictures (400 of them, many never having been seen before), the author manages to weave a fascinating tale about the trials & tribulations of David Gilmour's Black Strat over the years. Sure there is a wealth of technical info, but it's easy to read for a layman like myself, and is actually very enthralling. Apart from the previously mentioned pictures, the highlight for me is how Phil doesn't use flowery language, but tells his story in a down to earth manner. You can read this book from cover to cover in a couple of hours, but you will want to go back to it again & again to pour over the incredible pictures, and be transported – backstage & back in time. This edition has been updated with new sections covering the entire history of the instrument, from it's origins through to just before the recent auction, where it became the most expensive guitar in history.

Our Verdict: Essential reading for any Floyd fan. 9/10 Amazon UK (Shipping worldwide) | Official Website
Comfortably Numb by Vernon Fitch and Richard Mahon. This book is an amazing look behind the scenes at the creation, recording, and performances of Pink Floyd's landmark album, The Wall. It took ten years to research the book, and during that time the authors had numerous discussions directly with the people that worked on The Wall album and stage shows. By doing so, the authors wrote the first detailed history of Pink Floyd for the years 1978 through 1981. The Comfortably Numb book goes into great depth about the inner workings of the band, and features pictures from the time period, most of which have never before been seen outside of the band's inner circle.
Our Verdict: For the real die hard fan.  8/10 Amazon USA | UK | Canada   About the author Vernon Fitch


The Final Cut by Vernon Fitch.
Following the success of Comfortably Numb (See above) This new tome is the follow-up to Vernon's in-depth examination of the recording of The Wall and the subsequent live performances, The Final Cut has already sold out its limited edition printing, though a reprint will be offered in late 2015. As with the prior release it is lavishly illustrated and printed to the glossy-paged standards of an art book. We have featured a full in-depth review of this book. For more details about ordering the reprint please contact sales@PFApublishing.com
Our Verdict: Again, for the real die hard fan. 8/10  About the author Vernon Fitch

Pigs Might Fly (AKA Comfortably Numb
in USA) by Mark Blake.
Pigs Might Fly is the first full-length biography of Pink Floyd for over 15 years. Author Mark Blake has previously interviewed David Gilmour, Roger Waters, Richard Wright and Nick Mason, and conducted almost 100 new interviews with ex-band members, producers, schoolmates, girlfriends, roadies, flatmates, managers, friends, foes and more…Bringing together these eyewitness accounts and memories, this 418-page book traces Pink Floyd's story from their roots in Cambridge to global stardom with The Dark Side Of The Moon and their bitter break-up in the 1980s; from their historic reunion at Live 8 to the untimely death of founder member Syd Barrett in 2006, and beyond. As meticulous, exacting & ambitious as any Pink Floyd album, Pigs Might Fly is the definitive account of Pink Floyd to date.
Our Verdict: Just get it! 10/10 Amazon USA | UK | Canada    Authors Website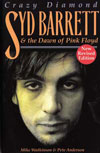 Crazy Diamond by Mike Watkinson & Pete Anderson Many of you will already be familiar with this classic Syd Barrett book that was first published in 1991. The good news is that the authors (Mike Watkinson & Pete Anderson) have revised their earlier work, and added an additional 14,000 words (app). This increases the book size by about a third, so it's packed with info! The revised edition includes an extensive new final chapter, a new introduction, and an updated 'Where Are They Now' section. The research that must have gone into the book when it was first published must have been staggering (and far less easier to obtain than in this electronic age) . Obviously the book has no happy ending, but it handles Syd's life story in a well thought out and compassionate manner. There are a lot of 'cash ins' around following Syd's death. Make no mistake, this isn't one.
Our Verdict: Highly recommended 9/10 Amazon USA | UK | Canada | Book Extract & Our review 

Taken By Storm by Storm Thorgerson.
A superb selection of Storm Thorgerson's work over the past 30 years. It features the best of Hipgnosis, Pink Floyd, and Storm Studios and is a visual equivalent of a greatest hits album! Thorgerson's prolific album art is presented in full-color and includes in-depth analysis of each image, including the themes and motivations that inspired the work as well as the practical details involved in producing each stunning image. Includes new material from the last five years, none of which has been previously published in book form.

Saucerful of Secrets – The Pink Floyd Odyssey
by Nicholas Schaffner. Not one of the best Pink Floyd books out there, despite the fact that it was enthusiastically written by Nicholas Schaffner, who describes himself as P.F.'s "original American fan." (He took a mono "Piper" home to the U.S. before it was released in the States.) "Saucerful" simply isn't. It is lacking in concrete imagery, anecdotes or first rate quotes. Still, for the serious fan it's still worth the read. There are pearls like this by Barry Miles who had seen Beatle Paul patting Floyd members on the back saying they were, "Great and were going to do fine." Barry further explains, "In my discussions with him, McCartney had always been convinced that there would be a new synthesis of electronic music and studio techniques and rock 'n' roll. He didn't see the Beatles as being quite the vehicle for that. But the Pink Floyd, he thought, were the very stuff we'd been talking about!" (God Bless the amazing and visionary Sir Paul for that quote! Forever may he wail!)  (Review thanks to Michael Forrest)

Echoes: The Complete History of Pink Floyd – By Glenn Povey The first thing that one notices about the coffee table sized book is it's enormous weight! And the reason this 368 page tome is so heavy, is because every page of this impressive book, is full colour, printed on beautiful glossy stock.I picked the book up, knowing full well I was about to read something by somebody highly regarded in the Pink Floyd community, who already has an impressive track record. Full of high expectations, I flipped the book open to read the research notes, and for some reason started to get the idea I was about to read a dreary list of dates and venues. Boy, was I mistaken! Not only has the author managed to dredge out every last concert date (of both the band, and individual members) but he has also managed to tease out just about every detail that is known about each concert or appearance. Packed with hundreds of wonderful full colour photos, Glenn Povey has managed to spin the Pink Floyd story in a way that's never been told before. He cleverly weaves his tale around the concert & appearance dates, ensuring the reader never gets bored by reading a list of cold facts.

Our Verdict: Awesome book, deserves it's 10/10 Amazon USA | UK | Canada  | Mind Head Publishing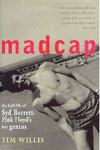 Madcap by Tim Willis This sensational book includes interviews with Waters and Gilmour and many of Syd's friends and girlfriends including Lindsay Corner (correct spelling) and characters such as Jock and Sue. There's material that rewrites the history of the four-piece Floyd, as well as previously-unseen lyrics by the young Waters and writings by the young Barrett. Beautiful, charismatic, and talented, in 1966 Syd Barrett invented the British Psychedelic scene—founding Pink Floyd—before collapsing into madness two years later. This book traces the history of rock's lost genius, through exclusive access to those closest to Syd throughout his life. Willis' main achievement is to separate fact from fiction and present Syd's story in a straightforward way, skipping the myths and presenting actual information.

Our Verdict: We really enjoyed this book, although some didn't. 9/10 Amazon USA | UK | Canada

The Piper at the Gates of Dawn by John Cavanagh. Through a series of interviews with a wide range of people connected to Pink Floyd in their earliest days (including Nick Mason, Peter Jenner, Jenny Fabian, Storm Thorgerson, Duggie Fields and Peter Whitehead), John Cavanagh paints a vivid picture of how this remarkable debut album was created. He brings to life the stories behind each track, as well as Pink Floyd's groundbreaking live performances of the time. 'The Piper at the Gates of Dawn is a wondrous creation often seen through the distorted view of later events. These things have served to overshadow the achievement of The Pink Floyd on their debut album: an outstanding group performance; a milestone in record production; and something made in much happier circumstances than I had expected to find This is NOT another book about "mad Syd". This, instead, is a celebration of a moment when everything seemed possible, when creative worlds and forces converged, when an album spoke with an entirely new voice. "Such music I never dreamed of," as Rat said to Mole.'

Our Verdict: You really have to be into Pink Floyd in order to appreciate this book. 8/10 Amazon USA | UK | Canada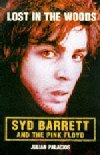 Lost In The Woods by Julian Palacios English composer and cartographer of interstellar regions Syd Barrett was an English composer and purveyor of some of the most intriguing music ever written. Famous before his 20th birthday, Barrett led the charge of psychedelia onstage at London's famed UFO club. With a Fender Telecaster and a primitive Binson echo unit, Barrett liberated the guitar from being, in critic Simon Reynold's words, 'a riff machine, and turned it into a texture and timbre generator.' Syd Barrett disappeared one night into the woods, but the man who created him, Roger Keith Barrett, preferred to live alone, far from the machinations of the world. As he walked down deserted Cambridge roads, Barrett might have thought of the thunder and lightning that was his music, and smile at how he passed it all by.

Our Verdict: A great read for any Floyd fan.10/10 Amazon USA | UK | Canada
The Pink Floyd Encyclopedia by Vernon Fitch. The Pink Floyd Encyclopedia is an in depth reference work on Pink Floyd, and includes a unique Pink Floyd Reference Encyclopedia, complete concert date listings, a look at Floyd's equipment over the years, and an examination of the Publius phenomenon.The book also features an exclusive CD of Hawkwind performing Interstellar Overdrive. At its basic level, this book is an encyclopedia about the many facets of Pink Floyd, with hundreds of listings in alphabetical order. Numerous areas are covered. Every Pink Floyd album is listed, with details about cover art, production credits, U.S. and U.K. releases, release dates, studios and recording dates, sales awards, sales charts, songs, etc.

Our Verdict: Full of just about every conceivable Floyd fact, this book is an absolute must for any fan who is serious about the band. Scores a perfect 10/10 Amazon USA | UK | Canada | About the author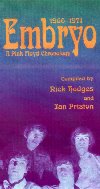 Embryo – A Pink Floyd Chronology 1966 -1971 by Nick Hodges and Ian Priston. The book traces the history of the early work of the band from when they had recently formed to before the beginnings of "The Dark Side Of The Moon". An archetypal labour of love, the chronology is a high quality, definitive history of the day to day work of the band. Featuring a fully comprehensive study of recordings available to collectors, rare concert ads, and studious timings and transcriptions. The detail of this book will surpass the high standards that Pink Floyd collectors demand. The authors have painstakingly tracked down long lost reviews, recordings and appearances on television and in films, and have collated them all together in a clear and concise form, whilst offering their own detailed reviews and commentary. All the illustrations in the book including its cover, have not been used in any other book about Pink Floyd. Of particular interest will be a set of photographs taken by Irene Winsby of the band during a rehearsal in January 1967.

Our Verdict: We highly commend this book to any serious Floyd researcher, however, this is not for the casual fan. If you are interested in the early years of Pink Floyd, then this book is well worthwhile. 8/10 Amazon USA | UK | Canada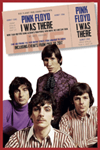 PINK FLOYD – I WAS THERE by Richard Houghton. A book containing over 350 fan memories of seeing Pink Floyd live. Collated and edited by music writer Richard Houghton, 'Pink Floyd – I Was There' comprises memories of the band in action going back to their earliest days in the Swinging Sixties. Richard, who has compiled similar anthologies on The Who and the Rolling Stones, said: 'The book is a slightly different take on the history of Pink Floyd, as it's trying to tell their story as a live act in the words of people who witnessed them in performance. It includes gig memories from the UFO Club and before, and is bang up to date with memories of Roger's Us+Them tour. Hopefully it captures people's memories faithfully and will give those who were there fond memories and those who weren't a sense of what it was like.'

Our Verdict: This one is different. Told from the perspective of fans who were there. (Including me!) A nice easy read that can be picked up and put down at any time. (Col T)  9/10 Amazon USA | UK | Canada