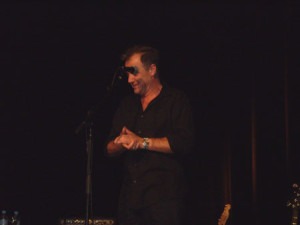 Written By Col T
I was fortunate enough to catch Guy Pratt's hilarious Breakfast Of Idiots show on the Gold Coast (Australia) on 28 July (09) and must say I loved every minute of it.
Prior to attending the show I received a phone call from my wife to say she had bumped into Guy (pure coincidence) and told him I would be at the show that night. She also told Guy about this site and he said 'Oh I know it, Pink Floyd with a Z right? So that was a good start to the evening!
I won't go into a full review here, as there are dozens of reviews already available (just Google it) but do want to urge anybody to try to get along to see Guy in action.
The show is filled with anecdotes about the people he has worked with, interspersed with short bursts on the bass, which sent chills down my spine as he included snippets from a range of Pink Floyd songs.
After the show the ever amenable Guy signed copies of his most excellent book My Bass And Other Animals and I managed to catch up with him for a chat.
He knew who I was immediately and greeted me with 'I know you don't I' (He probably had seen pictures of me on the site because we hadn't met before, although we have exchanged emails over the years).
We starting chatting about his tour and he confessed the audiences could have been bigger. He thought it might be something to do with the economic downturn. We spoke about the 88 Floyd tour, which he said he enjoyed immensely. 'First class all the way'. Guy (who is a long time member of the AFG Pink Floyd Forum) promised to put in more appearances on the forum and perhaps chat with members from time to time. (If you are not a member I suggest you join now and find out where the real action is!) I also had a couple of personal messages for Guy, that I can't go into here.
He had the next day off and was taking his family to one of the local theme parks (Wet'n'Wild). I reminded him that he had been there before and he looked surprised until I told him the whole band had visited the park in 1988! (I knew that through an inside source).
Well that's my story (somewhat abbreviated I might add) but I do want to urge people looking for a top night out to take in Guy's show if he takes it on the road again..
Col Turner 30 July 2009