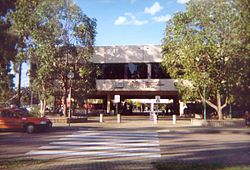 I attended the show on 6 February and had a front row seat, dead centre, thanks to my friend Michael Whitty. I won't dwell on that show except to say it was most enjoyable. However, I did think it was just an extended version of Roger's Dark Side Of The Moon Tour, but it was excellent none the less. The only down part for me was the girl singers who I thought looked a bit silly banging one drumstick on a drum. Their version of Great Gig was also not to my taste. Other than that I have no complaints. A great spectacular that we have come to expect from Roger.
As we were seated in the front row we had the pleasure of a quick moment with Roger as he walked along the foot of the stage at the end of the show. I briefly (and I mean briefly) shook hands and I said to him "I will see you tomorrow night". He cocked his ear and said "I can't hear you" (Pity about that, for reasons that will soon be obvious – See review for 7th for more info).
Above pictures & review thanks to Col Turner
Capacity 14,000+
Tickets
The arena has an array of seating plans which facilitate the comfort of its users, subject to performance. Specific seating plans are usually allocated, depending on the performance and the size of its audience. The general seating arrangements are end stage mode, "in the round" and intimate mode, which only uses half of the arena. The centre also houses a sporting complex and small function rooms which are available to hire for wedding reception and business functions.
The centre has 11,000 tiered seats and a maximum concert capacity of 14,500 making it the largest indoor live entertainment arena in Brisbane and the second largest permanent indoor arena in Australia behind only the 21,000 capacity Sydney Super Dome (it is smaller than the 14,820 seat Rod Laver Arena and the 14,856 seat Perth Arena, though both of those venues have a retractable roof). It cost $71 million to construct.
---
Can YOU help? We are looking for any material related to this show. Scans of posters, news items, ticket stubs, show pictures, or anything else you may think be of interest to our visitors. Thanks. Please send any show material to liam@pinkfloydz.com