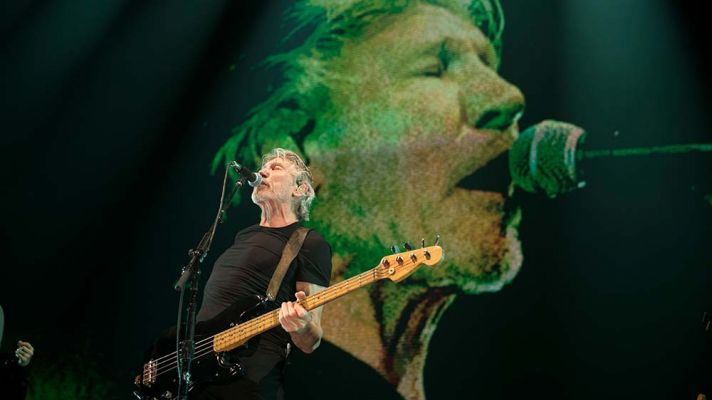 There's barely a car parking spot to be found in Melbourne tonight and as such there are many latecomers, which necessitates a delayed start. While we wait in our seats there's eye-poppingly high quality visuals depicting a lone figure sitting on a beach. The surround sound places us there, right on this windy beach, and then we notice some blades of grass blowing about and the rugged-up figure moving her head ever so slightly.
Eventually, seagull sounds are replaced by the Speak To Me soundscape as that famous, "I've been mad for fucking years…" sample plays out. Meteors float by on the giant screen, the musicians take their positions, 'Breathe' commences and we're off! It's all very sci-fi – geek heaven! Roger Waters' menacing bass strums soundtrack visuals that take us through endless abandoned rooms and corridors.
The voices of Holly Laessig and Jess Wolfe from Brooklyn pop band Lucius, who act as backing vocalists/percussionists on this Us + Them tour, transport us to celestial realms (particularly during The Great Gig In The Sky, which completely floors us as they belt out harmonies directly at the other's face almost as if they're trying to outdo one another) – we wouldn't tire of this section if it played all night! They look intergalactic, too – with matching platinum-blonde bobs, glittery make-up and black outfits with beaded fringing – playing stand-up drums, facing each other, stage right.
Surround sound reverberates from the arena walls as we look around for approaching aeroplanes, motorbikes or choppers. A gazillion ticking clocks have never sounded so crisp and threatening going into Time – we feel like Alice in Wonderland. Every random key flutter from Drew Erickson and drum beat from Joey Waronker lands flawlessly. Guitarist Jonathan Wilson (later introduced by Waters as, "Our resident hippy, every band should have one") and multi-instrumentalist Dave Kilminster often impressively step in to take lead vocals. Rogers fully encourages us to chant along with Welcome To The Machine, strutting over to each side of the stage to conduct us. Those conversational Wish You Were Here opening riffs! Although Waters' first "SO!" comes out a bit abrupt and gruff as if he could use a lozenge.
They have a bit of fun with searchlights circling the crowd while surround sound suggests a helicopter is about to burst through the ceiling. While we're distracted, a hooded children's choir wearing orange prison-style jumpsuits appears, spread out evenly across the front of the stage bookended by Laessig and Wolfe. They remain motionless during The Happiest Days Of Our Lives then hoods are discarded on cue just before their pipes are required: "We don't need no/Education!" As the urgent strumming of Another Brick In The Wall, Pt 2 enters, punters audibly gasp. We notice there are coaches in the photography pit prompting these kids with their chorey. The children then rip off their jumpsuits to reveal black T-shirts with "Resist" emblazoned across the front in bold white font. They transition into Another Brick In The Wall, Pt 3 and then Waters stresses they always source local kids for this section everywhere they go.
Intermission.
As we watch giant screens unfurling from the roof to become a perfect rendering of Battersea Power Station (which graces the cover of Animals, Pink Floyd's 1977 album). This ginormous 'building' cuts the space bang-smack down the middle of the arena from well over the extended sound desk to out over the stage. A couple of 'placards' roll down its walls, but are 'shot down'. Dogs becomes Pigs (Three Different Ones) becomes Money and this is the anti-Trump segment of the show. Pig masks come out to be worn by band members, it's very theatrical and extremely political with samples of Trump stating, "I won!" on loop over the cash register sounds to traumatise us all. The lyric "Charade" features heavily in this portion of the show.
Sinister words and phrases flash across the screen/each side of Battersea Power Station: "Where's my baby?"/"Shut up old woman, where are your papers?" Then Trump's head on a floating "Piggy Bank Of War" pig circles the arena. As said pig floats by a pungent aroma of weed rises up. Actual Trump quotes/tweets grace the screens and are horrifying in their stupidity: "If Ivanka Weren't My Daughter, Perhaps I Would Be Dating Her"/"I Have A Great Relationship With The Blacks. I've Always Had A Great Relationship With The Blacks."
Wilson expertly takes lead vocals on Money and Kilminster's guitar solo during this song is exceptional, the instrument soaring and acquiescing in his hands. And the bass guitar wizardry of Waters cannot be denied. Ian Ritchie's masterful tenor sax opens Us + Them and as we process lyrical content we marvel that this song has never been more relevant – it's depressing to acknowledge we've possibly gone backwards in some ways. The screens roll up and away, directing our focus back to the stage once more as those extraordinary singers, Laessig and Wolfe, take us to "…the dark side of the moon" thanks to Brain Damage. There's some random surround sound laughing and we actually jump out of our skins, it's so realistic! Then, before we know it, the visuals have come full circle and we're back looking at the lone figure sitting on the beach.
Wild applause. A punter yells out, "FUUUUUUCK, YEAH!!!" Then Waters finally speaks, "All these years they've been tellin' everyone I'm the grumpy one!" He laughs, before adding, "NO, I'm NOT," then hastily apologising, "I'm sorry, I didn't mean to go there!" Waters then thanks us from the bottom of his heart for all the love we've shared with him and the band over the years. He then introduces his fabulous backing band, which is rounded out by bassist Gus Seyffert and multi-instrumentalist Jon Carin. Waters then says something about not having an ego and wonders aloud why so many of us laugh.
But the show ain't over just yet. A laser prism slices through the space above GA and rainbow lasers lower through it. There's a lot of arm waving from side to side during Comfortably Numb. Waters jumps down into the photography pit to generously press the flesh with front row fans. He then wanders back out on stage with the Aboriginal flag draped across his shoulders.
We leave in awe and feeling united by the fact that we're all fucked. Then a fan tells us it's 30 years to the day that he came to see Pink Floyd play in this very venue.
Review Courtesy Of Bryget Chrisfield
---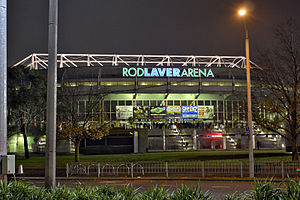 Capacity 16,000+
Rod Laver Arena has a seating capacity of 14,820, with a capacity of 15,400 for sports such as basketball, when extra seats are added around the court, and up to 16,200 for concerts with floor seating. The arena currently attracts over 1.5 million visitors per year.
The arena was the first in Australia to have a retractable roof venue, and it is the largest indoor arena in Australia without a permanent roof (not counting the 56,347 seat Docklands Stadium, also in Melbourne, which is classed as a stadium rather than an arena). It is also the second largest indoor arena in Australia behind the 21,032 capacity Sydney Super Dome. The arena's retractable roof allows competitors to continue play during rain or extreme heat.
---
Can YOU help? We are looking for any material related to this show. Scans of posters, news items, ticket stubs, show pictures, or anything else you may think be of interest to our visitors. Thanks. Please send any show material to liam@pinkfloydz.com