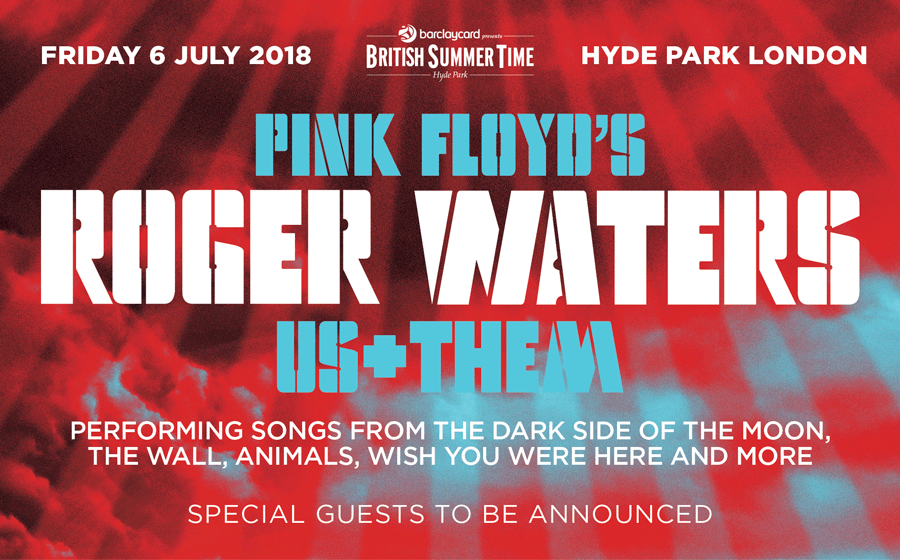 Roger Headling Barclays UK Open Air Festival At Hyde Park London 6th July ( One off date only)
Barclaycard presents British Summer Time Hyde Park, kicks off festival announcements for 2018 with another world-class headliner and the promise of yet another legendary night in the park.
Pink Floyd visionary Roger Waters becomes the latest in a long line of era defining artists to grace Hyde Park – one of music's most spectacular showmen at the greatest outdoor venue in the world.
Roger Waters is famous for taking his sonic and visual experimentation to breath-taking levels, turning rock n roll into theatre on the grandest scale.
At Desert Trip in 2016, in the Californian desert, Roger's performance featured the biggest quadrophonic sound system ever built. His recent sell-out shows have seen some jaw dropping moments – the rising towers of Battersea Power station evoking the cover of the classic Pink Floyd album Animals, the iconic pigs floating over the audience and a Spitfire crashing into the stage.
This new tour promises to be no exception, following months of meticulous planning and craft, it will inspire crowds with its powerful delivery to take the audience on a musical journey.
Roger Waters – Us + Them will showcase highlights from Waters' groundbreaking body of work, with songs from Pink Floyd's greatest albums (Wish You Were Here, The Wall, Animals, Dark Side of The Moon), along with tracks from his critically acclaimed new album "Is This the Life We Really Want?".
The tour title is derived from the 1974 track "Us And Them," from the multi-million selling album The Dark Side of the Moon.
---
Can YOU help? We are looking for any material related to this show. Scans of posters, news items, ticket stubs, show pictures, or anything else you may think be of interest to our visitors. Thanks. Please send any show material to liam@pinkfloydz.com