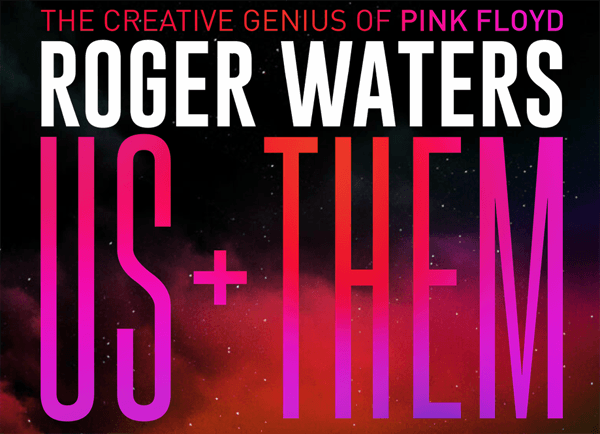 Roger Waters announces second leg of world tour entitled Us & Them.
The Us + Them tour was launched the U.S. on May 26th 2017 and ran for over 40 dates including shows in Denver, Las Vegas, Atlanta, Philadelphia, Boston and Toronto. You can see the full list of the last leg in our 2017 tour zone.
A press release has been released and promises the tour "will showcase highlights from Waters' groundbreaking body of work." Presumably, the 1973 song that gives the tour its name — "Us and Them," from Pink Floyd's landmark The Dark Side of the Moon album — will be one of them.
"We are going to take a new show on the road, the content is very secret," Waters says. "It'll be a mixture of stuff from my long career, stuff from my years with Pink Floyd, some new things. Probably 75 percent of it will be old material and 25 percent will be new, but it will be all connected by a general theme. It will be a cool show, I promise you. It'll be spectacular like all my shows have been."
The press release also notes that Waters' stage show feature a state-of-the-art audio-visual production and quad sound, and hints that the upcoming concerts will include even more spectacular sights and sounds.
---
The 2018 Touring Band
Joey Waronker
An American drummer and music producer. He is best known as a regular session musician of both Beck and R.E.M., and as member of the experimental rock bands Atoms for Peace and Ultraísta.
Gus Seyffert
An American bass and guitar player. He is best known for his work with American rock band The Black Keys.
Jonathan Wilson
is an American Guitarist and record producer based in Laurel Canyon, Los Angeles. He has an exensive reseme of work including proudcer credits with a familar floydian face Roy Harper
Bo Koster
A Cleavland Born keyboard player and background vocalist, Known for his work with the rock band My Morning Jacket.
Jess Wolfe & Holly Laessig
Jess and Holly are both known primarily for their work with Lucius, a four piece indie pop band from Brooklyn, New York.The band has two studio albums to date and was named one of the best live acts in 2015.
Ian Ritchie
A UK based Saxaphone Player, Arranger, Producer who most noticeably produced Rogers 1987 Album Radio Kaos.
Jon Carin
A New York based Grammy Award winning musician, singer, songwriter and producer who has been a longtime collaborator with Pink Floyd and the solo careers of David Gilmour and Roger Waters, The Who, Pete Townshend, Eddie Vedder, and Kate Bush.
Dave Kilminster
Is a British guitarist, vocalist, songwriter, producer and music teacher, who has toured as a sideman to several prestigious musicians, including Steve Wilson, Keith Emerson, John Wetton (ex King Crimson), Ken Hensley (ex Uriah Heep), Qango (an Asia spin-off), The Nice, and Carl Palmer.
---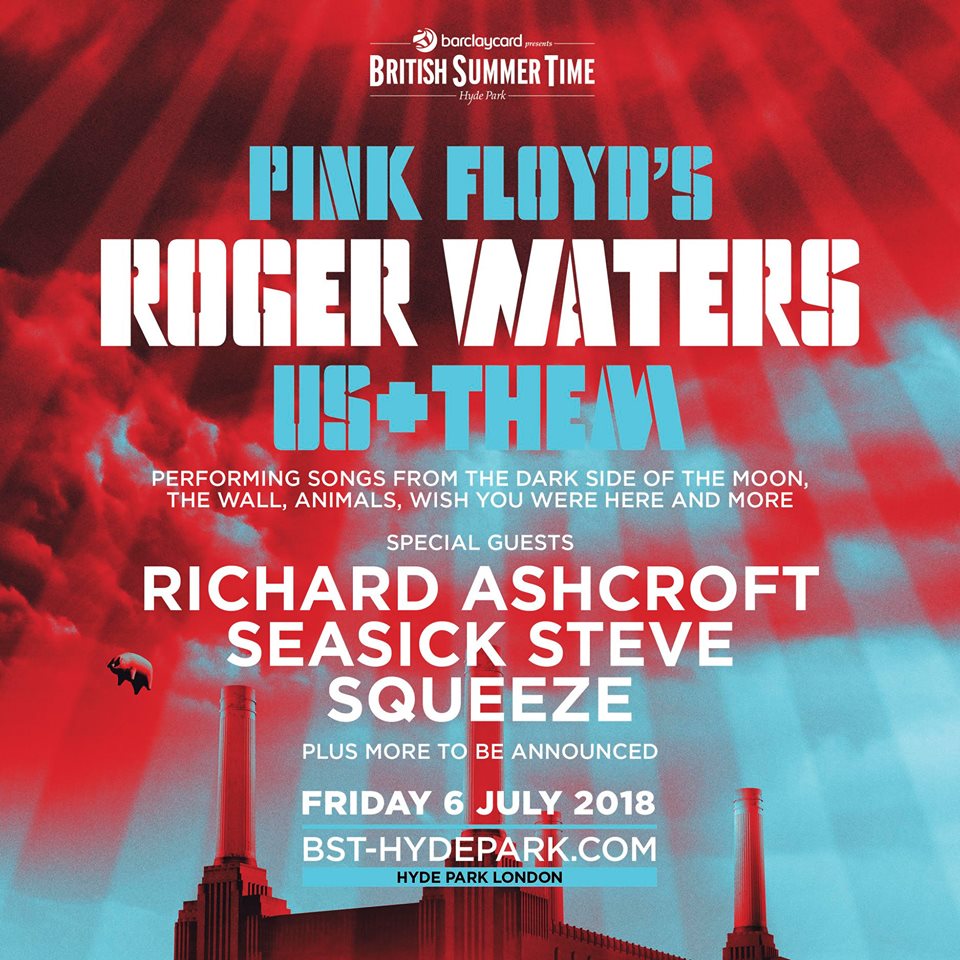 Roger Headling Barclays UK Open Air Festival At Hyde Park London 6th July ( One off date only)
Barclaycard presents British Summer Time Hyde Park, kicks off festival announcements for 2018 with another world-class headliner and the promise of yet another legendary night in the park.
Pink Floyd visionary Roger Waters becomes the latest in a long line of era defining artists to grace Hyde Park – one of music's most spectacular showmen at the greatest outdoor venue in the world.
Roger Waters is famous for taking his sonic and visual experimentation to breath-taking levels, turning rock n roll into theatre on the grandest scale.
At Desert Trip in 2016, in the Californian desert, Roger's performance featured the biggest quadrophonic sound system ever built. His recent sell-out shows have seen some jaw dropping moments – the rising towers of Battersea Power station evoking the cover of the classic Pink Floyd album Animals, the iconic pigs floating over the audience and a Spitfire crashing into the stage.
This new tour promises to be no exception, following months of meticulous planning and craft, it will inspire crowds with its powerful delivery to take the audience on a musical journey.
Roger Waters – Us + Them will showcase highlights from Waters' groundbreaking body of work, with songs from Pink Floyd's greatest albums (Wish You Were Here, The Wall, Animals, Dark Side of The Moon), along with tracks from his critically acclaimed new album "Is This the Life We Really Want?".
The tour title is derived from the 1974 track "Us And Them," from the multi-million selling album The Dark Side of the Moon.