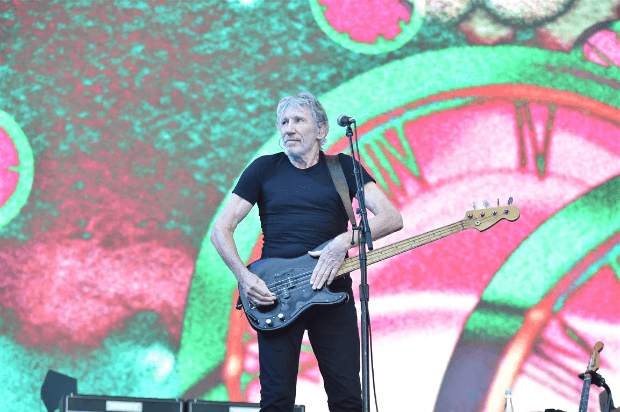 Stirred, entertained, or both – concert-goers at last evening's spectacular Roger Waters Us + Them Dunedin concert left with what they came looking for.
The crowd – for most of whom Roger Waters provided the sound track to their lives (or they are old enough to now pretend he did) – sat enthralled in Forsyth Barr Stadium while giant flickering images, sounds, guitars and Waters' distinctive voice built layer upon layer as Speak to Me bled into Breathe, the first two tracks from Pink Floyd's monumental 1973 album Dark Side of the Moon.
It was a fitting overture to the 74-year-old former Pink Floyd frontman's breathtaking, socially and politically charged show.
The tempo accelerated with the first riff of One of These Days, each member of the nine-piece band adding to the pulsating, driving rhythm.
By the time Another Brick in the Wall Part 3 brought the first set to an energetic close, Waters and band had surged their talented way through 10 Pink Floyd classics and three of Waters' solo career songs, the tunes and lyrics still bitingly relevant even up to 45 years on.
The second half started with Dogs, a stinging portrait of amoral political animals and yet more sizzling guitar solos executed to perfection by Jonathan Wilson and Dave Kilminster. It was followed by Pigs, a full-on audiovisual attack on US President Donald Trump, complete with giant flying pig, that was enthusiastically received by the whistling and cheering crowd.
Us + Them, performed halfway through the second set, was the capstone of the whole show, crystallising what had come before and setting the stage for what was to follow.
By now, the crowd was eating out of Waters' hand.
Having raged against all forms of injustice for more than two hours, stirring hearts and minds to own the dispossessed and disenfranchised as "us", not "them", Rogers closed with Comfortably Numb, wondering out loud if anyone had registered anything of which he had so passionately sung.
The final word was left to a soaring Kilminster guitar solo and a climactic sound and light display, stirring to action those with ears to hear and leaving everyone else thoroughly entertained, comfortably numb.
Article from the Otago Daily Times
---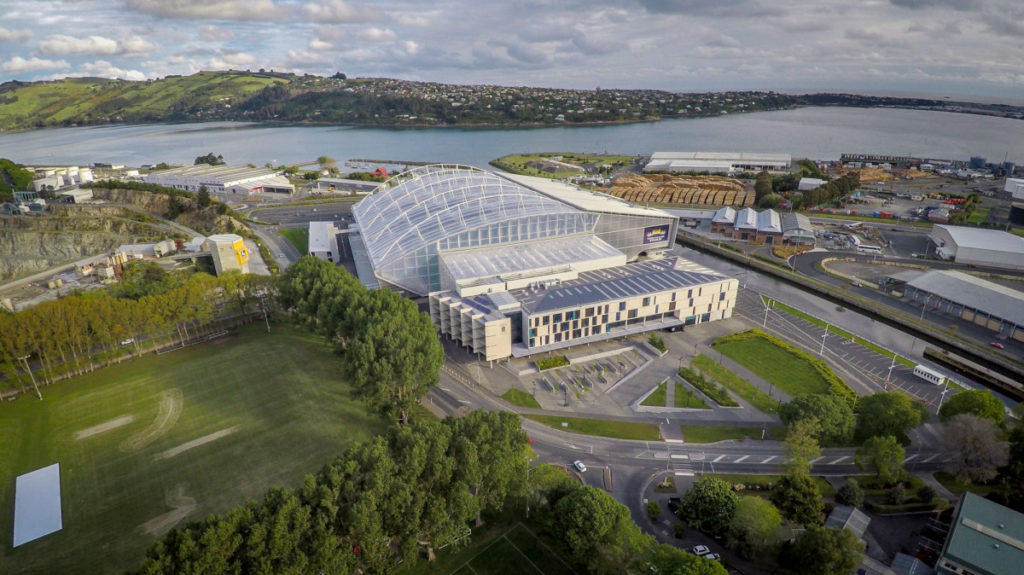 Capacity 15,000+
Tickets
The Forsyth Barr Stadium is a multi-purpose stadium in Dunedin, New Zealand. At various stages of development it was also known as Dunedin Stadium or Awatea Street Stadium, or its non-commercial official name during the 2011 Rugby World Cup and 2015 FIFA U-20 World Cup, Otago Stadium. It is also known colloquially as 'the glasshouse' due to its resemblance to a horticultural hothouse. The stadium was opened by New Zealand Prime Minister John Key on 5 August 2011, replacing Carisbrook as the home stadium of the Highlanders team in Super Rugby and the Otago in the domestic ITM Cup.
The stadium hosted four matches of the 2011 Rugby World Cup, and after hosting Elton John in November 2011 hosted more major music events in April 2013, when Aerosmith and Paul Simon performed in New Zealand for the first time
---
Can YOU help? We are looking for any material related to this show. Scans of posters, news items, ticket stubs, show pictures, or anything else you may think be of interest to our visitors. Thanks. Please send any show material to liam@pinkfloydz.com