Written by Col Turner
I was fortunate enough to have a personal invitation from Storm to meet up with him, and to be at the official opening of his exhibition in Sydney. The exhibition by the way is at the Global Gallery
5 Comber St. Paddington Sydney. Be warned, Comber Street is a little side street off the main drag, so make sure you don't go flying past it!
The gallery is situated in a nice leafy street in the trendy Paddington area, and a warm welcome awaits you there. There is a pretty extensive collection of Storm's work being shown here (I estimate around 70 works) so they certainly haven't cut any corners by bringing the exhibition all this way.
There's not more that I can add that hasn't already been mentioned before by prior correspondents at previous exhibitions, but I must say it was a delight to be able to see Storm's fantastic works hanging together in one place.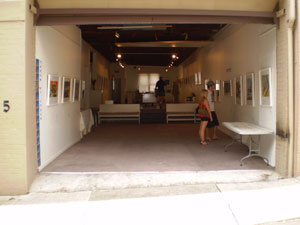 Prior to meeting with Storm I spent some time with his photographer Rupert Truman. (Storm was talking to somebody who wanted to make a doco on album cover designs for TV) Rupert took me through the way (and how) many of the shots had been taken, (The diver in Rick Wright's Broken China cover was shot in Ruperts swimming pool). He had me envious when he spoke of some of the countries he & Storm had visited on various photo shoots.
The meeting with Storm was supposed to be fairly brief, but it stretched out to around 90 minutes in the end! We talked about a range of issues (this wasn't a formal interview) and seldom did I (or he) mention Pink Floyd, this was about getting to know Storm on a personal level.
He is a delightful man, full of mischief and with a wicked sense of humour. I was struck by how sharp & quick witted he was.
Early in the conversation he asked me about my family, and asked my wifes name. (It's Chris) As I was saying my farewells, some time later I might add, Storm said to me 'be sure to give Chris my love'. It was little personal touches like that that made me feel like I had known Storm all my life.
We talked about UFO and the days of Pink Floyd (1967) and many other personal things. Storm told me he was absolutely bowled over with the Sydney Opera House, and that he is off to Christchurch New Zealand next (I think to scout out locations for a possible photo shoot).
There is a possibilty that the exhibition may come to Brisbane & Melbourne, but that's only in the 'maybe' basket at this time. I do know Storm is keen to check out some monoliths and rock formations in Australia at some stage.
At the conclusion of our chat I asked Storm to sign a couple of CD covers for me. As he was signing the first one he asked me if my name had one L or two. I told him one, and not to sign it like Roger Water's did with two L's. Guess how he signed my second cover? To Coll, what's good enough for RW, is good enough for me' Cheeky bugger!
---
The exhibition at the Global Gallery runs from
4 – 23 December 2008 / 5 – 11 January 2009
11am – 6pm daily
(02) 9360 5728