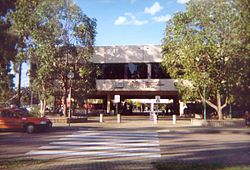 ---
The Actions and Opinions expressed in the following article are solely that of the individual and do not express the actions or opinions from A Fleeting Glimpse or any of it's team. Liam Creedon – Editor In Chief
---
Roger Waters 7 February 2018
I wish to make it clear that this report is mine & mine alone. Liam Creedon & the team from A Fleeting Glimpse have nothing to do with this report whatsoever. Col Turner
Recap: 6th
I attended the show on 6 February and had a front row seat, dead centre, thanks to my friend Michael Whitty. I won't dwell on that show except to say it was most enjoyable. However, I did think it was just an extended version of Roger's Dark Side Of The Moon Tour, but it was excellent none the less. The only down part for me was the girl singers who I thought looked a bit silly banging one drumstick on a drum. Their version of Great Gig was also not to my taste. Other than that I have no complaints. A great spectacular that we have come to expect from Roger.
As we were seated in the front row we had the pleasure of a quick moment with Roger as he walked along the foot of the stage at the end of the show. I briefly (and I mean briefly) shook hands and I said to him "I will see you tomorrow night". He cocked his ear and said "I can't hear you" (Pity about that, for reasons that will soon be obvious).
7th February Report
The second night I had a private invitation to meet Roger back stage. I should explain that I had already met Roger three times by invitation in the past, but on his current tour I understand that meet & greets have been very limited, so I was exceptionally lucky. I was also allowed to bring a friend. Obviously I chose Michael as he had been so kind to give me a brilliant ticket for the night before.
I met up with Michael at 6.30pm and we made our way to the VIP area. We were taken through to the hospitality suite and were soon joined by about 20 others for drinks and nibbles. I caught up with Ian Ritchie (Sax Player, Arranger, Producer who most noticeably produced Rogers 1987 Album Radio Kaos) and we had a good old yarn about many things. (I had met Ian years previously in Denver on Roger's Dark Side Of the Moon Tour).
Show time was approaching, so we headed off to our seats. Michael (who has health issues) was allocated a disabled seat 4th row floor, we could have chosen to sit on the side, but opted for the floor, So we settled in to enjoy the first half.
The show was the same as the previous night and again, really enjoyable but I do admit to waiting for the intermission to come so we could get to meet Roger. Finally intermission had arrived and we headed back to the hospitality suite. There were still a crowd of people there and in came Jess Wolfe & Holly Laessig (Roger's backing singers from Indie band Lucius) and I had my photo taken with them both, but sadly they didn't turn out too well.
I was now getting anxious. We were about 7 minutes into the interval and had still not been summoned to see Roger.(the interval was 20 minutes) . So I located one of Roger's Management Team and asked him when we would get in to see Roger. He said "oh that's right, you have a meet & greet tonight, better see Simon" (Current tour manager) , As luck would have it, Simon wasn't that far away. We were introduced to each other and Simon told me he had been looking for me and we better hurry up! So with that I followed Simon to the dressing room area and Michael followed behind, as it turned out, there was no real hurry as Roger was still in his dressing room
So we waited outside in the hall way. I had with me a flyer that I wanted to get signed for Liam (who now runs the AFG site) and the CD Cover of Radio KAOS that I wanted signed for myself. I knew from previous meetings that Roger will only sign maybe 2 or 3 things, so I kept to that. Michael brought along his VIP pack (from the night before) and a t-shirt. He was hoping to get the t-shirt and a couple of items from the VIP pack signed. (Which BTW, security wouldn't let through the gates so he had to repack the contents in plastic bags).
Continues Below pictures
Above pictures thanks to Col Turner
We waited for a couple of minutes but still no Roger. Then some of his management team came and stood outside his door. (See videos below)
And we continued to wait……..
Finally Roger came storming out of his dressing room and I could tell he was very angry, even before he spoke. Then he said direct to me, in a nasty venomous voice "I know nothing about this, what's going on, I don't want to do this, I'm working". I then held out my hand to shake his as he approached me and he snarled at me "And I don't want to do that either". (Meaning shake my hand) He then waved my outstretched hand away. I totally get this as it might be a health thing, but it didn't make sense that he had shaken my hand the night before! I asked him (somewhat meekly) how things were and he replied "Mustn't Grumble", but even that was said in a sarcastic tone.
As you can guess I was feeling sick right now. I had been invited to meet one of my heroes and here I was getting shouted at for no fault of my own. Somebody suggested a photograph, so Roger & I stood next to each other whilst Michael tipped his gear on the floor to pose for the photo. Roger repeated to me, "I really don't want to do this, I'm working". I just didn't know how to respond, so I thought quickly. Roger & the band had been staying on the Gold Coast (where I live) so I said to him "How are you enjoying the Gold Coast?". He thought about it for a second and then said "Look don't fuck around please, I'm serious, (see video below).
I was shocked, but then asked him if he could smile for the photo. In a couple of previous meetings with him he looked as grumpy as hell and a few people who knew I was going to meet him, encouraged me to get him to smile. He replied (somewhat sarcastically) "Of course I can smile, I have been smiling all my life"! Here's a couple of shots that prompted that request.
Then suddenly as somebody said 'Here we go'. Roger's attitude immediately changed and he smiled for the camera. (As did I). I must admit to being taken aback to witness Roger put on his public persona after being so rude, but now I had seen the REAL Roger Waters.
Brisbane 7th February 2018
He then stormed off. He did say something as he walked off that might have been some sort of apology but it was insincere and said with his back to us.
Conclusion. In Roger's defence it's obvious that somebody stuffed up and forgot to tell him we were coming. I also get that he was working and I know that's a pain for anybody. However I just can't forgive the way Roger spoke to me. (If that had been two people in a pub it probably would have ended up outside). I have admired this man for over 50 years now, and broke my back keeping the AFG site up to date for Roger's various tours & events over a 19 year period. However, Roger owes me NOTHING, but courtesy and good manners don't cost anything and I am done with Roger Waters.
Michael left the show half way through the 2nd half, I lasted until Roger began 'Mother' and then walked out.
Yes, my ego is bruised but I'm a big boy and can deal with that. I'm only doing this to report what happened to me and how I saw the other side of my former hero.
I would like to thank all of Roger's Management team for helping to make this possible. It might not have been a good result but I appreciate the efforts you went to.
Footnote: I know that hard core Roger fans are going to hate me for doing this. I can relate to that. I'm not trying to bring your hero down, I have been a Roger fan since before many of you were born. However, I do ask you to put yourself in my situation. How would YOU feel if Roger had treated you (as an invited guest) like he treated Michael & I. Don't shoot me, I'm only the messenger.
---
Capacity 14,000+
Tickets
The arena has an array of seating plans which facilitate the comfort of its users, subject to performance. Specific seating plans are usually allocated, depending on the performance and the size of its audience. The general seating arrangements are end stage mode, "in the round" and intimate mode, which only uses half of the arena. The centre also houses a sporting complex and small function rooms which are available to hire for wedding reception and business functions.
The centre has 11,000 tiered seats and a maximum concert capacity of 14,500 making it the largest indoor live entertainment arena in Brisbane and the second largest permanent indoor arena in Australia behind only the 21,000 capacity Sydney Super Dome (it is smaller than the 14,820 seat Rod Laver Arena and the 14,856 seat Perth Arena, though both of those venues have a retractable roof). It cost $71 million to construct.
---
Can YOU help? We are looking for any material related to this show. Scans of posters, news items, ticket stubs, show pictures, or anything else you may think be of interest to our visitors. Thanks. Please send any show material to liam@pinkfloydz.com