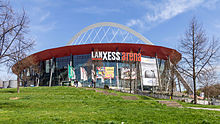 Capacity 20,000+
Lanxess Arena (originally Kölnarena, German for Cologne Arena) is an indoor arena, in Cologne, North Rhine-Westphalia, Germany. It is known as the 18,500-capacity home of the Kölner Haie. The arena opened in 1998 and can accommodate 20,000 people for concerts. With its capacity of 18,500, it is the largest ice hockey arena outside North America.
It is primarily used by Kölner Haie (ice hockey), VfL Gummersbach (team handball), Köln RheinStars (basketball), and as a concert venue.
The arena is spanned by a steel arch supporting the roof via steel cables. The height of the arch is 76 m (249 ft) and its weight is 480 tons.
On June 2, 2008, it was announced that Kölnarena would be renamed Lanxess Arena, for a period of ten years.The sponsor, Lanxess AG, is a specialty chemicals group based in the Lanxess Tower in Deutz, Cologne.
---
Can YOU help? We are looking for any material related to this show. Scans of posters, news items, ticket stubs, show pictures, or anything else you may think be of interest to our visitors. Thanks. Please send any show material to liam@pinkfloydz.com