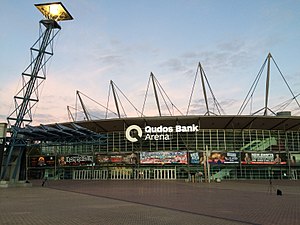 Capacity 18,000+
The Sydney Super Dome (currently known as the Qudos Bank Arena or The Q) is a large multipurpose arena located in Sydney, Australia. It is situated in Sydney Olympic Park, and was completed in 1999 as part of the facilities for the 2000 Summer Olympics.
The A$190‑million facility was designed by COX Architecture and Devine deFlon Yaeger; and constructed by Abigroup Ltd and Obayashi Corporation with environmental factors in mind; however, the air-conditioner unit for the facility used HCFCs and was said to be a breach of the Green Guidelines for the Olympics. Bob Carr, premier of New South Wales, officially opened the stadium in November 1999.
The development of the stadium was part of three subsites which also included a 3,400-space carpark which cost A$25 million,and a plaza with external works, also costing $25 million. The roof's masts reach 42 metres (138 ft) above ground level, and the stadium occupies a site of 20,000 m2 (220,000 sq ft; 4.9 acres).
The arena is ranked in the top 10 arenas worldwide. It is currently managed by AEG Ogden. For three consecutive years the venue has been a finalist for the Billboard Touring Awards in the top venue category.
---
Can YOU help? We are looking for any material related to this show. Scans of posters, news items, ticket stubs, show pictures, or anything else you may think be of interest to our visitors. Thanks. Please send any show material to liam@pinkfloydz.com