Beauty was in no short supply at Staples Center, where Waters' typically elaborate production put his expert road band (filled with hip young players like singer-guitarist Jonathan Wilson and drummer Joey Waronker) on a stage tricked out with sophisticated visual components: high-definition video screens, a floating orb equipped with a camera, a collapsible replica of the iconic Battersea Power Station pictured on the cover of Pink Floyd's "Animals."
The images weren't necessarily meant to be lovely. During the new album's "Déjà Vu," grainy footage from a presumably American bomber plane showed a truck being obliterated from above; "Pigs (Three Different Ones)," from "Animals," was accompanied by doctored photos of a seething Trump dressed in Nazi regalia.
But set against the gorgeous zero-gravity throb of Waters' music — solo material along with songs from Pink Floyd's mid- to late-'70s heyday — the artfully edited display had a lulling effect that seemed at odds with his stated desire to shake things up.
"Black and blue / And who knows which is which and who is who," Wilson sang dreamily (filling in for Pink Floyd's David Gilmour) in "Us and Them," and it was awfully easy to recline in one's seat and listen to his nonsense.
Waters understands this tension, of course: He's the guy who wrote the words to "Comfortably Numb," which closed Tuesday's show in a blaze — well, a slow burn — of self-doubting psychedelia.
And there were moments of real rupture, as in a pummeling rendition of "Brain Damage," from "The Dark Side of the Moon," and "The Great Gig in the Sky," which Waters' backing vocalists — Jess Wolfe and Holly Laessig of the indie band Lucius — sang while staring into each other's eyes, their platinum-blond wigs creating an appealingly eerie reflection.
Tunes from "Is This the Life We Really Want?" offered less happy sedation. In "Picture That," Waters jabbed his finger in the air as he threw out one disturbing vision after another: "your kid with his hand on the trigger," someone "glued to a screen in the state of Nevada." Here his voice was ragged, the song's grim sentiment unsweetened by sight or sound.
Mostly, though, Waters' high-tech spectacle made you wonder which he was trying to do: galvanize his fans or soothe them. (A more charitable read might be that he was critiquing their reasonable desire to be soothed at a moment of crisis.)
Nowhere was that ambiguity more pronounced than at the end of his first set, just prior to an intermission that split the three-hour concert into halves.
Waters was playing "Another Brick in the Wall," his anti-tyranny chant from "The Wall," when a group of teenagers he'd brought onstage tore off the orange jumpsuits they were wearing to reveal black T-shirts that read "Resist."
Were we supposed to take inspiration from these kids — from their eagerness to stand up and be counted?
Or was their activism allowing an older generation to wriggle off the hook?
---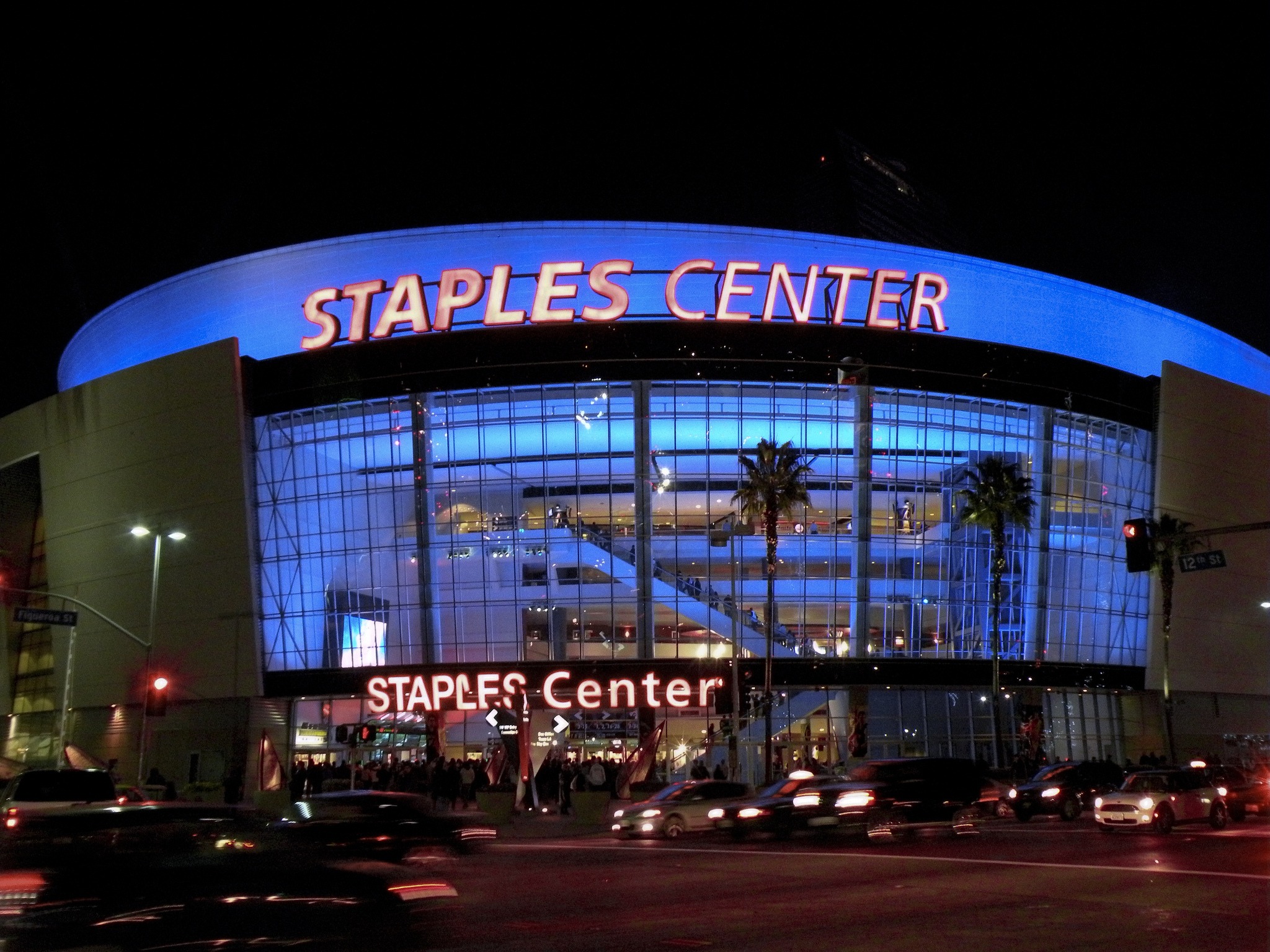 Capacity 21,000+
Roger Waters last played The STAPLES Center on 5 December 2010
Staples Center is a multi-purpose sports arena in Downtown Los Angeles. Adjacent to the L.A. Live development, it is located next to the Los Angeles Convention Center complex along Figueroa Street. Opening on October 17, 1999, it is one of the major sporting facilities in the Greater Los Angeles Area.
It is owned and operated by the L.A. Arena Company and Anschutz Entertainment Group. The arena is home to the Los Angeles Lakers and the Los Angeles Clippers of the National Basketball Association (NBA), the Los Angeles Kings of the National Hockey League (NHL), and the Los Angeles Sparks of the Women's National Basketball Association (WNBA). The Los Angeles Avengers of the Arena Football League (AFL) and the Los Angeles D-Fenders of the NBA D-League were also tenants; the Avengers were folded in 2009, and the D-Fenders moved to the Lakers' practice facility at the Toyota Sports Center in El Segundo, California for the 2011–12 season.[6] Staples Center is also host to over 250 events and nearly 4 million guests each year.
---
Can YOU help? We are looking for any material related to this show. Scans of posters, news items, ticket stubs, show pictures, or anything else you may think be of interest to our visitors. Thanks. Please send any show material to liam@pinkfloydz.com