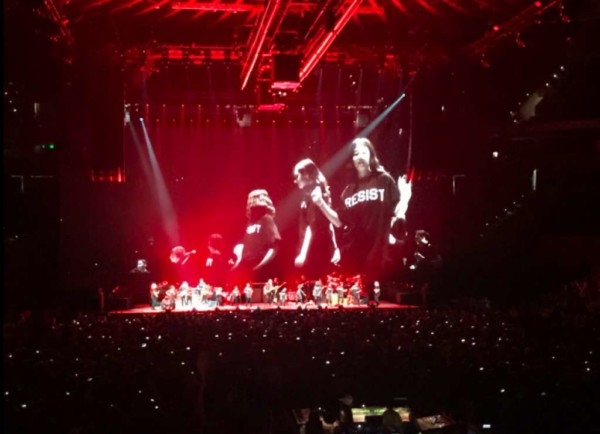 Thousands of Roger Waters fans poured into Oakland's Oracle Arena Saturday night expecting a night filled with Pink Floyd hits. In addition to back-to-back hard rock hits, Waters also served fans a heavy dose of political commentary.
References to President Donald Trump dominated the second half of the show, according to concertgoers.
Photoshopped images of Trump as a pig and a baby (at one point being held by Russian President Vladimir Putin), as well as some of the president's most infamous quotes, were projected onto the massive screens at the arena during Waters' set.
During his performance of "Another Brick in the Wall," a group of local children joined Waters on stage. They wore orange jumpsuits and chanted along with the song, repeating, "Teachers leave those kids alone." During the third verse, they ripped off their jumpsuits to reveal they were wearing t-shirts that read "RESIST."
Los Gatos resident Amy Gregory, 22, was at the concert and described the experience as "cathartic."
"There was a level of anger that I know I have about the current political situation," Gregory said. "It brought back music written in 1985 and tied it to what's going on right now."
Gregory said most of the audience seemed to react positively to Waters' sharp criticism and bold depictions of the president. "You know when you go to a Roger Waters concert, you're going to get a certain amount of liberal anti-establishment politics," she added. "But this was very direct."
Others who shared pictures and video from the concert didn't seem to mind the overt political commentary either. Bill Graham, a data systems engineer from San Francisco, tweeted, "Amazing Roger Waters show at Oracle arena last night, with no shortage of political undertones."
---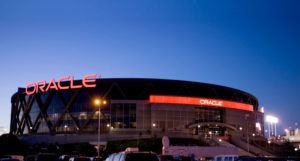 Capacity 20,000+
Oracle Arena is an indoor arena located in Oakland, California, United States, that is the home of the Golden State Warriors of the National Basketball Association (NBA). The arena opened in 1966 and is the oldest arena in the NBA. From its opening until 1996 it was known as the Oakland-Alameda County Coliseum Arena. After a major renovation completed in 1997, the arena was renamed The Arena in Oakland until 2005 and Oakland Arena from 2005 to 2006.
It is often referred to as the Oakland Coliseum Arena as it is located adjacent to the Oakland–Alameda County Coliseum.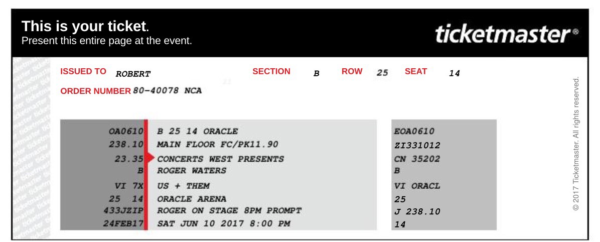 (Thanks go to Robert Carbonaro for sending the ticket scan in.. Enjoy the show !!)
---
Can YOU help? We are looking for any material related to this show. Scans of posters, news items, ticket stubs, show pictures, or anything else you may think be of interest to our visitors. Thanks. Please send any show material to liam@pinkfloydz.com