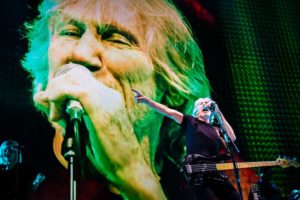 I once read that every guy goes through a Pink Floyd phase at some point. I don't know if that's true, but it's one of those things that has always felt true to me. As part of the band, Roger Waters wrote songs that will last as long as humans listen to music. Long after this post ends up in the great web archive in the cloud, new generations of music fans will pour over the lyrics and sounds that he had a hand in writing.
That he's decided to weaponize those songs to force his fans to face the uncomfortable truths of the modern world is a revelation.
The Us + Them Tour has so much to take in and so much to digest that this review could be written three times over and still not really scratch the surface of it all. The combination of music and words and sound effects and lights and video creates so many moments likely to drop your jaw that processing them all is almost overwhelming; this is a show where a giant, reflective orb floating across the arena for a while and it wouldn't even make the Top 10 moments of the show.
Waters pulls no punches on this tour. This is a show that features video of trucks being blown up by drones, Donald Trump with a KKK mask Photoshopped onto his face and a literal, visual metaphor of the school-to-prison pipeline featuring local children of color. It is confrontational in ways that shock, but also in ways that make you pump your fist in triumph.
It's dark to a point where you start to wonder if Waters can pull things back from the black, especially when you know in the back of your mind that "Comfortably Numb" is going to close the show.
But it's at the end, in the final run of songs, where Waters and company bring it all back for moments that had me close to tears. It's in the hands that couldn't connect during "Wish You Were Here" finally coming together. It's in how the rainbow of colors that got pushed away by the white of the moon in "Eclipse" reappear as confetti falls from the sky. It's in a child taking a seat next to her mother on an unknown beach.
It's hope. It's connection. It's love. Just how it's always been for Waters.
This is a show that recreates the cover to Animals with projectors and the cover to Dark Side of the Moon with lasers, but that's just tech. It's wonderful, absolutely, but this show got into my feelings in ways that I had thought impossible, and it wasn't just the tech.
I have seen better concerts on a purely musical-performance level and I have seen better concerts on a storytelling level, but I've never seen a show where the two came together as magically as they did here. I want to write 5,000 words on this show and then force other people who have seen it to sit in a room with me and break it down minute by minute. I want every show to be this one.
I admire the songwriting ability of Taylor Swift, the endurance of Garth Brooks, the audacity of Kanye West. I admire Tool's unwillingness to compromise, Rage Against the Machine's ability to channel anger into power otherworldly, Big Freedia's ability to create a space where everyone feels free and Lady Gaga's endless empathy.
But Roger Waters is the greatest concert showman of all time.
Personal Bias: When I was away from home for the first time in my life, grappling with the realities of 9/11 and my first breakup, I spent about six months listening to Disc 1 of The Wall every night before I went to bed. Some people turn to drugs or food or exercise; I turned to prog-rock.
The Crowd: I can't speak for every other section, but the people in mine were very chill. Didn't have to stand once the entire show to see anything, which made taking everything in easier.
Random Notebook Dump: Jess Wolfe and Holly Laessig of Lucius are on this tour providing background vocals on most tracks and taking the lead on "The Great Gig in the Sky" and "Bring the Boys Back Home." They are incredible and really added to the texture of the songs. There were a lot of talented folks up onstage, but they had the best showing of all.
Review Courtesy Of Cory Garcia
---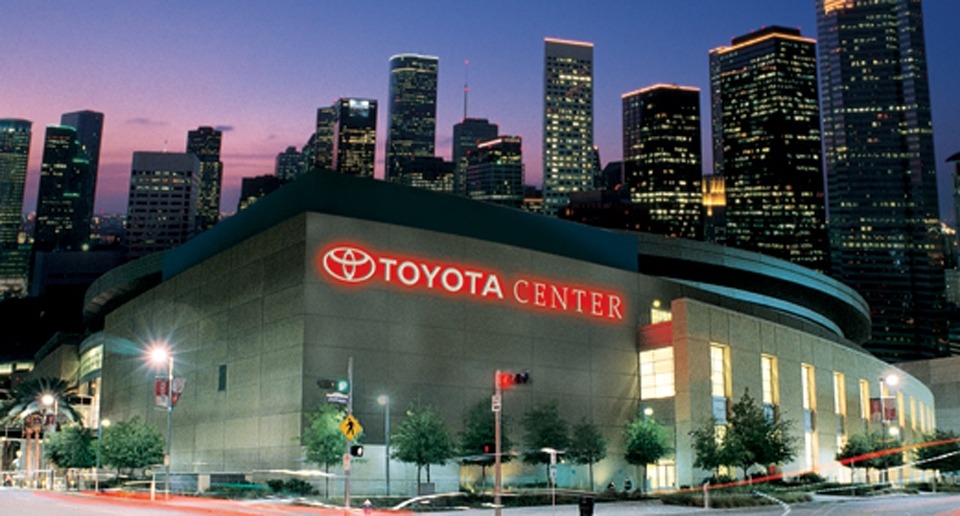 Capacity 18,000+
Toyota Center is an indoor arena located in downtown Houston, Texas. It is named after the Japanese automobile manufacturer Toyota. The arena is home to the Houston Rockets of the National Basketball Association, the principal users of the building, and the former home of the Houston Aeros of the American Hockey League.
Rockets owner Leslie Alexander first began to request a new arena in 1995, and attempted to release the Rockets from their lease at The Summit, which ran until 2003. However, he was denied by arena owner Chuck Watson, then-owner of the Aeros, who also wanted control of a new arena. The two sides agreed to equal control over an arena in a deal signed in 1997, but the proposal was rejected by city voters in a 1999 referendum. It was not until the city and the Rockets signed an amended agreement in 2001, excluding the Aeros, that the proposal was accepted.
Construction began in July 2001, and the new arena was officially opened in October 2003. The total costs were $235 million, with the city of Houston paying the majority, and the Rockets paying for enhancements. Toyota paid US$100 million for the naming rights.
---
Can YOU help? We are looking for any material related to this show. Scans of posters, news items, ticket stubs, show pictures, or anything else you may think be of interest to our visitors. Thanks. Please send any show material to liam@pinkfloydz.com