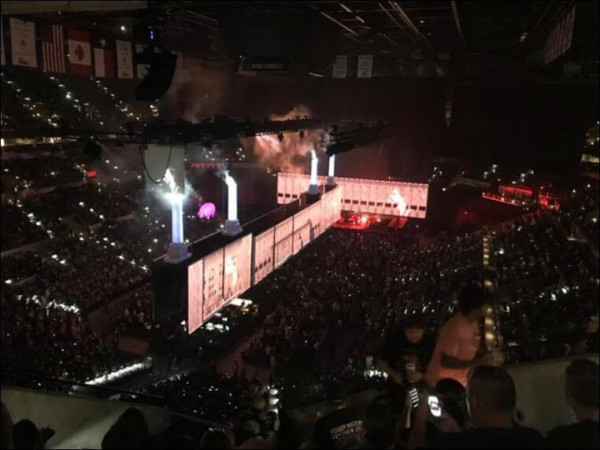 The show opened with an Islamic chant and a visual of a woman sitting on the beach. Waters then took the stage to play a lengthy "greatest hits" set before launching into his attack on western values and modern Christianity. It wasn't enough to shame just President Trump, Waters had to mock anyone who favored Chelsea Manning's arrest for leaking classified information.
When the second set opened with songs from the album "Animals" (based on George Orwells' "Animal Farm") he couldn't wait to push the Russian narrative that had literally been debunked less than a week earlier by Project Veritas. This transitioned into Pink Floyd's classic song, "Money."
The number drew cheers when he played a clip of Trump saying he was very rich, contrasted against images of the homeless. Here's betting 99 percent of the concert attendees leaving the arena didn't stop to help the homeless that were wandering around outside.
Rogers played what sounded like the start of World War III later in the show. A giant alarm sounded and a wall of screens that turned into a factory helped the singer mock Trump's wall blueprint.
The singer's Trump attack continued with numbers like "Picture That" and "Deja Vu." The songs showcased the myth of the refugees only being women and children:
Picture a seat on a private plane
Picture your feet nailed to the floor
Picture a crew who are clearly insane
Picture no windows, picture no doors" – "Picture That"
If I were a drone
Patrolling foreign skies
With my electronic eyes for guidance
And the element of surprise
I would be afraid to find someone home
Maybe a woman at a stove
Baking bread, making rice, or just boiling down some bones
If I were a drone- "Deja Vu"
If you want to see Waters' current 'Us + Them" tour, running through October, it's mediocre at best. The show wasn't worth the full admission price.
UPDATE: In my review of Roger Waters' "Us + Them" Tour I failed to mention how he hid behind children wearing orange jumpsuits during his performance of "Another Brick in the Wall" part 2. The youngsters later ripped them off at the end of the first set to reveal black T-shirts saying, "Resist."
Review Courtesy Of Andrew Anderson
---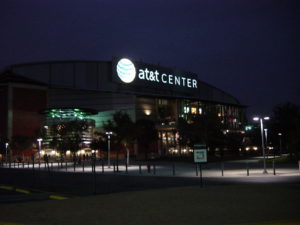 Capacity 19,000+
Tickets
The AT&T Center is a multi-purpose indoor arena on the east side of San Antonio, Texas, United States. It seats 18,418 for basketball, 16,151 for ice hockey, and 19,000 for concerts or gatherings, and contains 2,018 club seats, 50 luxury suites and 32 bathrooms.
The arena was completed in 2002, as the SBC Center, at a cost of US$175 million, financed by county-issued bonds, which were supported by a hotel-occupancy and car-rental tax increase and an additional contribution of $28.5 million from the Spurs. SBC Communications, Inc., purchased the naming rights to the facility under a 20-year, $41 million naming rights agreement with Bexar County, the San Antonio Spurs, and the San Antonio Stock Show & Rodeo in July 2000. SBC Communications changed its name to AT&T Inc. in November 2005. The arena officially changed its name to AT&T Center in January 2006.
---
Can YOU help? We are looking for any material related to this show. Scans of posters, news items, ticket stubs, show pictures, or anything else you may think be of interest to our visitors. Thanks. Please send any show material to liam@pinkfloydz.com