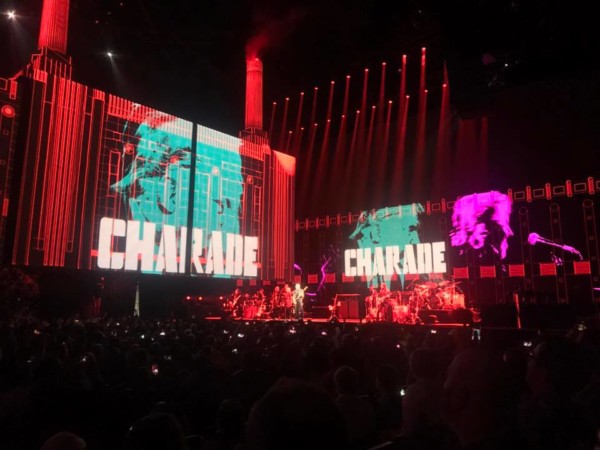 In 2006, Roger Waters performed at Madison Square Garden, the second set was Dark Side Of The Moon, the first set was odds and sods, including "Leaving Beirut". "Leaving Beirut" allowed Waters to tell the story of visiting the Lebanon as a teenager and being invited to stay with a local family, an act of kindness he never forgot.
What he forgot was the relationship between the Lebanese and Palestinians.
The Lebanon, one of those post World War II Colonial exercises in new country manufacturing, this time by the French, had an unwritten contract whereby the majority Christians held the Presidency and the minority Muslims held the Prime Minister position.
After the 1967Arab-Israeli war, Jordan kicked the Palestinians out of the West Bank and so they went to Lebanon where they
1 – Formed a country within a country
2 – Went across the border to attack Israel, and then hid among Lebanese civilians, so Lebanese men, women and children were killed when Israel retaliated.
3 – Slept with Muslim women, had Muslim children, and changed the balance on power.
4 – Fomented the civil war that destroyed the country for decades.
If Palestinians wanted their own country, why didn't they sign the Camp David Accord with Bill Clinton?
As for the BDS (Boycott, Divestment and Sanctions) movement, the good thing about having a vicious thug like Benjamin Netanyahu in power is that he can make peace with the Palestinians, he has the authority of an Arab hater and that will allow him to do it. Palestinians need to sit down and negotiate terms of their surrender of Jerusalem and start building their country instead of blaming everybody else, then, once they manage to stabilize the country, they can worry about Jerusalem again. BDS is awful.
Outside the Barclay Center Monday night, a forlorn bunch of protesters with signs reading "Jew hater Roger Waters" and "Buy Israel, Ban BDS Racists," were having their pictures taken while inside a screening of a woman sitting staring at the beach unspooled, later, during the new number "The Last Refugee," the same woman, a Palestinian, is seen mourning her adorable and dead daughter. Look, nobody wants to see children shot dead by Israeli soldiers, and we have all seen film of Israeli soldiers gunning down unarmed Palestinians, but war is hell and we have all seen Palestinian suicide bombers blowing up school busses. There needs to be a political solution and Waters blinded opinion doesn't help. It is far from simple but the rewards for Palestine would be huge.
Last night, this was part of Waters problem as a political commentator, his righteous indignation only gets him so far even if and when you agree with him. The first 30 minutes of the second set, where Waters and his band perform a huge chunk of Pink Floyd's excellent Animals album, seconds, actually firsts, as a powerful denunciation of President Trump, and to a lesser extent Putin. With some of the most terrific effects you'll see, including a replica of the Animals album cover, the Battersea Power Station (now luxury apartments and villas, in the middle of the arena, and a giant pig (same as on the initial Animals tour) floating above us, a picture of Trump with dollar signs for eyes, is a glaring horror show. As "Dogs" turn to "Pigs," Water turns his full concentration on Trump, and hangs him by his own words, loathsome and stupid, and ten foot tall. The music sounds like industrial strength hard rock, brutal and ugly but so much force the two together is a complete denunciation and so what? Really, don't I know this? How does Waters art add anything to the conversation, to the RESISTANCE? It is too much and by the end of the segment it is grating. Much better was a first set version of "Picture That" where the bassists bellow holds us in its tight grip and the lyric passes by the prosaic unto the poetic nightmare:
Follow me filming myself at the show
On a phone from a seat in the very front row
Follow Miss Universe catching some rays
Wish You Were Here in Guantanamo Bay
Picture a seat on a private plane
Picture your feet nailed to the floor
Picture a crew who are clearly insane
Picture no windows, picture no doors
Glued to a screen in the state of Nevada
To follow the dream gets harder and harder
David Gilmour, Syd Barrett's replacement, sounded better, elegiac and moving (and tedious and strained), when I saw him in April 2016. I wrote at the time "The sound is a beautiful mix of prog-rock introversion and hard rock guitar solos, a jazz track thrown in for taste. The mix was immaculate, the band superb. Musically, he has Waters solo by a nose, and both sets last night, while nod-a-sleep worthy from time to time, were a supremely competent retrospective from a man who has maintained his balance without becoming a sight for sore eyes over, quite literally, decades." As sound, he is Waters superior (by a hair), as spectacle Waters is much more entertaining.
Despite the claim that Waters would be on stage at 8pm precisely, Waters wasn't on stage till 835p. Even the woman on the beach film didn't start till 815pm, 20 minutes of mostly stationary film whose payoff an hour later wasn't worth it. The first set saw Roger leading a terrific band, Jessica Wolfe and Holly Laessig (aka Brooklyn duo Lucius) sing not just back up but front on "The Great Gig In The Sky" and guitarist Dave Kilminster who gave pretty darn accurate takes on Gilmour's signature sound, was a lynchpin of the ten piece band, while Waters played all of his roles with complete conviction. The first set had songs from Meddle, Dark Side Of The Moon, and a one two at the end of the set with a sublime "Wish You Were Here" and a not as good as the Yankee Stadium 2012 gig "The Wall," ,but how it could it be? The end of the song when the children's choir take off their jumpsuits and reveal themselves in "RESIST" tee shirts is great.
The second set opened with the half hour of Animals, before settling into more hits aplenty with the climax of Dark Side Of The Money, almost as great as that MSG gig from 2006 and a knockout punch after an evening of knock out punches. Waters opened the encore with the preposterous claim that millions of people had died because of 9-11, another brick in the brain draft. Then a three song encore and exploded confetti on us with the legend "resist" printed, so we don't get too comfortably numb at the end. Not that there was much chance of that.
Waters performance was excellent, his hoarse and strained vocals perfect for the anger and alienation and a great band simulating Pink Floyd. The songs of wealth distribution, class dishevelment and power exploitation of the less fortunate fit in with the times, the new songs, especially "Picture That" went very well with the old songs, and the entire nostalgia had an added flip of crosscurrent politicizing. But it missed something. Waters is simple minded (it is why he is bad on Israel –it is too dense for white hats and black hats, everyone is wrong), his visions, all walls and flying pigs, cigars and alienated children, is 1984 for morons. That's fine for The Wall but for Trump? Trump doesn't lend himself to great art the way he doesn't lend himself to great satire, he is too self-evident, there are no hidden depths and nothing we miss from the get go. There is nothing tragic or interesting. If you stick Trump on a wall, or in bed with Putin, or with dollars in his eyes, if you throw in his stupid soundbites, it doesn't tell us anything we don't know already. It doesn't even tell his supporters anything they don't already know. Trump stymies his strongest critics, portraying him as a flying pig isn't shocking enough, nothing you can say about him, nothing you can sing, is enough. Trump is a thug like Putin: all there is is ego and thuggery, Xi Jinping would make for vastly more interesting art.
Roger is a self-evident man, according to Wikipedia "His father, the son of a coal miner and Labour Party activist, was a schoolteacher, a devout Christian, and a Communist Party member…. He was killed February 1944 at Aprilia, during the Battle of Anzio." That form of extreme politics at an early age (his father was also a Pacifist till he changed his mind), leads to a very clear case of right and wrong. With Trump, two extremes meet, with Israel, there is only one point of view but surely any time you are discussing a people who have recently (yes, recently, it is less than Waters' lifespan) survived an attempt to make them extinct, the truth will not be as clear as he, or I for that matter, might want it to be.
Review Courtesy Of Iman Lababedi
---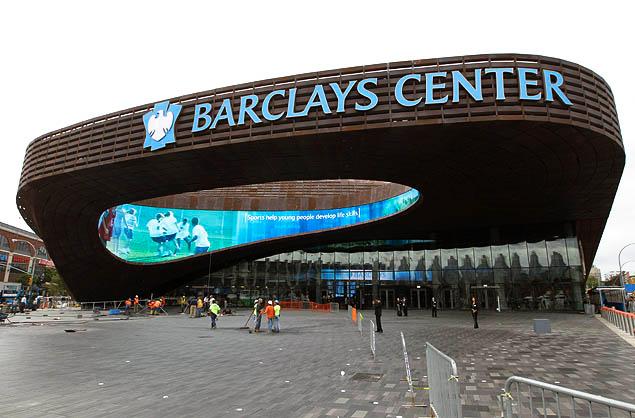 Capacity 19,000+
Barclays Center is a multi-purpose indoor arena in the New York City borough of Brooklyn. It sits partially on a platform over the Metropolitan Transportation Authority (MTA)-owned Vanderbilt Yards rail yard at Atlantic Avenue for the Long Island Rail Road (LIRR). It is part of a $4.9 billion future business and residential complex now known as Pacific Park.
The site is located adjacent to the renamed Atlantic Avenue–Barclays Center subway station on the 2 3 4 5 B Q D N R routes, as well as directly above the LIRR's Atlantic Terminal. The arena is currently home to the Brooklyn Nets of the National Basketball Association and the New York Islanders of the National Hockey League.
---
Can YOU help? We are looking for any material related to this show. Scans of posters, news items, ticket stubs, show pictures, or anything else you may think be of interest to our visitors. Thanks. Please send any show material to liam@pinkfloydz.com