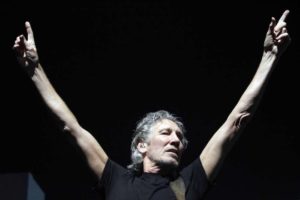 ALBANY — Pink Floyd has essentially been over since 1994, leaving its musical legacy up for grabs. In that time, bassist/singer-songwriter Roger Waters has claimed it as his own via epic tours behind the band's seminal "Dark Side of the Moon" and "The Wall" albums. On Saturday night, he came to the Times Union Center in support of a new album instead of a Pink Floyd one, offering up a compelling mix of polemic and classic rock songs.
It was interesting to see Waters play songs that he co-wrote but can't really say are just his. Waters opened with "Breathe," "One of these Days" and "Time," all orignally sung by David Gilmour. This made Waters a bit player in his own show, standing near the drum kit while Jonathan Wilson sang and joined Dave Kilminster in lead-guitar duties. It wasn't until the fifth song, a killer "Welcome to the Machine" featuring Wilson on the higher vocal track, that Waters did much singing.
Waters didn't really take command of the stage until he played tracks from "Is this the Life we Really Want?," his new album. He sounded excellent on "When We Were Young," and the live performance far exceeded the studio arrangement. During "Picture That," a hamfisted political number that apes the lick to Floyd's "Money," he angrily prowled the stage, gesticulating and belting out lyrics like "imagine a leader with no (bleeping) brains" as the giant video screen behind him played a video of President Trump.
Waters followed this up by taking lead vocals on an outstanding version of "Wish You Were Here," receiving massive applause for his efforts. He ended the first set by introducing some kids from Albany's School of Rock for a superb "Another Brick in the Wall." The kids were enthusiastic in their singing and synchronized dancing, earning an ovation from the audience as well as cheers from a visibly pleased Waters.
After a brief break, Waters returned with a sense of urgency and political rancor. During "Pigs (3 Different Ones)," the video screens played various videos emasculating President Trump while a giant inflatable pig with Trump's face on it traveled across the arena. As Waters and the band rocked, the video screen segued to various Trump quotes that ranged from embarrassing to horrific. As the song ended, the words "Trump is a Pig" flashed and the crowd went nuts.
After a middling version of "Money" and a handful of other songs, Waters led the band through "Vera" and "Bring the Boys Home." He closed with "Comfortably Numb," a superior song but also one that shows the limitations in his self-anointed status as standard bearer for Pink Floyd. Of all the songs in the Floyd oeuvre, this one is the most Gilmour, from the vocals to the beautiful outro solo. After sharing lead vocals, Waters left the stage halfway through as Wilson and Kilminster beautifully soloed until the conclusion. For the main attraction and someone who purports to be the brains behind Pink Floyd, it was odd to pick an iconic Gilmour song to close the night.
Review Courtesy Of Jim Shahen Jr
---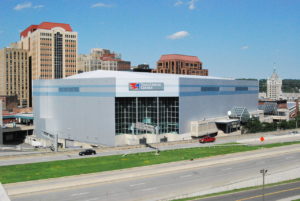 Capacity 20,000+
Times Union Center (originally Knickerbocker Arena) is an indoor arena located in Albany, New York. It is configurable and can accommodate from 6,000 to 17,500 people, with a maximum seating capacity of 15,500 for sporting events.
The building, designed by Crozier Associates and engineered by Clough Harbour & Associates, was built by Beltrone/MLB at a cost of $69.4 million.
The arena also has 25 luxury suites; each has sixteen seats, cable television, a refrigerator, and a private bathroom. They are located at the top of the inner bowl. All suites are rented on three-year terms; all are currently sold out.
---
Can YOU help? We are looking for any material related to this show. Scans of posters, news items, ticket stubs, show pictures, or anything else you may think be of interest to our visitors. Thanks. Please send any show material to liam@pinkfloydz.com