As lyricist and creative point man for Pink Floyd beginning in the early-1970s, Roger Waters frequently promoted a dark vision of human kind, one detached from its spirituality, prone to the selfish pursuit of power, and careening toward fascism.
Waters, who performed a huge chunk of Floyd's recordings sprinkled with a few from his own recently-released "Is This The Life We Really Want" during a three hour concert last night in the Nationwide Arena, would unhappily insist the world today is too like those songs.
Back in 1973—44 years ago—he co-wrote "Us And Them," a soporific meditation on war that, interpreted more liberally, laid the blame on the human inclination to create divisions between self and other, nation vs nation.
The song anchored "Dark Side Of The Moon," the source for seven of the evening's selections. Waters has chosen "Us And Them," a wider observation of the consequences of our deep divisions, as the tour's title.
Unsurprisingly, given Waters' historical distaste for materialism and nationalism, he views the election of Donald Trump as emblematic of critically-deepening differences.
Last night's sharpest and most simplistic statements were those that attacked the president. "Picture That," from Waters' new album, pounded the message without mentioning names. To a list of social and political flashpoints, Waters added the lines: "Picture a leader with no f***ing brains/No f***ing brains, No f***ing brains."
A couple songs from Floyd's "Animals" album—a grim dissertation on wealth and the banal fascism of productivity—as well as "Dark Side's" "Money" were jarringly literal. "Pigs (Three Different Ones)" included unflattering images of Trump, including his head superimposed on a pig's body and as a baby in Vladimir Putin's arms. A giant inflated drone pig flew above the audience and included Trump's face with dollar sign eyes and the dialogue bubble, "I won."
If the Trump attacks became obvious and a bit shrill, the larger message never lost potency. The old songs' prescience continued to add depth as the evening wore on. The videos and overall, high-tech production were as important in communicating the theme.
After the departure of lead singer Syd Barrett in 1968, Floyd struggled to find direction, contributing music to art films and playing art "happenings." Waters and his production crew have continued creating visual accompaniment to the music that is expressive, symbolic, and dazzling. Last night's production included a raft of 20 ft. high video screens that stretched in the center for the length of the venue. A laser recreation of the pyramid from "Dark Side's" cover capped the effects.
Still, the music was at the center of the performance, Waters, at 73, finding renewed inspiration in songs he wrote more than four decades ago. His band stood in for Floyd spectacularly, if at times too much like the original recordings. Guitarists David Kilminster and Jonathan Wilson worked some variation into the arrangements, nonetheless. Singers Jess Wolfe and Holly Laessig from the group Lucius captured the crucial backup vocals in "Dark Side" and added a lot of presence.

Review Courtesy of Adam Bairn

---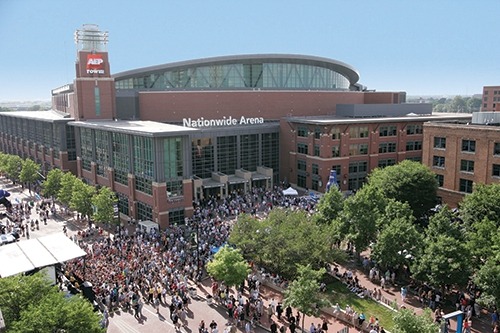 Capacity 20,000+
Nationwide Arena is a large multi-purpose arena, in Columbus, Ohio, United States. Since completion in 2000, the arena has served as the home of the Columbus Blue Jackets of the National Hockey League.
It is one of three facilities in Columbus (along with Greater Columbus Convention Center and Franklin County Veterans Memorial Auditorium) that hosts events during the annual Arnold Classic, a sports and fitness event hosted by bodybuilder and former Governor of California Arnold Schwarzenegger.
In May 2012, Columbus Mayor Michael B. Coleman made a pitch to the NBA requesting an expansion or relocated team be moved to Nationwide Arena.
---
Can YOU help? We are looking for any material related to this show. Scans of posters, news items, ticket stubs, show pictures, or anything else you may think be of interest to our visitors. Thanks. Please send any show material to liam@pinkfloydz.com