Camera flashes popped as the bus-sized pig floated over the Amalie Arena crowd, splashed with Donald Trump's yowling mug and phrases like "Welcome to the Machine – I Won" and "Piggy Bank of War."
Subtle political commentary, this was not. Then again, subtle was never Roger Waters' style.
The Pink Floyd mastermind's worldview may be as grim and dystopian as ever, judging from his spectacular, effects-laden concert Tuesday night in Tampa. But if America truly is going to hell in a handbasket, as Waters seems to believe, at least he's giving it a proper, stadium-style send-off.
Waters is more than happy to scream his progressive, anti-authoritarian politics from the rooftops on his Us + Them Tour, his first in 15 years that wasn't built around a classic album like The Wall or The Dark Side of the Moon, and which he's said might be his last big outing ever. His otherworldly 2-1/2-hour show was constructed and executed with liturgical passion and discipline, a feast for the eyes, ears and, depending on your tolerance for agitprop, mind and soul.
As was the case in his Pink Floyd days, the star of the show was rarely Waters himself – although at a ropy and chic 73, he still fits the profile of a grizzled rock icon – but instead the audio-visual insanity all around him. Speakers hung throughout the arena projected sound effects in all directions, creating a surreal, headphone-like headspace. Short films and videos screamed in high definition across a mansion-sized backdrop, blending hypnotic new footage with clips evoking Pink Floyd's influential past. Dark Side tracks like Time, Breathe and The Great Gig in the Sky were sharp and mesmerizing, but not as much as the swirling starscapes and nightmarish visions in the background.
Waters' passion for playing Pink Floyd has not waned – the way he lurched, menaced and howled to the crowd on Welcome to the Machine was nothing short of maniacal – and the faithful band he's assembled makes it possible. Tackling David Gilmour's lead vocals were longtime guitarist David Kilminster and Jonathan Wilson, who's produced albums by Father John Misty and Dawes. Drummer Nick Mason's replacement was studio whiz Joey Waronker, who's played with R.E.M. and Beck. Even Waters' backing vocalists, who dominated the orgiastic The Great Gig in the Sky, were Jess Wolf and Holly Laessig of the acclaimed indie band Lucius.
There were moments of political intrigue during the first half of the show – footage of drone bombings and desertscapes; the vitriolic lyrics of new song Picture That ("Picture a leader with no f—ing brains!") as images of Trump flashed on screen. And then, as he ended the set with a rousing suite from The Wall, a chorus line of children in orange jumpsuits appeared for Another Brick in the Wall, Part 2, then stripped down to black T-shirts emblazoned with the word RESIST, as Waters danced and raised his fist alongside them.
But after intermission is when things really got heated.
As the lights dimmed to sound effects of bullets, sirens and riots, the arena underwent a transformation. In a remarkable effect, a row of scaffolding lowered from the rafters, then gave rise to an enormous three-dimensional video screen in the shape of the power station from the cover of 1977's Animals, complete with architectural trompe l'oeils and four actual smoking columns, extending from the stage to the soundboard.
Waters and his band roared through Dogs, play-acting a farcical classist nightmare by donning pig masks and sipping champagne. Then came Pigs (Three Different Ones), which brought the anti-Trump pig blimp and a flood of savage graphics on the screen: Trump's head on a pig's body, a teeny Trump hoisted by Vladimir Putin, more than a dozen ire-inducing quotes attributed to the president ("The beauty of me is that I'm very rich," for example; or "Even if the world goes to hell in a handbasket, I won't lose a penny"). The video ended with four words: TRUMP IS A PIG. A few fans lobbed boos and catcalls in the silence that followed, but many more howled in applause.
Then, on Money, more footage: Trump and Putin and Jeff Sessions, sports cars and beauty pageants and gold, Trump's casinos alongside the Kremlin. Waters was drawing a line in the sand on one of Pink Floyd's biggest hits: Pout and boo all you want, but this is where I stand. If you stand with me, sing along.
Eventually he let conservative fans back off the hook by turning the focus away from Trump and back to Pink Floyd. Brain Damage was another surround-sound epic that brought canned cackles cascading from the rafters. For Eclipse, an eye-popping pyramid of lasers appeared above the audience, projecting a prismatic rainbow from the pinnacle.
"Wow," Waters said afterward, speaking for only the second time all night as the crowd roared an extended ovation. "Thank you so much. There's a lot of love in this room."
Indeed, against all odds, Waters closed on a note of communal hope: The sparse, beautiful Vera and Bring the Boys Back Home, and a soaring and searing Comfortably Numb.
As Wilson sang Gilmour's chorus, Waters sauntered to the corners of the stage, screaming and shaking his fists to the audience, even hopping offstage to gladhand those in the front row as confetti fell from on high. He raised his arms. He pumped his fists. And he looked ready to revolt all over again.
Review Courtesy of Jay Cridlin
---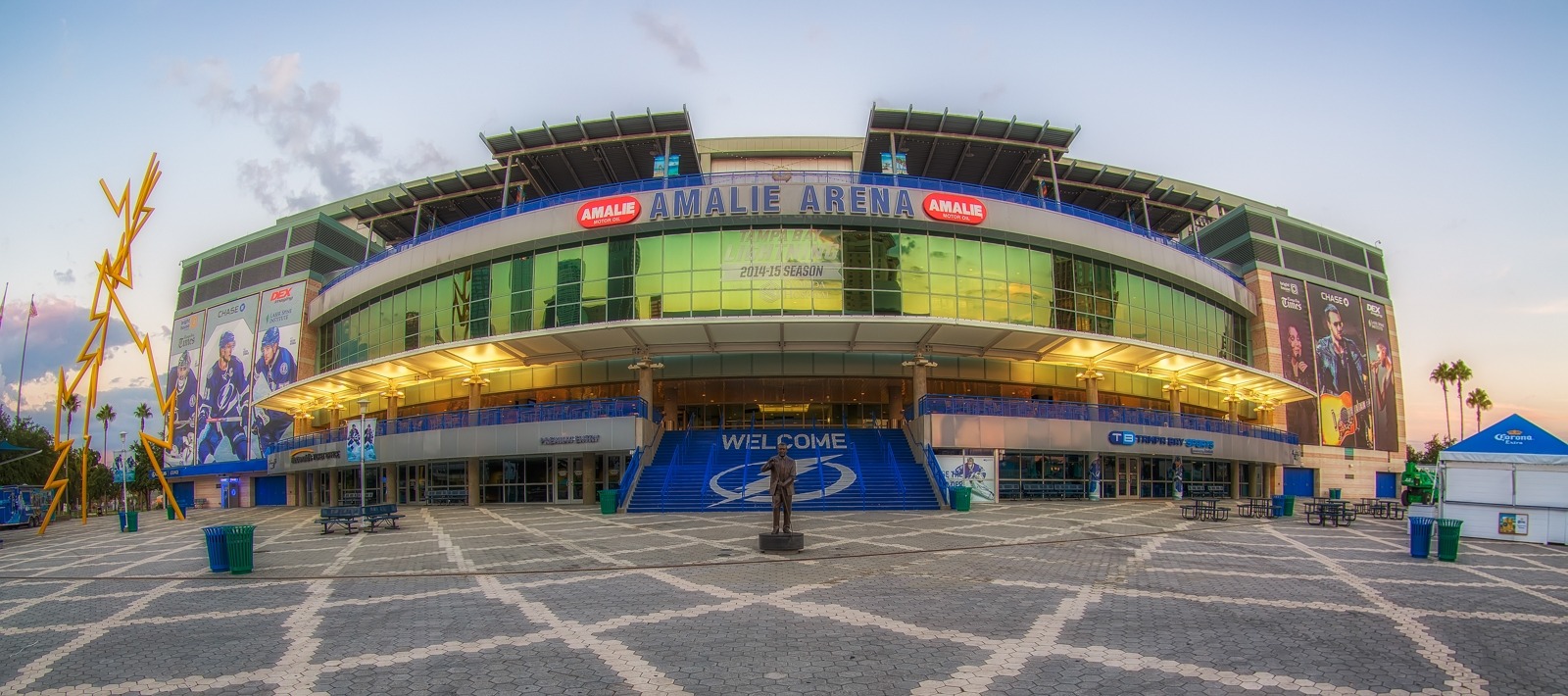 Capacity 18,000+
Amalie Arena is an arena in Tampa, Florida, that has been used for ice hockey, basketball, and arena football games, as well as concerts. It is home to the Tampa Bay Lightning of the National Hockey League and the Tampa Bay Storm of the Arena Football League.
The building was originally known as the Ice Palace. In 2002, the building's naming rights were sold to the St. Petersburg Times, which became the Tampa Bay Times in 2012; accordingly, the arena was known as the St. Pete Times Forum from 2002 to 2012 and Tampa Bay Times Forum (2012–2014). In September 2014, the arena was renamed Amalie Arena when the naming rights were transferred to Amalie Oil Company.
---
Can YOU help? We are looking for any material related to this show. Scans of posters, news items, ticket stubs, show pictures, or anything else you may think be of interest to our visitors. Thanks. Please send any show material to liam@pinkfloydz.com