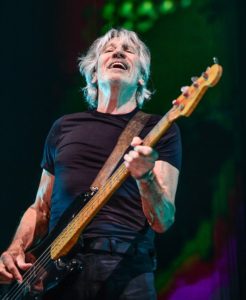 At Wells Fargo Center in Philadelphia Wednesday night, Waters' bombastic, politically objecting two-and-a-half-hour performance included:
An arena-length warehouse, constructed of retracting screens and inflatable smokestacks to mimic Floyd's iconic "Animals" album cover. The entity remained suspended over the audience for the LP's opuses "Dogs" and "Pigs (Three Different Ones)" — two songs totaling a full 30-minute jam.
During "Dogs" Waters and his eight-piece band donned pig masks and sat around a dining room table, drinking champagne served by a man in a sheep mask. Greed and opulence appeared to be the theme.
"Pigs" was wholly dedicated to throttling President Trump: fake videos of Trump vomiting; videos of Trump's head on a pig; Trump's head on a baby, being cradled by Russian President Putin; a large, inflatable swine — literally a flying pig — with Trump's face on the side floated over the audience, painted with phrases "Welcome to the Machine" and "Piggy Bank of War."
The song ended with all-caps TRUMP IS A PIG plastered on the stories-high screen behind the band. The crowd roared with approval. From a 73-year-old prog-rock stalwart, this might have been the most overtly anti-authority punkish display I've ever seen.
A dozen children in orange prison jumpsuits marched in time to "Another Brick in the Wall," only to rip off their costumes and reveal black "RESIST" t-shirts. The audience cheered mightily.
For the set's finisher (and revered "Dark Side" album closers) "Brain Damage" and "Eclipse," a 3-D laser prism beamed over the awe-struck arena with colorful light spectrum passing through it from the roof, masterfully recreating one of rock's most iconic album covers.
If you're attending Waters' wild show at Prudential Center in Newark Sept. 7, this is what you'll see.
The music — a mere afterthought all things considered — was adequately dynamic; many of David Gilmour's famed vocal parts were performed not by Waters but by smoother-voiced guitarist Jonathan Wilson, who was a fine fill-in on "Breathe" and "Time." But the night's true vocal highlight came with "The Great Big in the Sky," where backup singers Jess Wolfe and Holly Laessig — best known as leaders of the Brooklyn indie-pop group Lucius — unleashed a titanic performance, wailing in each other's faces.
Waters was quick to give up the spotlight, more keen on pounding his bass with drama and fury, and revving up the crowd of 15,000. The sinewy prog-rock vet played a handful of tunes from his latest solo LP "Is This The Life We Really Want?" — his first studio rock album in 25 years. The songs were fine, and sonically in line with the Pink Floyd sound, though many stairways still filled with fans headed for the bars and bathrooms.
In a recent interview with CNN, Waters said to those preferring escapism to political commentary at a concert: "go see Katy Perry."
Frankly, I think I'd rather see this daring extravaganza.
Review Courtesy Of Bobby Oliver
---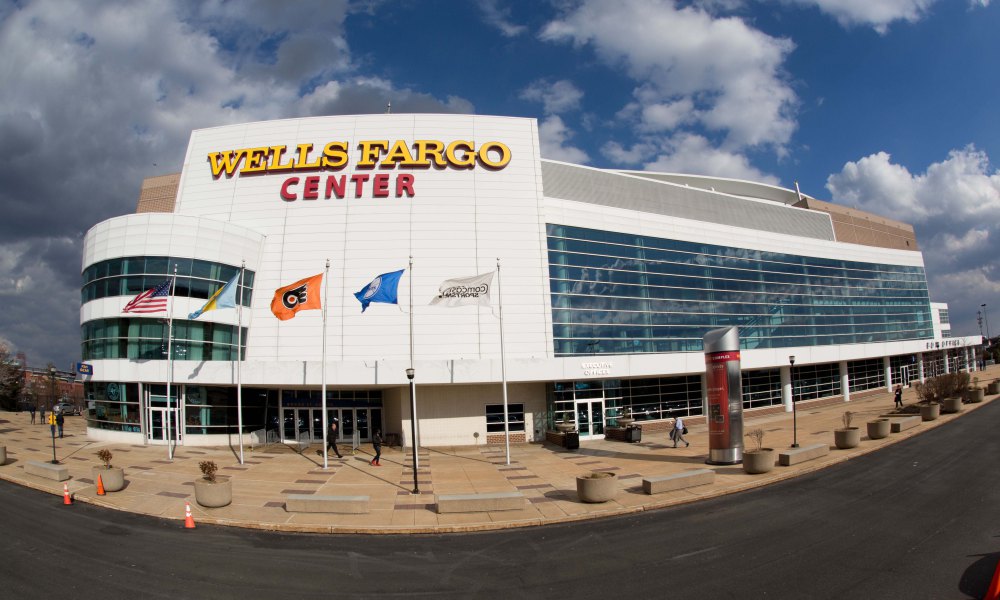 Capacity 19,000+
The Wells Fargo Center (Spectrum II (prior to construction), formerly the CoreStates Center, First Union Center and Wachovia Center is a multi-purpose indoor arena located in Philadelphia, Pennsylvania.
It is the home arena of the Philadelphia Flyers of the National Hockey League, the Philadelphia 76ers of the National Basketball Association, and the Philadelphia Soul of the Arena Football League.
The Wells Fargo Center was completed in 1996 to replace the Spectrum as the home arena of the Flyers and 76ers, on the former site of John F. Kennedy Stadium (originally Philadelphia Municipal Stadium) at a cost of $210 million, largely privately financed (though the city and state helped to pay for the local infrastructure). It is owned by Philadelphia 76ers, which also owns the Flyers, and is operated by its arena-management subsidiary, Global Spectrum.
The Wells Fargo Center lies at the southwest corner of the South Philadelphia Sports Complex, which includes Lincoln Financial Field, Citizens Bank Park, and Xfinity Live!.
---
Can YOU help? We are looking for any material related to this show. Scans of posters, news items, ticket stubs, show pictures, or anything else you may think be of interest to our visitors. Thanks. Please send any show material to liam@pinkfloydz.com