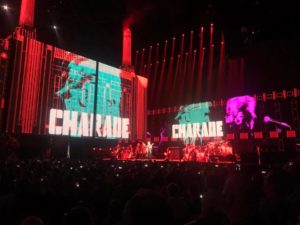 Saw Roger Waters last night. I had never seen Waters before and even though my brother hyped if as the best show EVER, I was not disappointed. His voice has really held up well; he sounds exactly the same as always. The show was mostly Pink Floyd, with a few Waters solo songs, a couple from the new album. The first half was really solid, outstanding musicianship, but nothing spectacular as far as the set, or any surprised. The children who performed during Brick in the Wall, Pt. 2 were incredible, especially after learning they never got the tape beforehand and learned the whole routine right before the show! but after the intermission, oh my gosh! I can't even explain! This contraption, which Just looked like an ordinary light rigging, starts lowering over the audience's heads, and then expands upward tho become a series off giant, and I mean giant, projection screens! I don't want to give any more spoilers, you can check it out on YouTube.
Review Courtesy Of Kathie Campbell
---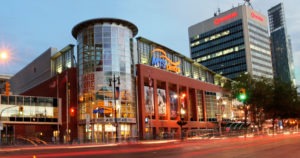 Capacity 20,000+
The MTS Centre is an indoor sports arena and entertainment venue located at 300 Portage Avenue in downtown Winnipeg, Manitoba, Canada. The arena is the home of the Winnipeg Jets of the National Hockey League and the Jets' American Hockey League affiliate, the Manitoba Moose.
The MTS Centre stands on the former Eaton's site and is owned and operated by True North Sports & Entertainment. The 440,000 square feet (41,000 m2) building was constructed at a cost of $133.5 million CAD. It opened on November 16, 2004, replacing the since-demolished Winnipeg Arena. It has a capacity of 15,294 for hockey and 16,345 for concerts. Originally known as the True North Centre during its planning and construction stages, its naming rights are owned by Manitoba Telecom Services.
---
Can YOU help? We are looking for any material related to this show. Scans of posters, news items, ticket stubs, show pictures, or anything else you may think be of interest to our visitors. Thanks. Please send any show material to liam@pinkfloydz.com