Having seen the two Desert Trip shows last October, I had an idea of what the overall show would be like, but there were indeed several changes – some obvious and some subtle. With that in mind, here's my first impressions on the first out of four shows I will be seeing. It was stunning, overwhelming, powerful, emotional, amazing, and always thought provoking throughout, but that's not to say all was perfect.
The Good.
The overall sound in the arena setting was great and very loud at certain times. The quadrophonic sound effects were disorienting and mesmerizing at the same time. The new band is stellar, and came across as a true live band vs. the too perfect and sterilized previous band (though Snowy is missed). There's some fresh blood in the mix, and members were truly getting deeply into it. Dave K was brilliant throughout, and his talkbox solo on Pigs was mind blowing. Jonathan Wilson was incredible, and his vocals were superior to that of Robbie Wykoff who always came across as insincere and poser-like imo. Wilson's natural smoky vocals sounded more akin to Gilmour than Wykoff's, and ultimately he is an all around better fit. No acting, no posing, just deeply into it, and playing great guitar the entire time.
The "giant" hanging screens aren't actually as giant as they appeared in photos or videos. They are indeed long when placed side by side from the stage to the back of arena, but not nearly as tall as I originally had thought. Nevertheless, it was an incredible visual from my perspective which was on the right side of floor about 17 rows back from stage. (more on the hanging screens later). The visuals on the main screen were for the most part very captivating, and give or take a few changes they were the same as Desert Trip. Goes without saying, the new songs equaled new visuals. Some other changes in the new show is the band of course, the addition of the new songs, and also the pre-show visuals up on the screen. At Desert Trip, there was about 20 minutes of floating through dark space through the galaxy, and eventually the surface of the moon, whereas the new show has a woman on the beach alone staring out to the horizon for about 20 minutes. This eventually evolved into an undewater- like scene amidst abstract coral and debris – really stunning. The woman on the beach reappeared for the visuals during The Last Refugee (which I think is the same as the official video), and have to say it was really powerful and emotional to see it on the giant screen accompanied by hearing it in a live setting. My wife was in tears, and I was slightly emotional myself – the song is really strong studio and live. The rest of the new songs were absolutely great, and it's a shame the entire album is not being played in it's entirety as one long piece. Picture that was fucking great with Roger menacingly prowling around, and Smell the Roses was intense with Roger's nasty vocals. What some might consider mini guitar solo's on the studio version (including myself), in a live setting there is no doubt about it, and Jonathan Wilson indeed played a proper solo towards the end of the tune. Deja Vu sounded so damn good with Roger on acoustic and the backup singers in perfect harmony.
The Bad.
While the hanging screens weren't a bother to me, it was obvious that they were a huge hindrance to everyone down the middle from the stage to the upper rafters. And it wasn't just those in the "tunnel" on the floor, but also those who may have been within five seats from it. Not only would it be awkward to look up at distorted visuals, but also the main visuals on the big screen behind the band would have been unclear or obstructed. During the Trump bashing, it seemed most images of him were appearing in the middle of the main screen behind the band, and because they were in the middle (with images of Roger or band on either side), they had to have been obstructed. The quotes were on either side of the big screen and displayed multiple times across the hanging screens which everyone would have been able to see. The hanging screens might have seemed like a great idea on paper, but really not very logical considering all of the fans who will be missing out on that portion of the show which goes on for quite awhile. After seeing a portion of a persicope feed a few shows back, I thought it looked like they were trying to squeeze a giant rectangle into a smaller oval hole, and indeed that's how awkward it appeared in person. As for the Trump stuff, it went on far too long just as it did at Desert Trip, and took away from a great tune which should have been the main focus. Yes Trump is a jackass, and yes fuck Trump, etc., but sometimes less is more. The same could be said for many of the statement type visuals throughout the show which were too 'in your face', lacking subtlety, and hitting you over the head with a hammer non stop. I guess Roger didn't want to leave much room for imagination, when in reality it might have been better suited with more abstract visuals. With a fraction of the obvious and blunt imagery left intact, the message would have still been loud and clear.
The Ugly – The video for Smell the Roses was awfully graphic, and probably unnecessary to that extreme, but it was powerful. Again, sometimes less is more,. Trump's fat ugly face should have been edited down to about four or five minutes as mentioned above. A gnarly fight broke out a few rows behind us during Time (I have no idea what about), and it was an ugly scene with a couple of chairs and beers knocked over, but was quickly taken care of by bouncers and security.
The Mediocre.
The Lucius girls singing Great Gig in the Sky…while not horrible, it bordered on sacrilege. Reminded me of contestants on American Idol showing off every bit of talent they have, and blowing it all out of proportion in the process.
In conclusion, from my personal perspective nothing will ever top the Wall shows – both the 1980 version or Rogers version. That said, these new shows were better than his DSOTM Tour and his In the Flesh tour. I can't compare to Radio KAOS and Pros and Cons as I didn't attend, but I would assume they were better based on state of the art visuals. Was it better than Rattle That Lock? For me, it easily was. Better than On an Island tour? About equal, and can't give an absolute answer on that…at least not at this time. Better than Desert Trip? No. Desert Trip was the ultimate experience, and even though this "new" show has some new tunes and a great new band, something about it just didn't have the same overall impact for me. Could be Rogers giant screen in the desert, or maybe the enormity of it all, or the special event that it was, or maybe the surprise element of the first time seeing it, or maybe a combination of all of those. These shows need to be seen in giant stadiums with the single gigantic screen where it can be experienced in all of it's Super duper deluxe glory. That being said, this new show is fantastic, and the new band gives it a whole new life. If you weren't at any of those Fall '16 shows, then you won't have any expectations and are in for a great experience – a masterpiece I would say. This show needs to be seen more than once imo, and from a visual artist and musician' perspective at least three or four times. I look forward to the next three shows I will attend, and while I've said most of what I needed to say in this review, I'll be sure to add some more snippets of praise and criticism, along with some nitpicking, and more commentary on various details as the weeks roll on. In the end, thankful and grateful Roger is touring and has a new album. Hats off to him for all he has given, and all he continues to give. To be in the presence of genius is always inspiring and humbling. Looking forward to Tuesday and Wednesdays show in L.A., followed by the final L.A. show scheduled on the 27th. If he brings it back in a stadium, count me in for at least two or three shows.
ps – In Las Vegas today it was 115F blistering hot outside with Excessive Heat warnings, so while being indoors with AC or swimming in the cool pool with a cold one is mandatory, the heat is on everyone's mind. Pardon if the above review rambled or maybe seemed a bit erratic, but I blame it on the dry desert heat! It's supposed to get hotter tomorrow, and even hotter the next day, but by then I'll be back safe and sound by the cool SoCal coast!!!
Thanks go to Eric "Diamondhead" Ward for sending us in the review
---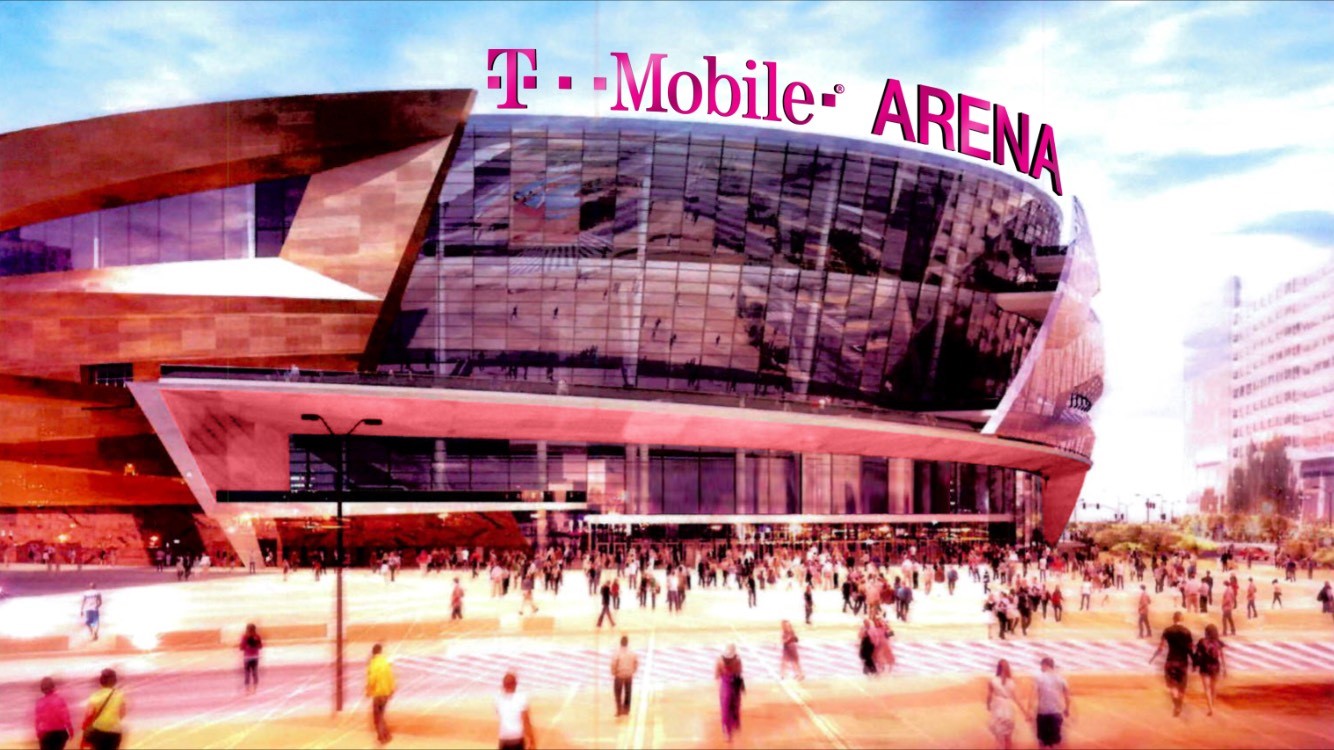 Capacity 20,000+
Roger Waters has played Las Vegas a number of times but this is the first time he has played the T-Mobile Arena which has only recently opened.
T-Mobile Arena is a multi-use indoor arena on the Las Vegas Strip in Paradise, Nevada. Opened on April 6, 2016, the arena is a joint venture between MGM Resorts International and the Anschutz Entertainment Group.
The arena will be the home of the Vegas Golden Knights of the National Hockey League that will begin play in 2017. Since its opening, T-Mobile Arena has primarily been used for entertainment events such as concerts, and has been booked for one-off combat sports events, and other annual sporting events.
The arena is accessed by a new development project known as The Park, with retail and dining space between New York-New York and the Monte Carlo casino hotels.
---
Can YOU help? We are looking for any material related to this show. Scans of posters, news items, ticket stubs, show pictures, or anything else you may think be of interest to our visitors. Thanks. Please send any show material to liam@pinkfloydz.com