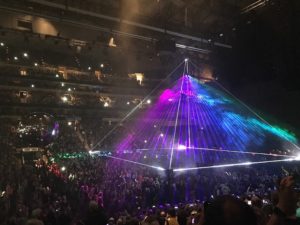 Xcel Energy Center presents Roger Waters Us and Them tour 2017.
It has been 5 years since Roger brought us the Wall. I was very excited to see him again, even though I saw the Wall tour 6 times over 3 years.
The atmosphere was all around the town of ST Paul tonight. Pink Floyd shirts, Roger shirts, other classic rock shirts.
First up was a few beers at a local establishment and a bite to eat. When we finished we went into the area to a end stage and a massive video screen witha girl sitting on a beach.
She would move every once in a while and then a bit more as the show was about to start.
I will not spoil all the stage surprises in this review but wow that was awesome.
The video screen on the back of the stage had the themes for each song and some classic Floyd animation we have not scene in a while.
The set list was all classic Pink Floyd tunes and new stuff from his album Is This the Life We Really Want.
The show had 2 sets the first was just the band playing and the screen. The second set had this massive screen come up dead center in the arena and the factory from the cover of Animals appears.
Though out the night the screens would move and change to each song. I would tell you about each one but then it would ruin the surprise of the show.
It does get to be a very anti Trump and political show and of course knowing Roger you knew it would be.
And if you don't want to see what it looks like stop now before you see the photos.
The sounds was absolutely amazing last night. It was in surround sound, loud, and perfectly clear. The X is one of the best places to see a concert.
If you are thinking about going to this show do yourself a favor and get tickets today.
Review Courtesy Of Kyle Hansen
---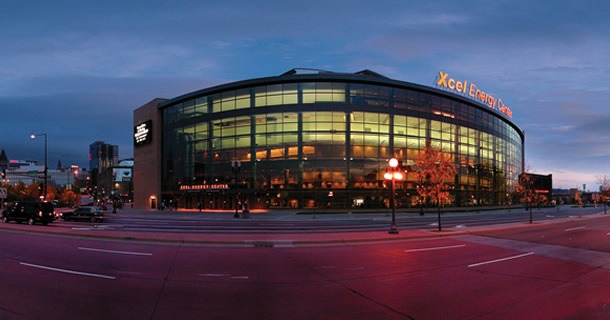 Capacity 18,000+
The Xcel Energy Center (also known as "The X") is a multi-purpose arena, located in Saint Paul, Minnesota. It is named for its locally based corporate sponsor Xcel Energy. With an official capacity of 17,954, the arena has four spectator levels: one suite level and three general seating levels.
The arena is owned by the city of Saint Paul and operated by Minnesota Sports & Entertainment. The building is home to the NHL's Minnesota Wild and is the former home of the NLL's Minnesota Swarm. It is on the same block as the RiverCentre convention facility, Roy Wilkins Auditorium and the Ordway Center for the Performing Arts, in downtown St. Paul. It also served as official home to the 2008 Republican National Convention.
The arena opened on September 29, 2000. It was built on the site of the demolished St. Paul Civic Center.
---
Can YOU help? We are looking for any material related to this show. Scans of posters, news items, ticket stubs, show pictures, or anything else you may think be of interest to our visitors. Thanks. Please send any show material to liam@pinkfloydz.com