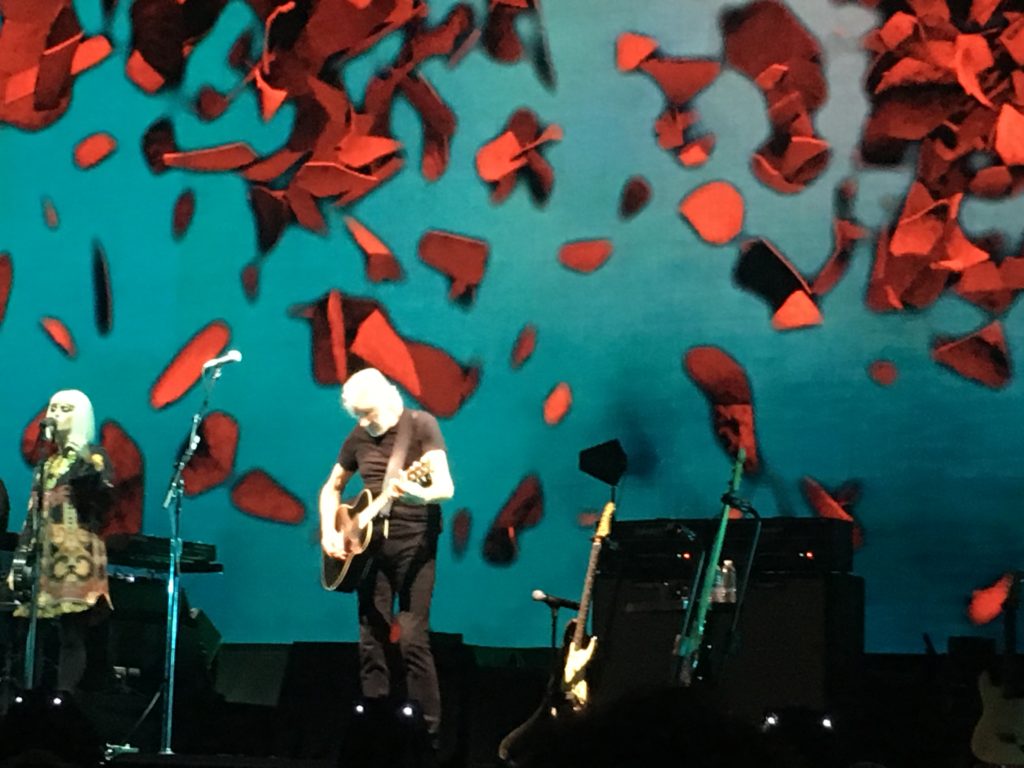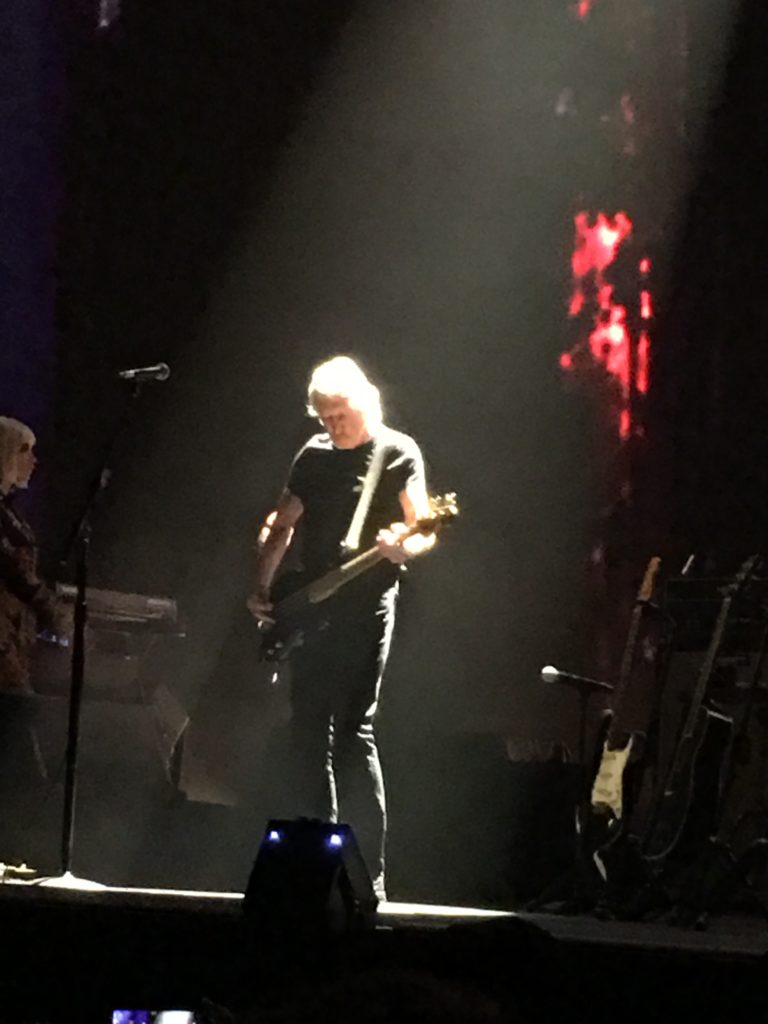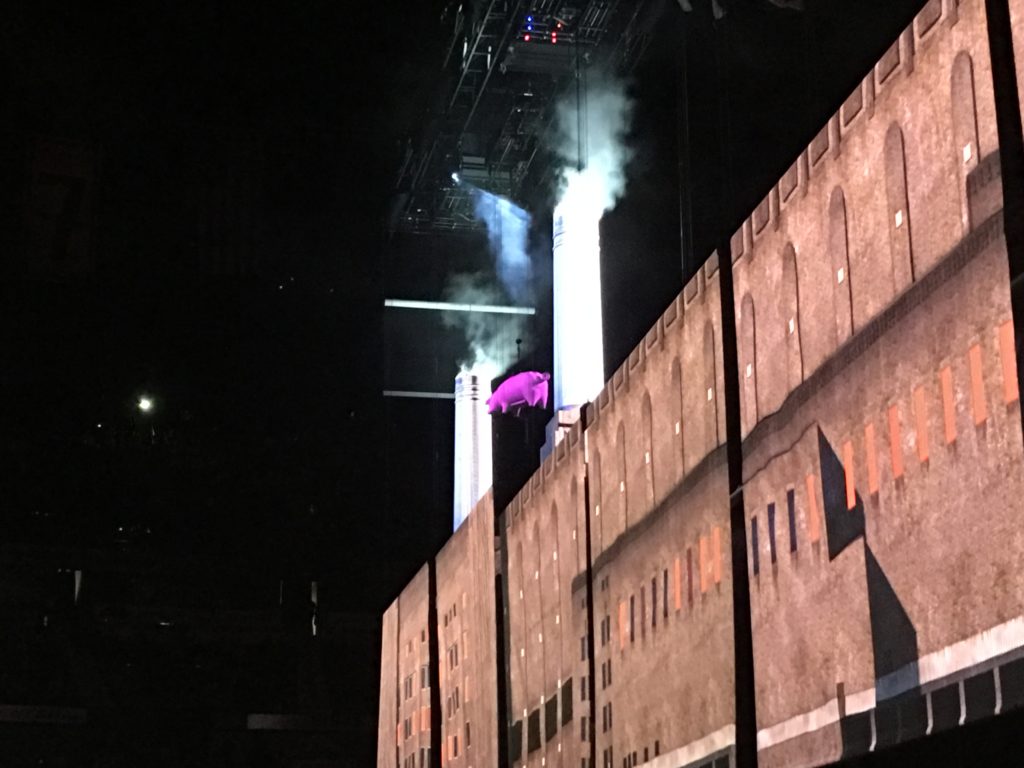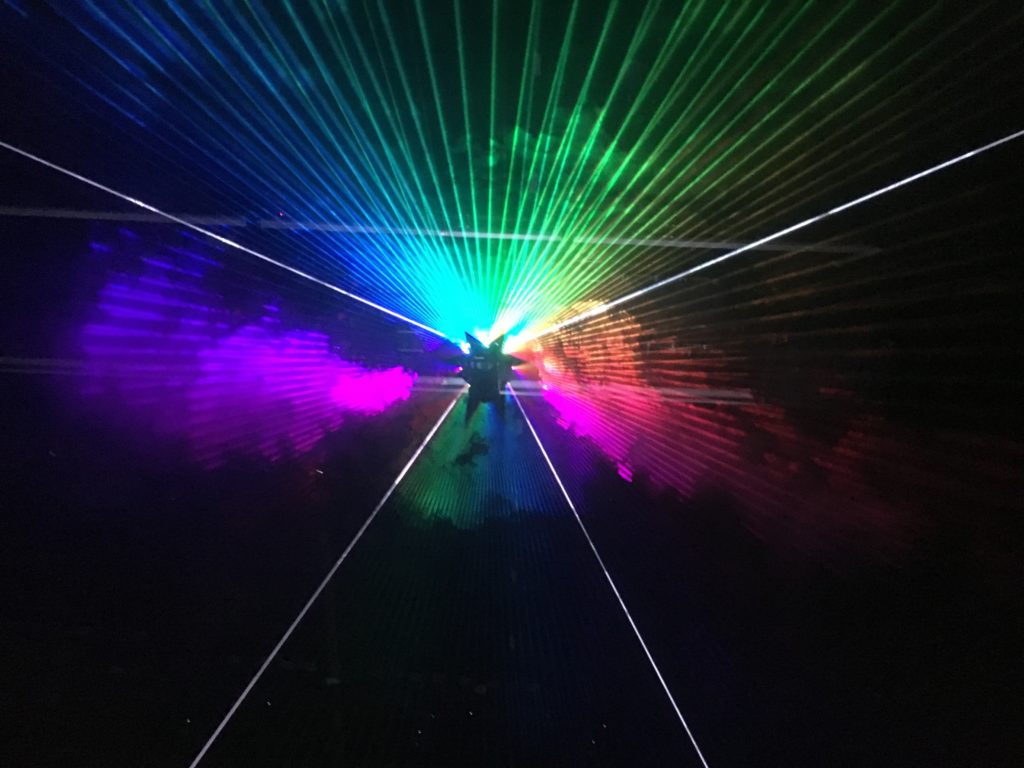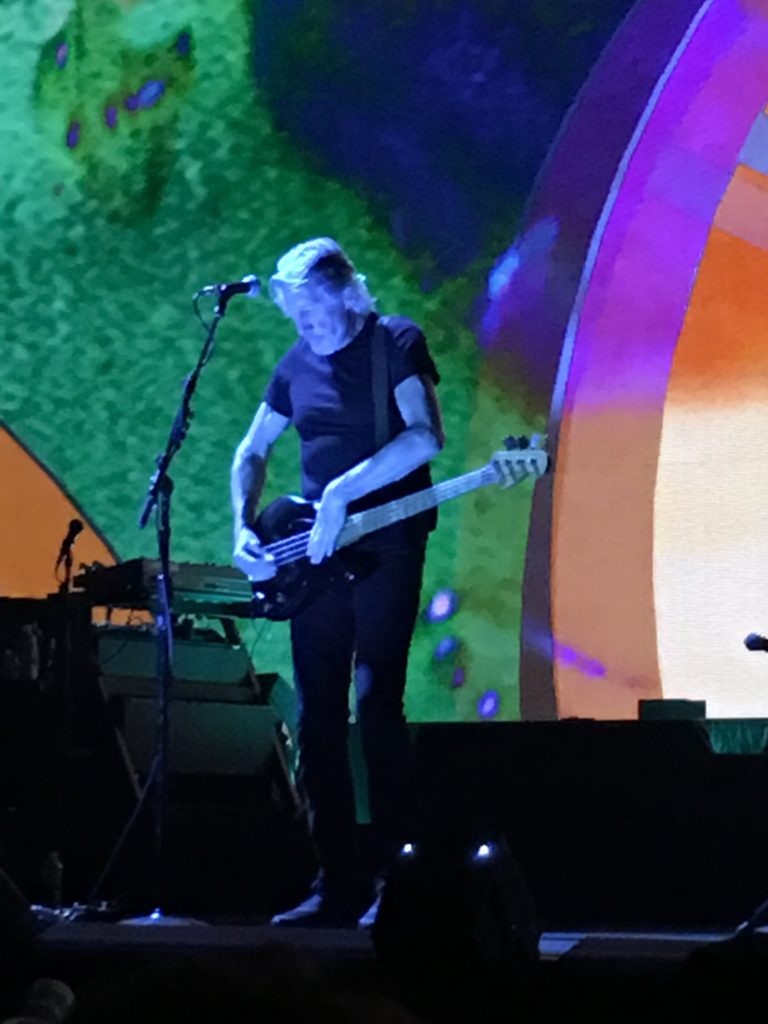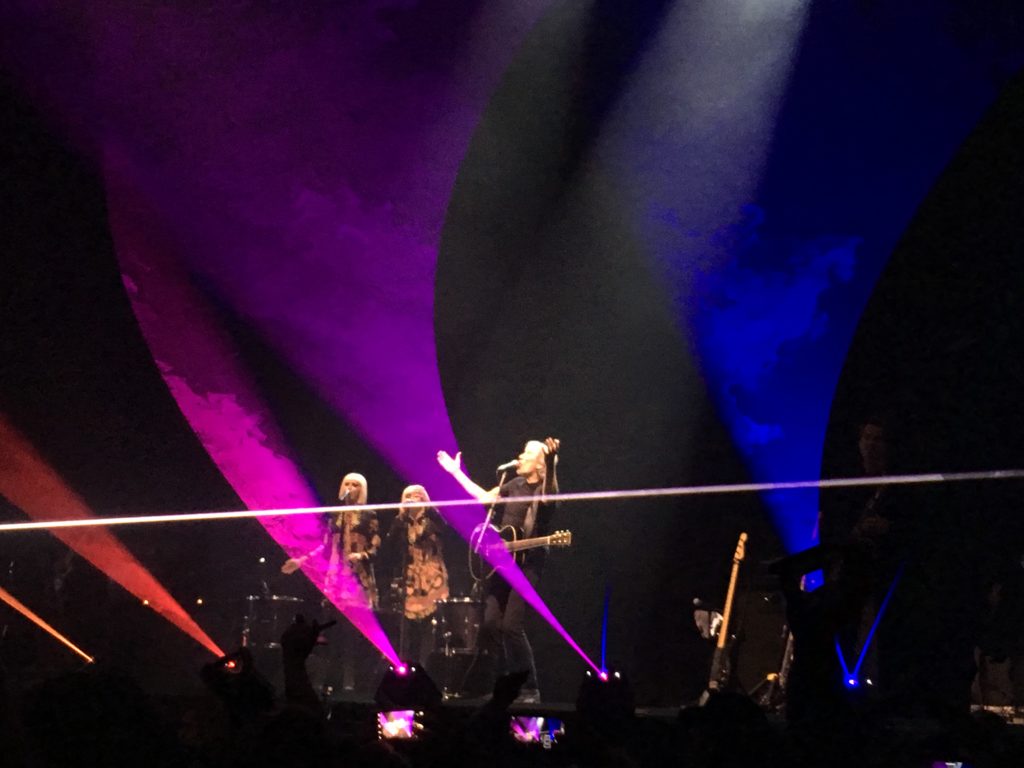 Pictures Courtesy Of Brian Dunphy, Nashville Tn. 
---
At his latest concert at Nashville's Bridgestone Arena, Roger Waters delivered the hallmarks his fans have come to expect.
That includes stunning stage effects, mind-warping visuals and blunt political statements (sometimes all at once). Oh, and a boatload of Pink Floyd songs.
The bassist and vocalist was a co-founder of that legendary British rock band, and today's he's its most visible and active alum.
Now, at age 73, he's producing one of the boldest shows – artistically and politically – currently touring arenas. At several moments on Sunday, he made it clear that he's no fan of President Trump.
"Picture a leader with no f—ing brains" he sang repeatedly during his new solo tune "Picture That." Soon, a distorted image of Trump flashed on the screen. Of course, that was just a warm-up.
In the second act, Pink Floyd's "Pigs (Three Different Ones)" became a 10-minute audiovisual roast of the president. Dozens of unique illustrations were displayed on the video screens: Trump as a child being held aloft by Vladimir Putin; as an infant chasing after a kitten; an animation of him vomiting with the word "CHARADE" emblazoned across his face.
The song ended as the words "TRUMP IS A PIG" displayed on the screens for several seconds. The response in Nashville seemed to be mostly positive, with scattered booing.
At the microphone, Waters had more to say in Nashville, one day after violence erupted at a white nationalist rally in Charlottesville, Virginia.
"There's a lot of love in this room, and it means a great deal to us, in these very trying times," he said. "It's great to see it, and there's a lot of love all over this country. All it needs to do is to rise to the surface and spread out…and it will."
Along with the fiery, pointed tunes, there were plenty of serene musical moments at Sunday's two-and-a-half hour show. Hypnotic rockers like "Breathe" (the opening number) and "The Great Gig in the Sky" were particularly bolstered by new vocalists Jess Wolfe and Holly Laessig of the band Lucius, who've joined Waters on this tour. The mid-set appearance of acoustic anthem "Wish You Were Here" was an obvious highlight, while another was unexpected: "Mother," which they hadn't performed at previous stop on the tour.
But no matter what volume Waters and his band were at, the show's visual production was cranked up all night. There were plenty of technical marvels: the laser beams that formed a giant prism, evoking Pink Floyd's "Dark Side of the Moon" album art, and the towering video screen that divided the arena floor in half, turning into a factory building with smoke stacks pumping out white fog at the top.
But beyond the technical feats, Waters' show has a theatrical bent beyond anything any other rocker in his league is going for these days. Ahead of "Pigs," he and his band put down their instruments, to put on pig masks, sit around a dining room table and sip champagne. A group of Nashville kids stole the show during "Another Brick in the Wall," taking the stage in orange prison jumpsuits before taking them off to reveal black T-Shirts with the word "Resist" on them.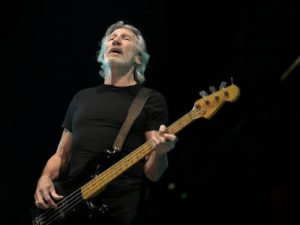 And also through his playing, Waters is giving a theatrical performance. He'll lunge into the most minor of chord changes, giving epic rockers like "One of These Days" an extra dose of grandiosity. When one of several capable vocalists in his band are taking the lead, he's right next to them belting along, away from the microphone. He doesn't instruct his audience to sing along, he walks along the edge of the stage with arms outstretched, commanding the choir.
As his band finished the final bars of show-closer "Comfortably Numb," he came down from the stage to shake hands with those in the front row, before climbing back up for the final bows.
As on several other stops of his 2017 tour, Waters' appearance in Nashville was met with protest. In the days leading up to the show, leaders of the Jewish Federation of Nashville voiced their opposition, as did the Tennessee-based Proclaiming Justice to the Nations.
That's in part due to Waters' support of the Boycott, Divest and Sanction movement, whose stated goal is to "end international support for Israel's oppression of Palestinians and pressure Israel to comply with international law."
They have also denounced Waters' practice of wearing a "mock Nazi uniform" onstage as well as flying an inflatable pig that features the Star of David on its side (among other religious, corporate and political symbols).
Members of both groups stood outside the entrance to Bridgestone Arena on Sunday, holding signs that read "Israel has a right to defend itself," and "Music should unite, not divide."
Waters has defended his use of the imagery in the past, publishing a lengthy "open letter" in 2013.
"Like it or not, the Star of David represents Israel and its policies and is legitimately subject to any and all forms of non violent protest," he wrote. "To peacefully protest against Israel's racist domestic and foreign policies is NOT ANTI-SEMITIC."
Review Courtesy Of Dave Paulson
---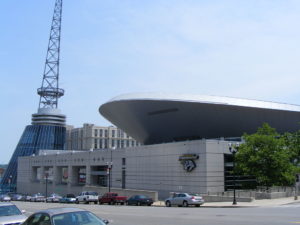 Capacity 19,000+
Bridgestone Arena (originally Nashville Arena and formerly Gaylord Entertainment Center and Sommet Center) is an all-purpose venue in downtown Nashville, Tennessee, that was completed in 1996.
Designed by Populous (formerly HOK Sport) in conjunction with the Nashville-based architecture/engineering firm Hart Freeland Roberts, INC., it was designed at an angle on the corner of Broadway and 5th Avenue in Nashville in physical homage to the historic Ryman Auditorium, the original home of the Grand Ole Opry.[5]
Bridgestone Arena is owned by the Sports Authority of Nashville and Davidson County and operated by Powers Management Company, a subsidiary of the Nashville Predators National Hockey League franchise, which has been its primary tenant since 1998. The Predators hosted the NHL Entry Draft here in 2003
---
Can YOU help? We are looking for any material related to this show. Scans of posters, news items, ticket stubs, show pictures, or anything else you may think be of interest to our visitors. Thanks. Please send any show material to liam@pinkfloydz.com