Here's something you don't see at every concert: someone actually screaming "(Expletive) you" at the performer a dozen times while flipping him the bird.
That's what the guy in front of me did at Pink Floyd co-founder Roger Waters' first Milwaukee show in a decade Saturday night, at the BMO Harris Bradley Center.
To paraphrase Lisa Simpson, why would he buy a ticket just to boo Waters? The intense reaction was actually a response to Waters' own seething kiss-off aimed at President Donald Trump during "Pigs (Three Different Ones)," from Pink Floyd's "Animals."
On a wall of screens running through the middle of the arena, a photoshopped Trump appeared as a baby grabbing a cat, a doll cradled by Vladimir Putin, a KKK member, and as Adolf Hitler, while a pig brandishing Trump's face with smeared black dollar signs over his eyes floated over the crowd.
The incendiary imagery has inevitably been a focal point in the media coverage related to Waters' current "Us + Them" production, which Saturday spanned two-and-a-half hours (including intermission).
That "Pigs" performance — which, it must be said, was also greeted with cheers Saturday — has also overshadowed the real news related to this tour: At 73, Waters is still an impactful, even daring, auteur in concert, as much as he is a rock star.
Strictly in terms of technical presentation, the show was second to none. Any concertgoer who has ever complained about poor sound in the Bradley Center (i.e. anyone who has ever seen a show at the Bradley Center) couldn't criticize Saturday, from that impeccably rich, warm acoustic guitar intro for "Wish You Were Here," to the sounds of alarm clocks on "Time" ringing from different speakers scattered throughout the massive room. It was the closest thing to an absorbing headphone listen you could experience in an arena.
Having excellent musicians that meticulously recreated '70s Floyd classics — from the trippy, ethereal "Breathe (In The Air)," to the menacing, synth-screaming "Welcome to the Machine" — also helped immensely. The richest musical moments though weren't as well-oiled.
Backing singers Jess Wolfe and Holly Laessig impressively topped their own dynamic vocal play from their main gig, alternative pop band Lucius, with a showstopping new variation of "The Great Gig in the Sky."
A stretch of comparatively so-so new songs from Waters' new album "Is This The Life We Really Want?," (including "Déjà Vu" and "The Last Refugee") could have easily become the mass bathroom and bar break portion of the show, but his weary and gripping voice kept most people in their seats.
More often, Waters relinquished the spotlight to the spectacle, including a giant laser replica of the "Dark Side of the Moon" pyramid that hovered over the audience during "Brain Damage," a radiant rainbow prism gliding through it during "Eclipse," while a mirrored orb floated above the arena floor.
But the show, co-designed with creative director Sean Evans, largely avoided recycled imagery, and the superbly crafted spectacle had a provocative purpose that gave songs more than 40 years old new relevance.
During "Money," which also incorporated critical Trump imagery, there was the blatantly manipulative but unsettling footage juxtaposing a lavish resort and a flashy sports car with scenes of the impoverished.
And during "Us and Them," Ian Ritchie's softly sweet and naive tenor sax clashed with startling scenes ranging from the Women's March protests to haunting footage of war zones and terrorist attacks.
The confetti-accompanied happy ending during finale "Comfortably Numb" felt tacked on. But there were several tense moments, during "Us and Them" especially, when my stomach was in knots.
It's a sensation I've rarely, if ever, experienced at a rock concert. And it was only one reason why Waters' show was so remarkable.
Review Courtesy Of Piet Levy
---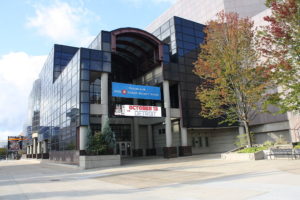 Capacity 20,000+
Website
The Bradley Center (known as the BMO Harris Bradley Center under sponsorship agreements) is an indoor arena located on the northwest corner of North 4th and West State Streets in downtown Milwaukee, Wisconsin, United States.
It is home to the Milwaukee Bucks of the NBA and the Marquette University men's basketball team. It is also the former home of the Milwaukee Wave of the MISL, from 1988 to 2003, the original Milwaukee Mustangs of the AFL from 1994 to 2001, along with the second incarnation of the team from 2009 to 2012, the Badger Hockey Showdown from 1989 to 2002, and the Milwaukee Admirals of the AHL (and formerly of the IHL) from 1988 to 2016.
---
Can YOU help? We are looking for any material related to this show. Scans of posters, news items, ticket stubs, show pictures, or anything else you may think be of interest to our visitors. Thanks. Please send any show material to liam@pinkfloydz.com