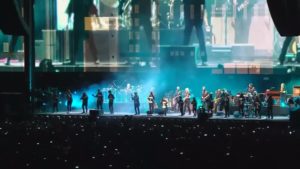 Tulsans gathered at the BOK Center Thursday night to hear Roger Waters perform music from the iconic Pink Floyd albums he created, deliver a few new songs and savage President Donald Trump.
The evening was a classic-rock lovefest for fans as Waters performed 24 songs over the better part of three hours on the fourth stop of his "Us + Them" tour.
But it was also an experiment in the co-founder of Pink Floyd using his popularity to deliver a message to an audience that came to party.
Waters didn't have to say a word to the audience about Trump, choosing instead to let uncomplimentary images of the president, playing behind the band on an LED screen larger than the stage, accompany lyrics he wrote decades ago.
"Hey, you, White House, ha ha, charade you are," Waters sang from "Pigs (Three Different Ones)," a song from the 1977 album "Animals" and with a different reference at the time, but tying in perfectly with Waters' beliefs.
Beliefs that included an inflatable pig floating above the audience during the song, with the words "piggy bank of war" written on the side, while giant images of a baby-sized Trump resting in the arms of Vladimir Putin screened.
The reaction from the crowd in red-state Oklahoma was surprising: Only a handful of people exited the arena while most sang along and cheered, giving this song one of the night's biggest ovations.
It came not long after the night's first standing ovation — for the 10 school-age children on stage who assisted in singing the "We don't need no education" lyrics of the hit "Another Brick in the Wall," wearing orange jail jumpsuits that they ultimately removed, showing off black T-shirts with the word "Resist" on each one.
Waters rarely spoke directly to the audience, but near the end the 73-year-old thanked the crowd for the enthusiastic response, mentioning this tour's "journey … a journey that sort of got its start here, so I couldn't think of a nicer place to come back to."
As it turns out, officials confirmed, Waters chose the BOK Center several months ago to rehearse and conceptualize the stage show before he announced the tour.
The concert was his return to the arena after bringing his "The Wall Live" tour to Tulsa in 2012, performing the double-album in its entirety.
For that massive show, all he did in addition to performing was construct a wall of "bricks" on the stage before giving the cue for a plane to soar above the audience and smash into that wall, scattering pieces and whipping the crowd into a frenzy.
So what do you do for an encore? For Waters, it means staging another show full of remarkable soundscapes, giant psychedelic visuals and the Pink Floyd catalog, and he was in fine voice.
He plucked songs from the band's 1970s catalog, including performing nearly every tune on 1973's "The Dark Side of the Moon," with others from "Wish You Were Here" and "The Wall" helping to fill out the first set before an intermission.
That first set also included four songs from Waters' new album "Is This the Life We Really Want?" which is his first solo album in 25 years and set for release on Friday.
These tunes began the political edge, but it was the second set that took things up a notch with "Money" performed in front of images of Trump's bankrupt casinos.
That was followed by "Us and Them" which hit even harder on themes of the "haves and have-nots" with imagery of protestors, immigrants, Black Lives Matter marchers and the hungry and homeless.
By the time this music-with-a-message section approached 30 minutes in length, the cheers were less enthusiastic and more stone-faced looks appeared to think some energy had been sucked out of the arena.
But this mature crowd of fans knew these sentiments were coming from the man who for many years made them listen to rock songs about madness and alienation as well as political topics like class structure.
And that's why they returned so easily and excitedly when Waters and his 10-piece band (including two dynamic female singers and Dave Kilminster on guitar delivering David Gilmour's licks admirably) eased back into more classics to finish the evening.
The artist gave the people what they wanted, and then he gave them something most weren't expecting.
Waters promised a tour with some "new things," and plenty of spectacle, and he delivered on both accounts.
---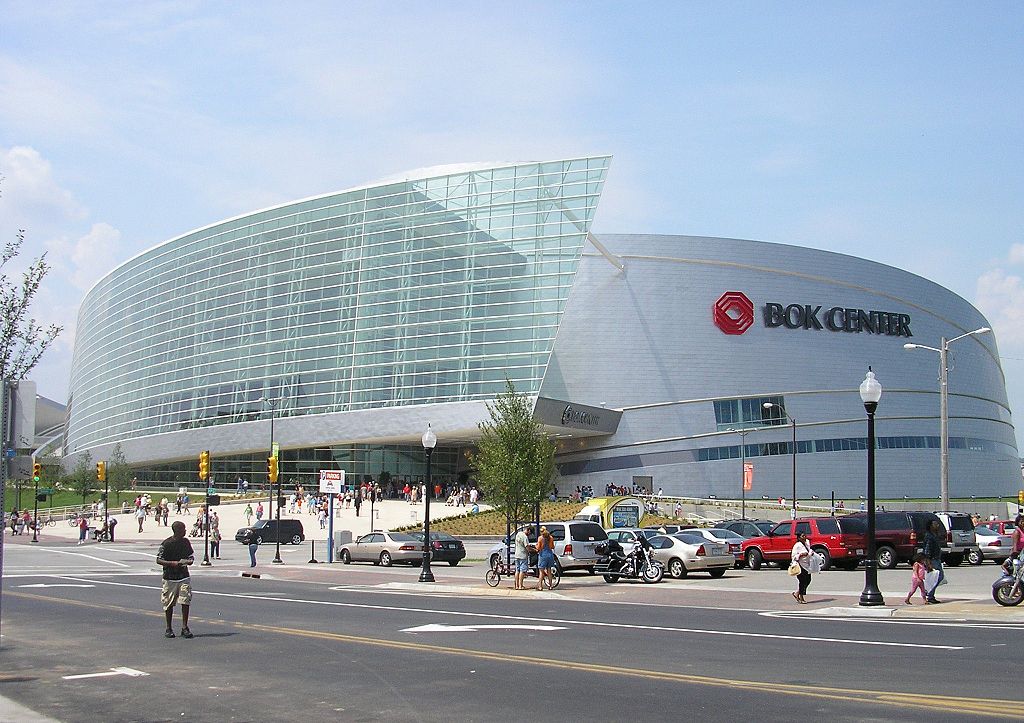 Capacity 19,000+
Roger Waters last played this venue on 5 May 2012
The BOK Center, or Bank of Oklahoma Center, is a 19,199-seat multi-purpose arena and a primary indoor sports and event venue in Tulsa, Oklahoma, United States. Designed to accommodate arena football, hockey, basketball, concerts, and similar events, the facility was built at a cost of $178 million in public funds and $18 million in privately funded upgrades. Ground was broken on August 31, 2005 and a ribbon-cutting ceremony involving Tulsa musicians Garth Brooks and Hanson took place on August 30, 2008. The arena's schedule of concerts and other events began on August 31 with a community choir hosted by Sam Harris.
In late 2008, BOK Center General Manager John Bolton was given Venues Today's "Hall of Headlines" award after a poll of venue managers, owners, operators and bookers determined that Bolton had the highest level of success in booking high-quality performances among international venues in 2008
---
Can YOU help? We are looking for any material related to this show. Scans of posters, news items, ticket stubs, show pictures, or anything else you may think be of interest to our visitors. Thanks. Please send any show material to liam@pinkfloydz.com