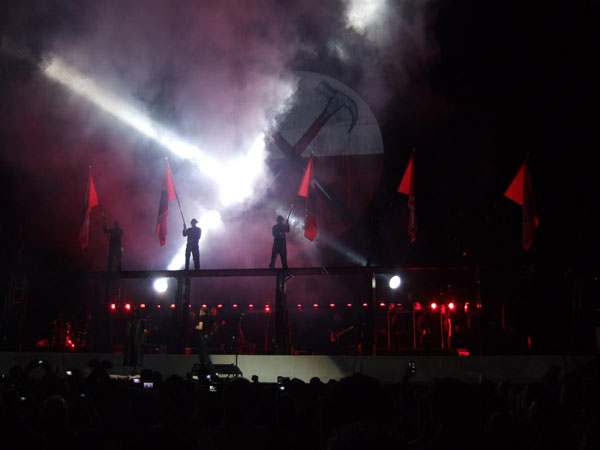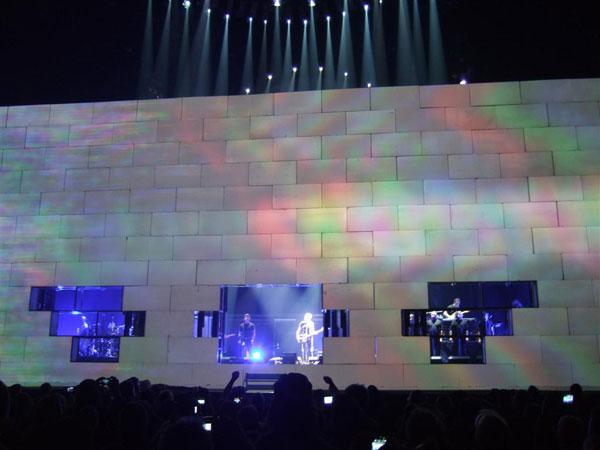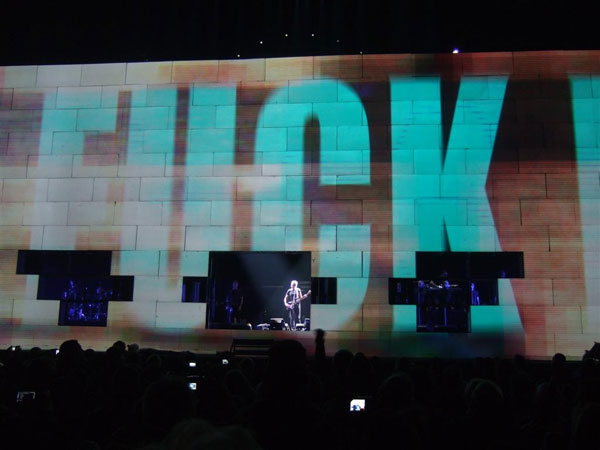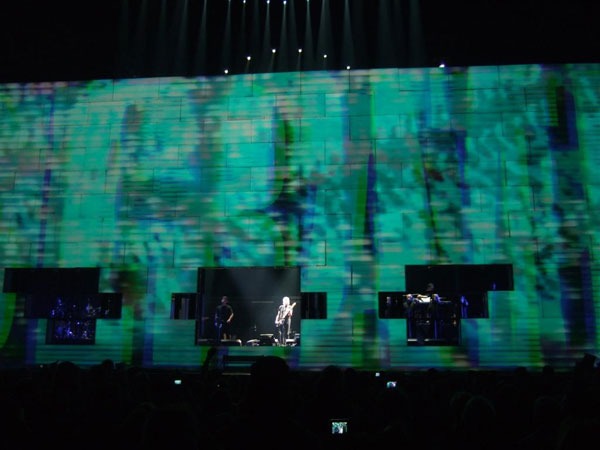 The crowd were good but not as good as last night. That didn't bother me as the company at tonight's show more than made up for it. I remember Wendy and I seeing the Dark Side show together in Chicago and we had such a good time together, it's sooooo much fun seeing a show with people who actually "get" what the whole touring thing and the music is all about! As luck would have it the two people who were sat next to Wendica moved to go to the bathroom and never came back!! Kami and I sat in these all night:)
It was one of the best shows I've seen for atmosphere because of who I was with for sure. The show itself was great and the performance was fantastic but the crowd were a little more subdued than the night before.
We took our seats for the second half of the show and again Kami and I were able to sit next to Wendica! It wasn't till 3 or 4 tracks in that we realised we were actually on in the same seats as the first half BUT two rows further forward!! How did that happen? More so how did it happen and no one came to those seats? lol! Anyway we stayed in them all night and had a fabulous second half.
Second half seemed to go quicker than ever and before we knew it, it was the time for the wall to come down! The four of us all made our way down to the rail just before the wall fall and stood on the rail with Jim and Chrissy. The girls loved seeing the band up close at the end and of course the whole band looked down our way and spotted us, four good looking girls all in a row including 3 blondes! What do you expect? lol!
Review & above images thanks to Simon Wimpenny
---
Thanks to George Skroumbelos
---
Well another great night…
I've been truly priviledged to see Gilmour doing Numb 21 times, on top of walls, under mirror balls and smothered in lasers… one more will not change my life, and I've really warmed to Dave Kilminster on this tour. I won't quite go as far as to say that he has made the solo his own, but he does do a fantastic job up there and is perfectly good enough for me.
Tonight was the ticket that cost me the least (I did have a "cheaper" ticket for MSG 10/5 but I paid more for it), twenty-some rows up at the back near the corner. Just a brick or two lower than the top of the wall, a bit to the left but still facing "straight on". Two things really struck me: the pseudo-3D animations had much more depth from this angle and distance than I had noticed from the floor or way up at the top of MSG, the bricks dancing around during "Last Few Bricks" were absolutely entrancing; and the deep bass effects were much more stunning -whether that's because I was a bit higher up or outside the ring of PA stacks rather than inside I'm not sure.
Definitely a few negatives too: this was the party end of the arena, lots of beer/bathroom runs, dancing drunk chicks, whistlers and screamers, and a guy who apparently works for PBS Descriptive Video Service sitting immediately behind my right ear. (That's a shell oil sign… thats a mercedes badge). Couldn't see Roger at all during ITF2… there was a fucking great pig in the way!!
Tweaks/changes/differences… They actually rolled some sound effects on Rogers cue in ITF1, the kids were the same as last night and were definitely enjoying themselves a lot more tonight, particularly the girl on the left, who played a pretty good air guitar last night but really got into it standing right next to Roger tonight. Might be my imagination but i think the C Numb Spirally Thingy ™ started earlier, spun faster and deeper. Wykoff is now really exploring the boundaries of his freedom to interpret "Show Must Go On": tonight we had a totally gratuitous repeat of "tu-u-urn and ru-u-un". This has gone quite far enough IMHO. Roger's machine gun had sound effects: just as well since I couldn't see it because of the aforementioned porker, who seemed to have a more difficult time than usual getting over the wall to get home.
All in all another great night. I'm completely exhausted but can't sleep – glad i have a night off tomorrow
Review thanks to sysyphus
Videos from this concert have been removed as Pink Floyd claim copyright on them
---