2011 European Leg – Main Page
Roger Waters Touring Band
Drums: Graham Broad
Guitars: Dave Kilminster, G.E. Smith, Snowy White
Keyboards: Jon Carin, Harry Waters
Lead Vocals: Robbie Wyckoff
Backing Vocals: Jon Joyce, Mark Lennon, Pat Lennon, Kipp Lennon
---
 Roger's 2012 Dates Announced The first batch of Roger's 2012 tour dates have been announced  (Added 25 June)
---
Roger Waters - Munich Olympic Walk of Stars 20. Juni 2011
Roger inducted into Munich Olympic Walk of Stars (Added 21 June)
---
One More For Athens Again, as expected, a third date has been announced for Athens Greece at the OAKA Arena on 12 July. A dedicated tour room is now available. (Added 21 May)
---
One Slip? Our Our eagle eyed AFG reporter Ben Day spotted the following in the final few frames of the official 'Outside The Wall' footage that was shot at the historic Roger Waters concert at the O2 on 12 May. Is this confirmation that the tour is heading down under & to South America in 2012? You can view the full footage in our 12 May Tour Room (Added 18 May) 

---
---
(Above) Kipp Lennon from Venice talks about what is was like to be on stage with David Gilmour, Roger Waters & Nick Mason in London on the 12th May (Added 13 May)
---
As we predicted (below) David Gilmour played at Roger Waters Wall show in London on 12 May. More details in our Dedicated Tour Room (Added 12 May)
---
Lots happening at the London gigs. Polly Samson (David Gilmour's wife) attended the show on the 11th and Nick Mason is confirmed to attend on the 12th (We wonder if another band member may be in attendance at that show?) (Added 11 May)
---
Second Athens Show Confirmed
As expected, after the first Athens show sold out in minutes a second Roger Waters Wall show was announced for 9th July. Again this will be at the OAKA Arena. Ticketing details are in our
TOUR ROOM
(Added 10 May)
---
Roger Waters Greece Show Confirmed As we told you back on 20th April, Greece is to get at least one Roger Waters Wall show and its now been officially announced that a show is scheduled for Friday, July 8th at the OAKA Arena in Athens. Tickets onsale Tuesday, May 10th This show is being filmed and recorded. As a result, ALL CAMERAS AND ALL MOBILE PHONES ARE STRICTLY FORBIDDEN and WILL NOT BE ADMITTED to the venue. More information, including where you can obtain tickets, are in the Athens Tour Room (Added 2 May)
---
Technical Problems With Roger Waters 2nd Oslo Show For the first time on Roger Waters Wall tour, technical problems have briefly stopped a show. It happened on 1 May at the Telenor Arena, Oslo, Norway when the 'Hotel Room' failed to open. Roger stumbled around on the stage in darkness until a spotlight managed to pick him out. He then launched into ad lib telling the packed crowd funny stories and generally filled in time. They were unable to rectify the problem, so improvisation was the order of the day! You can see video of the incident in our Dedicated Tour Room (Added 2 May)
---
Roger Waters Show Shuffles & Greece Gets Lucky! It's been officially announced that due to an opportunity to film The Wall in Greece in early July, two of the Milan concerts originally planned for July 6th and 7th have been rescheduled. Instructions for the rescheduled dates are: Keep your existing tickets which are automatically valid for the new dates. Tickets for the July 6th show are now valid for the July 3rd show. Tickets for the July 7th show are now valid for the July 4th show. Tickets will only be valid for these rescheduled dates as above, it will not be possible to exchange dates or seats. If you are unable to attend your new date, then please apply for a refund at the point of purchase, not later than June 15th 2011. (Added 20th April)
---
Roger Waters Creates Controversy In Holland It's been reported that many fans at Roger Waters Wall shows in Holland were in shock at the shows on the 9th & 11th April when Roger produced an imitation machine gun and pointed it at the audience. (This we might add is a normal part of the show). Sadly however, on Saturday the 9th a crazed gunman killed 6 people in the Ridderhof Mall in the town of Alphen 13 miles southwest of Amsterdam by opening fire using a machine gun. Apparently some of the Dutch media were not impressed calling Roger 'Shameful' & 'Insensitive'. It is not known at this time if Roger was aware of the tragedy prior to the show/s. (Added 12th April)
---
Venice & Co Special Show What do backing vocalist on Roger's Wall tour do on their day off? Why perform a show of their own of course, that's what! Venice played a gig in the Melkweg, Amsterdam on 10 April and performed The Show Must Go On & Goodbye Blue Sky. They were joined on stage by Robbie Wykoff, John Joyce and Jon Carin on guitar.(Thanks to Arvid Van Kasteel for the heads up) (Added 11 April)
---
The Wall – Australia & South America A reliable source has told us that plans to bring Roger Waters Wall show to Australia in September/October this year have been put on hold, and that the tour won't get down under until next year. (Another source has suggested February but we can't confirm this). We can also reveal that Roger is planning to tour South America next year and that the height and length of the wall will be TWICE the size! (Presumably for stadiums as opposed to arenas) Remember where you read this first.. We understand also that the last wall shows this year will be in July and that there are no plans to perform it elsewhere until 2012. (26 March).
---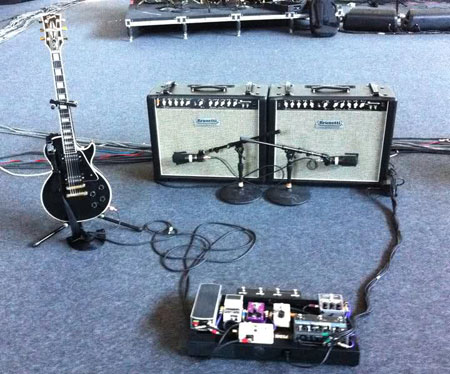 Pictured above is Dave Kilminster's new Les Paul. Dave will be using this new edition to his collection when he plays 'Outside The Wall' on the 2011 tour (Pic thanks to Simon Wimpenny) (18 Mar)
---
Roger's Tour Ramps Up Just a few short weeks to go until Roger kicks off the European leg of his astonishing Wall tour and we hear that the band will assemble around 14th March to start rehearsals. (The first show is in Lisbon on 21 March) We also understand that merchandise is currently being updated and manufacturing is in full swing. Another tid-bit of info is that Roger has stated on his Facebook page that not only is he planning a Blu-ray release of the tour but there will also be a Theatrical release. Can we also please ask you to stop emailing us about if we have heard anything more about (a) Greece (b) Australia (c) South America. If we knew anything more you would read about it here! Don't forget if you are going to any of the shows, please get pictures (switch the flash off!) reviews, links to video clips and anything else to us as soon as possible after the show. Are you ready for the tour? We are! ( 26 Feb)
---
Fourth Night In Paris Announced The Bercy, Paris France gets a 4th show, this one being on 1st July (27 Jan)
---
Will David Gilmour Play More Than One Wall Song? Find the answer to this, and the odds of him playing at a London show, as we continue our series of exclusive AFG interviews with band members and associates on Roger Waters Wall tour. AFG correspondent Johnny Valenzuela has been backstage to ask the hard questions (and got some very frank answers) and we kick off this series with Tim Myer, the main guitar tech on the tour and Colin Lyon, Roger's bass tech since the original Wall shows in 1980. WARNING this is a backstage look at the tour and as such contains spoilers. BEHIND THE WALL Now Updated! See a selection of short video clips from behind the wall!Here's More Interviews with Jon Joyce & G.E. Smith now available. BEHIND THE WALL And More Robbie Wyckoff & Snowy White interviews are now ready for your listening pleasure. BEHIND THE WALL And Even More Concluding this series of remarkable interviews we now present Jon Carin, Dave Kilminster and Harry Waters. Jon talks about Rick Wright, Dave K reveals that David Gilmour will not be able to play at the show Dave K's mum is attending in London! (plus lots of tech talk) and Harry reveals that there never was an aeroplane in the sky! You will also get to learn about the Dark Side Tour DVD, and that the London dates will be filmed for inclusion for a Wall DVD Much much more as we take you on an exclusive trip BEHIND THE WALL (Added December 2010)
---
Six Of The Best For Milan Milan gets it's sixth show, this one being on July 7th, again at the Mediolanum Forum Milan Italy. This brings the total to 60 shows and with 61 being the figure now quoted we see one more show on its way.(19 Dec)
---
Two New Shows Added Yet another couple of new shows have been added, the first being July 6th at the Mediolanum Forum Milan Italy (making a total of 5 shows at that venue). In addition a third night has been announced for June 30 at the Bercy Paris, making a total of 3 shows for that venue. Of course it should come as no surprise to anybody that additional shows are being announced as the original plan was for 59 shows in Europe, having said that however we are now up to 59! (3 December)
---
Date & Venue Change? A couple of ticket broker sites https://www.beatthetouts.com/ and https://www.stereoboard.com/ are reporting that the Wall show scheduled for the MEN Arena in Manchester on 29 June has been cancelled and instead an extra date of 27 June has been scheduled for NIA, Birmingham. We are following this up and will have the factual information here for you as soon as possible. (Thanks to Jason for the heads up) (Published 30 Nov) NOW OFFICIAL Refunds for the cancelled Manchester show are available from point of purchase. (Published 1 Dec)
---
Barcelona Again A second show announced for Palau Sant Jordi in Barcelona, Spain, this one on March 30 (29 November)
---
Germany Gets Yet Another Date This one at the Olympiahalle in Munich, Germany on June 20 (24 November)
---
Ole' Madrid! Madrid Spain will get a 2nd visit from Roger, this one on 26 March at the Palacio de Deportes (3 November)
---
O2 Arena Prague A second show has been announced for this venue, this one scheduled for 16 April (29 September)
---
Zurich Bound Again Zurich Switzerland gets a 4th show, this one on 25 June (21 September)
---
Another Night In Paris A second show is now on for Paris, this one on 31 May (17 September)
---
Even More Shows A third Wall show has been announced in The Netherlands on Monday April 11 Gelredome, Arnhem and two new shows are scheduled for Manchester at the MEN Arena on June 28th & 29th. (15 September)
---
Yet Another London Show A sixth show for London's O2 arene has been announced, this one is scheduled for May 18 (14 September)
---
Finland Gets Second Nod The Hartwall Arena in Helsinki Finland will see a second Wall show, this one on April 28th. (6 September)
---
Norway gets A Second Show And A Third For Switzerland Norwegians get a second Wall night at the Telenor Arena, this one on 1st May. To add to that, Switzerland will see a third show, this one being June 24th at the been (30 August)
---
Second Show For Sweden The Globe in Stockholm Sweden gets a second show, this one on 5 May. (26 August)
---
New Show Announced Arena Zagreb in Croatia will be getting a show on April 13th (24 August)
---
Second Show For Denmark A different venue this time as Denmark gets a second show, this one at the Herning Arena on June 13th. (23 August)
---
Second Show For Hamburg Lucky Hamburg gets a second show, this one on June 11th (30 July)
---
Date Change The show scheduled for April 12th in Budapest has been changed to June 22nd (29 July)
---
A Second Show has been added to Berlin Germany, the second date is June 16 (23 July)
---
A Second Show has been added to Lisbon Portugal, the second date is March 22 (29 June)
---
A Fourth Show has been added in Milan, this one on April 5 at the Mediolanum Forum.(22 June)
---
Poland Gets A Second Show The Atlas Arena in Lodz Poland will get to see a second Roger Waters Wall show on April 19 .(21 June)
---
Another Show Added The SAP Arena in Mannheim Germany gets a second Wall show, this one being on June 4 2011. (14 June)
---
Another show has been added to the European leg with the Mediolanumforum in Milan Italy scoring a 3rd show, this one on 4 April 2011. UPDATE Dublin's O2 Arena gets a second show, this one on 24 May 2011. (10 & 11 June)
---
European News there will be a 2nd show in The Netherlands on 9 April at Gelredome Arnhem Tickets and a 2nd show in Switzerland on 7 June at Hallenstadion. Our Tour Rooms have been updated (once again!) to include ALL known show dates & venues. (7 & 8 June)
---
Roger Waters The Wall Tour - Press Conference (2010)
(Posted 7 June)

---
Roger Waters New Date Added The Antwerp Belgium show on the 27 May 2011 sold out in just a few minutes so a second show on the 28th has been announced.(Tickets) General Public ticket sales for Roger's UK shows (and Ireland) are now on sale. You can access Ticketmaster by our one stop Ticket Link. Buying your tickets this way assists us with the running cost of this site. Thanks! (4 June) UPDATE Two new LONDON dates are scheduled for 14th & 15th May 2011. NOW ON SALE (5 June)
---
Roger Waters 2011 Ticketing Info We have updated our 2011 Tour Rooms to include as much ticketing information (Public Sales) as we have been able to find out. Some tickets go on public sale over the next few days, but some sales do not commence until August 2010. There are also a number of pre-sales currently underway, or about to start soon. Our best advice is to check with the venue direct, or stay tuned here. (1 June)
---
2011 Tour Rooms Now Open Our tour rooms for the 2011 European leg of Rogers tour are now open.  (29 May)
---
Roger Waters 2011 European Dates Announced Well we did tell you the announcement was imminent! (Important, Use the left hand index for the most up to date list of venues & dates as there have been updates since this list was published))
| | | |
| --- | --- | --- |
| Mar 21 | Atlantico Pavilion | Lisbon Portugal |
| Mar 25 | Palacio de Deportes | Madrid Spain |
| Mar 29 | Palau Sant Jordi | Barcelona Spain |
| Apr 1 | Mediolanumforum | Milan Italy |
| Apr 2 | Mediolanumforum | Milan Italy |
| Apr 8 | Gelredome | Arnhem Netherlands |
| Apr 12 | Sports Arena | Budapest Hungary |
| Apr 15 | O2 Arena | Prague Czech Republic |
| Apr 18 | Atlas Arena | Lodz Poland |
| Apr 23 | Olympiski | Moscow Russia |
| Apr 25 | SKK Arena | St. Petersburg Russia |
| Apr 27 | Hartwall Arena | Helsinki Finland |
| Apr 30 | Telenor | Oslo Norway |
| May 4 | Ericsson Globe | Stockholm Sweden |
| May 7 | Parken | Copenhagen Denmark |
| May 11 | O2 Arena | London UK |
| May 12 | O2 Arena | London UK |
| May 17 | O2 Arena | London UK |
| May 20 | Manchester Evening News Arena | Manchester UK |
| May 21 | Manchester Evening News Arena | Manchester UK |
| May 23 | O2 Arena | Dublin Ireland |
| May 27 | Sportspaleis | Antwerp Belgium |
| May 30 | Bercy | Paris France |
| Jun 3 | SAP Arena | Mannheim Germany |
| Jun 6 | Hallenstadion | Zurich Switzerland |
| Jun 10 | Colorline Arena | Hamburg Germany |
| Jun 15 | O2 Arena | Berlin Germany |
| Jun 18 | Esprit Arena | Dusseldorf Germany |
It's expected more shows will be added. We have already been told (Unofficially) that Vienna, Zagreb, Belgrade and Athens could be added at the end of June 2011. We will have full ticketing information for you as soon as it becomes available. (27 May)
---
Roger Waters 2011 Tour Dates Imminent? It's understood (although not official) that the dates & venues of Roger Waters 2011 leg of his Wall tour are about to be announced. The 2011 tour is expected to kick off in March and go through to June. We have been told (again unofficially) that Roger's London shows will be sometime in the UK spring and that they will be at the O2 Arena and not Earls Court. Again we stress that this news is all unofficial. Keep checking daily, the minute those dates are released you will read about them here. (27 May) UPDATE See above, our info was bang on once again!
---
Doubts Cast Over The Wall In South America We know that there are many many people wanting to know more details about the second leg of Roger Waters Wall tour of Europe and other parts of the world. To date unfortunately there is still very little information to be had. We can however tell you that on a recent visit to Buenos Aires, Argentina, Jon Carin told AFG correspondent Martin Sciaccaluga that it would be very difficult to bring the show to South America and that it's unlikely that the show would travel there. He said the problem was that there are not many arenas to support the infrastructure of the show, although he added Roger was eager to tour there. Regular readers will recall that Roger said in an interview with BILLBOARD in April that 'he'd like to take the show to other territories, including South America'. You can be sure that as soon as anything regarding the second leg of the tour is announced that you will read it here in record time! (16 May)
---