Thanks to Brian Petruk
---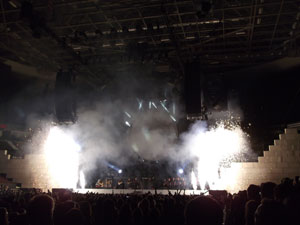 Well getting a chance to relive a point of History that being 30 years never coming to Canada was definitely a highlight to any to any of the past Floydian or solo shows from yesteryear.
Just getting tickets from Roger Waters site was a fun challenge but I got lucky to get my presale tickets.
Then waiting and the excitement was there as I avoided any spoilers over the past months as I wanted to watch this production with 2010 eyes and perspective.
It was great meeting Simon Wimpenny and his group to discuss they were an entourage on Tour with this Wall Tour Hopping the Wall from city to city.
The Wall show never came to Canada 30 years ago with Pink Floyd, but this was a great choice musicians filling in for the musicianship roles of Gilmour Mason et all. Seeing some familiar faces which bridges both camps like Jon Carin and of course Snowy White who did those past Wall shows with Pink Floyd with his classic Les Paul.
Harry Waters on keyboards was a talented addition also. Brothers Lennon superb vocal harmonies. As well GE Smith from SNL a great guitar player from SNL days.
As we took our seats and various background tapes of comedian George Carlin with his biting humour could be heard for some time. Mr.Screen was there and partial wall was erected in either side of the massive stage.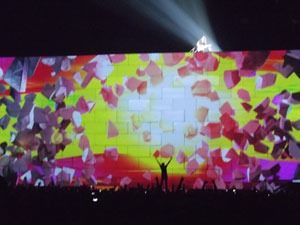 The sold out 15,500 Scotia Bank place was a great venue and quadraphonic sound system was used to give the audience a treat engulfing the sound to surround you. There was a homeless man which was an odd pushing a grocery cart about on the main floor section collecting empty bottles and looking for money for lucid pleasures who stopped in front of both myself of my wife.
Security was around this guy. The following day our local radio station reported this was Roger waters posing to mingle with the audience without being recognized. Later of course was a false rumor. Then more sound bytes " I am Spartacus, no I am Spartacus played through the PA.
It starts with Outside the Wall with a trumpet.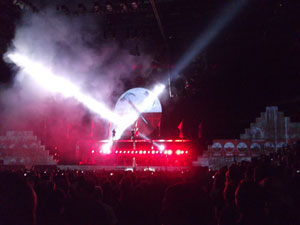 The houselight dropped then a thunderous applause pyrotechnics flashed up then down lower stage and then upper. Then the show started with a coat rack at the middle of the stage hanging on it a long black leather jacket which Roger dons with dark sun glasses with the ever so familiar "so you thought you might like to go to the show!"
Mr.screen starts show new film sequences of gripping moments, teary eyes, Middle East, names of people deceased war casualties.
As the songs play there are familiar parts of the past wall concerts that reemerged, such as the spitfire on a wire crashing over one side of the wall with a massive explosion, the school teacher, the huge inflatable mother, the piece de resistance, The famous pig with slogans with piercing eyes moving above the audience floating about from one end of the arena to the next.
New bits included hiring or selecting school children in each city of each venue and giving them a chance to represent their school both onstage and with the media by singing the famous section in Another brick in the Wall part 2.
Comfortably Numb was one of most memorable again very much like the old wall shows on top Dave Kilminster playing the trade mark solo to climax or crescendo moment on top of the wall. At times it was noticeable that Gilmour phrasing style was not present but this was just another adaption of the Wall by Roger Waters and his group of musicians that come so very close.
It was both daring and a challenge to re-create the wall and to bring the concert to relevance with both past concepts and modern day issues which was done during both sets with an intermission bridge. The trial with the famous Gerald Scarfe animation was beautifully clearly projected on the completed wall which at times had multitude colour changes like either a dingy grey or brilliant white other times including 3D images which came out at you just prior to the fall of the Wall.
Seeing Roger do all the voice character voice segments with a microphone in hand was also quite interesting to watch as he occasionally glanced behind to see the storyboard behind him on the Wall. When the Wall did fall it was middle section the came down was the end of this masterpiece production and my chance to part take in a great part of Rock and Roll History. It ended as it had started Outside the Wall the all coming out with acoustic instruments and farewell bows. As Roger wen to one side of the stage Dave Kilminster ran behind him to try to give him a slap on his backside in jest The band was really fantastic that is what I think.
Don't miss this show.
Review & above pictures thanks to Brent Ingalls
---
Brian and his wife also attended the show on 19 Oct – Bell Centre where they entertained the crowd again there. Buoyed on by their success they popped up again a couple of years later at the Ottawa Show in 2012
---
For the first half of the show I sat on the first section from the stage up off the floor right next to the wall and to the right side, right underneath where the plane comes over. I like it here, you get a good view of the stage and the wall, however you don't see Mr Screen at all.
First half of the show seemed to pass by so quickly tonight, I was watching the wall images a lot and as I was so close (approx 10 feet away) it was easy to not only see things up close by also spot things I hadn't seen before. The subway train only came through once during tonight's show and Bob came up with a great question and wondered if the train comes through say once if they are only playing one show in a town, twice for two shows and three times for three! something I will definitely watch out for at future shows, this is the sort of thing that Roger would indeed do!
I headed over to see Maria at intermission to see how Nancy was enjoying the show and she was loving it! Best show she had ever seen she said; I then went over to see Brent and Sophie who both said the same, they were so impressed with it. I told them to watch out for the second half as it just gets better! There was an empty seat next to Bob as the guy had moved out of it to be somewhere with his buddy so I took the seat and sat next to Bob for the second half.
It was the ideal place to see the show especially for the sound, even though it was 13th row it was slightly further back than it would have been in most venues and the spacing between the seat rows was a lot bigger, thus 13th row was more like probably 20th row at most shows, it was dead centre and the sound was probably the best I'd heard at any of the shows so far. The quad was just right, the stereo seperation was excellent, the bass was right in your chest and the highs were right there in front of you.
Bob is a lot like me, he likes his sound to be spot on at the show and he likes to watch a show without chit chat and just enjoy it. We both stood there watching Dave K do Comfortably Numb and we both never took our eyes off him. At the end of Dave's solo we both turned to each other for a quick comment that it was good but there were just a couple of gaps towards the end of the solo that weren't filled right but Dave made up for it with the hammer ons at the end.
I didn't spot any major mistakes or technical problems at all. I have noticed the last couple of shows that they are pumping a lot more smoke out from behind the wall as the wall is about to fall down and Bob asked me after if it was normally this smokey. It wasn't the best "wall fall" of the tour but it also wasn't the worst. The ends of the wall kinda stayed where they were and didn't tumble down onto the seats at all. I hope they haven't stopped this after the audience getting covered by bricks at the second Nassau show, it would be a great shame if they have!
Review thanks to Simon Wimpenny
Videos from this concert have been removed as Pink Floyd claim copyright on them
---