Thought the sound was the best so far at this venue. The venue itself though was confusing and security was disorganized.
A few minor technical glitches (plane just a couple seconds late, green paint drips behind the wife projection messed up), but otherwise solid show. Roger is definitely singing his parts, as I have noticed subtle variations in each show. He is having a lot of fun. Kilminster killed once again. The kids were pretty lame though compared to the ones in Chicago.
Oh – he also acknowledged Robbie by name.
Also – looks like there are T-shirts for every city, not just cities with multiple shows.
Review thanks to suzannewithaz
---
What a wonderful show!!! I had such a blast. He really nailed it this time around. 100x better than when I saw him on his DSOTM tour. Everything was perfect, it sounded fantastic, and everything was cued perfectly (except for the plane of course…lol)
THANK YOU ROGER FOR A DELIGHTFUL EVENING!!!!
Review thanks to rawkingcgrrl
Thanks to Don Sweeney
---
I was one of the lucky ones who got front row seats for the Pittsburgh show through Roger's ticket presale. Lots of interaction all night between Roger and those of us in front of him. Great to see him smiling so much and apparently quite proud of himself. I've been to hundreds of concerts, but this was the first one that left me speechless.
Review and above pictures thanks to Coleen Stern
---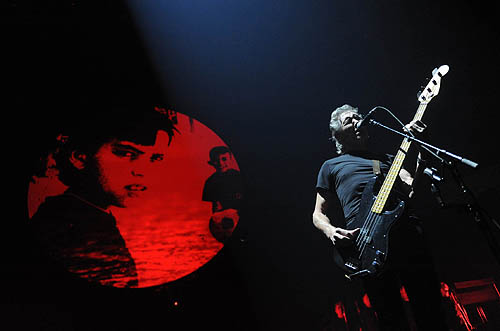 The Consol Energy Center is only a month old, and already there are renovations taking place.
Last night, for instance, a bunch of guys built a wall right across the rink, and then decided to tear it down. Throughout the evening, the crowd was transfixed by this work of construction and deconstruction, backed, of course, by a loud, compelling soundtrack.
Pink Floyd mastermind Roger Waters, embarking on what he's called his last tour, has pulled the 30-year-old rock opera "The Wall" out of mothballs, and given it a technological upgrade.
"The Wall," as most people who came of age in the '80s know, tells the semi-autobiographical tale of rock star Pink, who is driven to madness by personal tragedy and the suffocating pressures of society.
The left-leaning Mr. Waters' clearly has an anti-war, anti-institutional agenda to deliver, but the Floyd faithful, who come in all political shapes and sizes, were able to take what they wanted from "The Wall."
It could be enjoyed on a purely musical level, with a meticulous band executing songs still in heavy rotation on classic-rock radio. Fans could rally around the message of not trusting war-happy governments. On the level of grand spectacle, well, it was spectacular. I was seated one row away from caution tape and signs that said "Please Keep Out: Pyro Zone," so I could relate to Pink's paranoia.
The first few minutes were arresting, with flag-waving storm troopers, Roman candles and a fiery plane crash. The wall-building, using hydraulic risers, started with "Another Brick in the Wall, Part 2," complete with Pittsburgh Boys and Girls Club kids in "Fear Builds Walls" T-shirts shaking their fists at a giant inflatable teacher.
"Mother" was a beautiful and harrowing fear ballad with Mr. Waters on acoustic guitar and G.E. Smith playing the searing solo in front of a projection of the singer from 30 years ago. Somehow his voice is just as commanding and sinister at 67. Not surprisingly, the line "Mother, should I trust the government?" provoked a hearty jeer.
Robbie Wyckoff proved to be a capable vocal stand-in for David Gilmour on "Young Lust" and parts of "Mother."
Toward the end of the first set, the wall had obscured the band and Mr. Waters, in all black with white sneakers, sat in front of it singing the songs of Pink's dreary descent. The last brick hit right at the end of "Goodbye Cruel World," marking Pink's fall and the audience's beer break.
The second half was a buildup toward the Pink's redemption and the wall's destruction, starting with a Wyckoff vocal on "Hey You" and a Waters cheer of "Bring the Boys Back Home."
The sometimes caustic set was also highlighted by a dramatic "Comfortably Numb" (with Mr. Waters at the base of the wall and Mr. Wyckoff on top), the heart-pounding "Run Like Hell" (complete with signature Floyd pig) and a grand finale, with tumbling wall, that was more visually than musically rousing.
All told, "The Wall" doesn't make for the most upbeat or coherent evening of musical theater — I liked the recent "Dark Side of the Moon" tour better, just because of the music — but it certainly doesn't lack dazzle or bite.
This tour is likely the last chance to experience it with the man himself — and he's matched the intense album with yet another startling visual epic.
Thanks to PG
Videos from this concert have been removed as Pink Floyd claim copyright on them
---