2012 Rest Of World
---
2013 Tour We have had a ton of emails asking us about where Roger will be playing his Wall shows next year in Europe. We wish to stress that nothing is finalized at the moment but Roger is DEFINITELY heading in that direction. The cities whispered below in the previous article are NOT CONFIRMED and should not be relied upon at this time. Col (From AFG) was back stage at the Yankee Stadium show (6th July) and his review contains lots on interesting hints about next years tour. CHECK IT OUT
---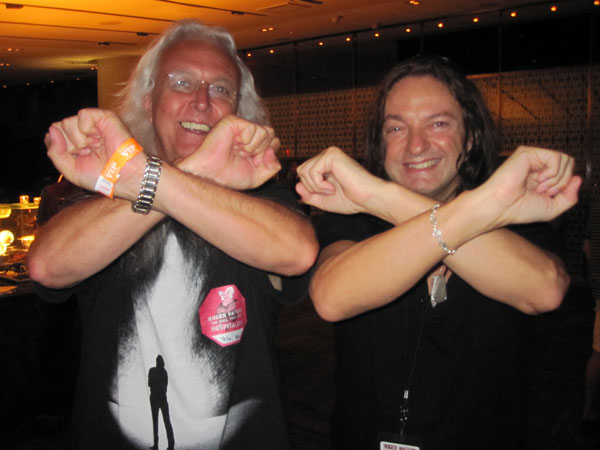 Roger For Europe 2013? Rumours are running hot that Roger Waters will take his Wall show back to Europe in 2013, playing stadiums, or so we are told. We wish to stress that at this time this is purely a RUMOUR, so please don't start making travel arrangements just yet! (Added 19 June) UPDATE!!! Although still not official it's almost certain that Roger will be touring Europe with his wall show in 2013. Tour dates will be announced here as soon as they become available. (Updated 26 June) WHISPERS ONLY!!! Vienna – Austria/ Götheburg – Sweden/ Bergen – Norway/ Horsens – Denmark/ Warsaw – Poland/ Brussels – Belgium/ Amsterdam – The Netherlands/ Frankfurt – Germany/ Rome – Italy/ Bern – Switzerland/ Paris -France/ London – UK (Updated 30 June) UPDATE July 7 Roger confirms he is looking at Europe late summer 2013 )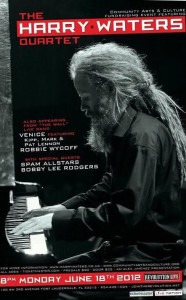 Harry Waters Solo Show Following on from the smash success of his solo show in Buenos Aires in March, Harry Waters has now announced he will be performing at Ft Lauderdale on the 18th June in between the Wall shows. This will be bigger than his last few solo shows and will be a fundraising event for a community arts project. Live Nation are behind this one and tickets will be available on Ticketmaster at $20 each. The boys from Venice will be appearing too along with Robbie and a couple of other people. (With thanks to Simon Wimpenny for the heads up)
---
The Wall Live In Québec City One more date has been added to Roger Waters' The Wall Live tour. On July 21, Roger will perform at Les Plaines D'Abraham in Québec City, QC. This will be an outdoor show on the historic Plains of Abraham.(where the English and French fought in 1759). Capacity is expected to be the largest of the tour, as Metallica managed to pack in 110,000 at a concert there in 2011 and no doubt Roger will equal that number (Which is the maximum allowed). Full details of this special concert event will be announced at a Press Conference in Quebec City on Tuesday 22nd May at 4-30p.m. local time. Pre-sale tickets will be available soon after that from RogerWaters.com (Added 19 May)
---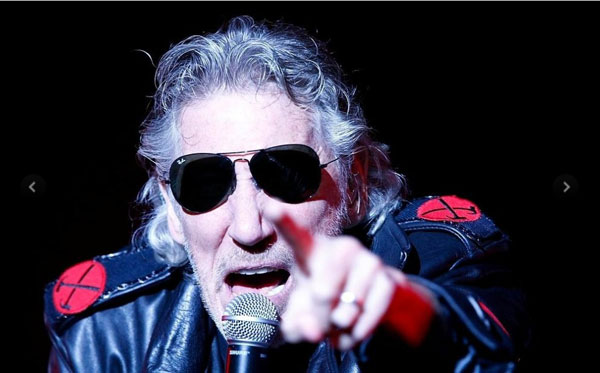 Image from Tulsa Show
Here We Go! On the eve of Roger Waters Wall Tour ramping up again (Mexico April 27) we are clearing the decks to bring you the coverage you have come to expect from this site. We are ready, are you?
---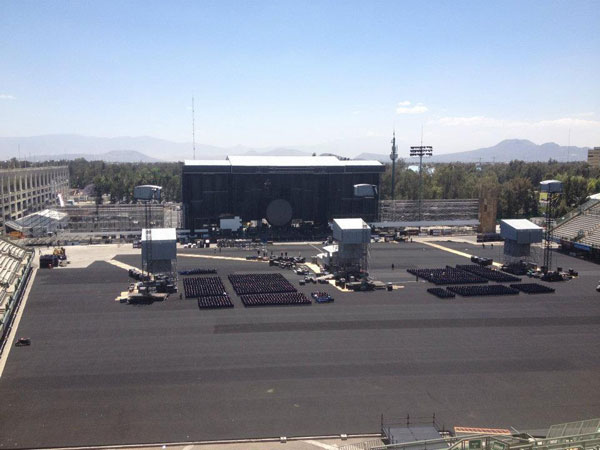 Mexico – Wall Under Construction (More) (Added 26 April)
---
Second Harry Waters Show For Buenos Aires Following on from the huge success of Harry's solo show in Buenos Aires on March 11th, Harry will be performing a second show, this one at the La Oreja Negra on 19th March. Tickets are available HERE or click for MORE INFORMATION (Added 16 March)
---
(Above) Our good friend Joaquim Arnes managed to gain access to the River Plate Stadium in Buenos Aires Argentina and sent us these pictures as a sneak preview. You will notice that in one of the pictures Joaquim is flying an AFG banner, and he has done this several times before in various parts of the world. (Click thumbs to expand) (Added 6 March)
---
Harry Waters Solo Show In Buenos Aires Harry Waters will be taking a break from The Wall tour and performing his own show on Sunday, March 11 at THIS VENUE Some of you may recall that Harry did the same thing whilst on tour in 2010 in Miami (On his birthday on 15 Nov) and some of the special guests to turn up that night were Dave Kilminster, Snowy White, Graham Broad and Harry's old man, a guy called Roger Waters! Now we don't know who is going to be at the Buenos Aires show but it may be well worth checking it out! (Added Feb 25)
---
Boston Show Finally Official After a long wait, finally the Boston show of 1st July at Fenway Park has been officially announced.Tickets wereavailable for pre sale from RogerWaters.com from February 13th and will be on general sale as from February 20. Tickets also available from Roger Waters Tickets Boston (Added 7 Feb)
---
 Second New York Concert Announced July 6th's Yankee Stadium show is now sold out and a second NY Yankee Stadium show on July 7 has been announced. RogerWaters.com pre sales started on February 5th at 10am ET. General onsale started on February 11th. .(added 31 Jan)
---
Roger Waters Boston Wall Show The show to be held at Boston's Fenway Park on 1 July has still yet to be officially confirmed. Unofficial sources have told us that negotiation are still underway and that it's likely to be still a number of weeks away (mid Feb) until negotiations are complete and an announcement about ticket sales is made.(Added 19 Jan)
---
Yankee Stadium Tickets Tickets for this show go on sale on January 30th at 10am through Live Nation. RogerWaters.com pre sale starts 23 January. (Added 18 Jan)
---
Morumbi Date Change The Roger Waters Wall concert scheduled for March 31st at Morumbi Stadium in São Paulo has been postponed until Tuesday April 3. Reason given is that "As a result of technical and logistical issues that do not allow enough time for the show to happen in the way it was conceived". Original tickets will be honoured on the new date and seats remain the same.(Added 22 Dec)
---
Second Night In Edmonton Roger Waters will stage a 2nd show in Edmonton Canada, this one being on the 29th May at Rexall Place. Tickets go on sale on 21st November.
---
MORE! Another date has been announced for the tour, this time it's Mexico on April 27 & 28 at Foro Sol in Mexico City Tickets on sale soon. AND MORE! Winnipeg gets a second night, this one is on June 1st at the MTS Centre. Tickets Presales for many shows are available at https://tour.rogerwaters.com/ or will be shortly. (Added 15 & 17 & 18 Nov)
---
Sorry Europe! There have been a lot of rumours flying around for some time now that Roger Waters would take his stunning Wall show back to Europe in 2012 (after he finishes his North American tour). We put this directly to Mark Fenwick (Roger's Manager) who has confirmed to us that Roger WILL NOT be touring Europe in 2012. (and if you heard the rumour of a Wish You Were Here tour in 2013 you can forget that as well). (Added 11 Nov)
---
Roger Waters 2012 Dates Latest There's been a lot of changing around with Roger's Los Angeles date & venue. First it was to be on the 19th May at the USC then it went to May 18th (with venue TBA) but now, judging by what Roger Waters himself said, when he phoned in on DJ Jim Ladd's farewell broadcast, it's now to be on 19th May at the Rose Bowl in Pasadena! We are still waiting on final confirmation of that but we reckon if anybody should know it's Roger. ALSO a second Santiago Chile show has been announced for March 3 at the Estadio Nacional. (Added 5 Nov updated 6 & 7 Nov) FURTHER UPDATE Here we go again! There is now doubt that Roger will be able to take his Wall show to the Rose Bowl in Pasadena on 19th May (as stated by Roger) due to the stadium's $156 million renovation. (Read Story) If so, that still leaves the Los Angeles concert without a date & venue! We are following up on this and hope to have more news soon.RESOLVED! We have just had official confirmation that the Los Angeles show will be on 19th May at the Memorial Coliseum. Isn't this where we came in? (Added 10 Nov)
---
Spot On AFG! Well we did it again! The Roger Waters Wall North American tour dates we published back on 27/28 October have just about all been confirmed (Remember we made the announcement at least 4 days before they were officially released). We note that the gig for May 19th that we have listed for Memorial Coliseum (LA) is listed as TBA in the official announcement. Likewise the gigs we have listed for July 1st (Boston Fenway) & July 6th (NY Yankee Stadium) are also listed officially as TBA. We will update you on these venues when made official but in the meantime we will treat them as 'unofficial'. The official announcement also contained the Canadian dates, and these are as follows.
May 26 Vancouver – BC Place
May 28 Edmonton – Rexall Place
May 31 Winnipeg – MTS Center
June 23 Toronto – Rogers Centre
June 25 Ottawa – Scotiabank Place
June 26 Montréal – Bell Centre
---
Many RogerWaters.com presales for the North American dates will begin on Nov 7th and will be on general sale as from 10am on Nov 14th from Ticketmaster US or Ticketmaster Canada We would like to go on record to thank the many people behind the scenes who were involved in bringing you the news of the USA tour before anybody anywhere, (and one in particular who shall remain nameless!) Once again the AFG forum is hard at it raising funds to send Col (From AFG) over to the US (From Australia) to cover part of the tour, but this obviously takes a fair bit of money. If you appreciate the work we do and can help out in any way, please consider making a donation to this worthy cause  by donating directly using PayPal to col@pinkfloydz.com. We know Col will appreciate it. (Added 1 Nov)
---
WOW! Since publishing Roger's 2012 USA Tour Dates we have been bombarded with emails asking us for more information. As we understand it, the USA Tour will be officially announced next week (first week in November) and that Live Nation (and possibly Roger) will be giving a press conference at Wrigley Field, Chicago next Tuesday morning, (1 Nov). It's further understood that tickets will go on sale VERY SOON, although we are not sure if this means pre-sales (As in Amex & rogerwaters.com). Please, no more emails about this, as we have told you everything we currently know. However, if you would like to join in the very lively discussion about this (and find out more about the upcoming AFG convocations in the USA in 2012) then hop over to THE FORUM where hundreds of like minded people are doing the same. AFG, first with the news. (Added 29 Oct)
---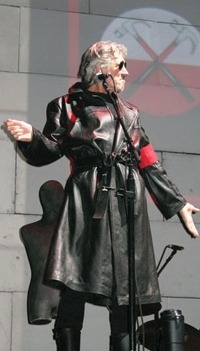 Roger Waters USA Dates Scoop!
Not yet official, but you know they will be. AFG scoops the world again with Roger Waters 2012 USA dates. As we say, not official YET!
Tue May 01 – Houston, TX – Toyota Center
Thu May 03 – Austin, TX – Frank Erwin Center
Sat May 05 – Tulsa, OK – BOK Center
Mon May 07 – Denver, CO – Pepsi Center
Fri May 11 – San Francisco, CA – AT&T Park
Sun May 13 – San Diego, CA – Valley View Casino Center
Tue May 15 – Phoenix, AZ – US Airways
Sat May 19 – Los Angeles, CA – Memorial Coliseum (USC)
Tue May 22 – Portland, OR – Rose Garden
Thu May 24 – Seattle, WA – Key Arena
Sun Jun 03 – St. Paul, MN – Xcel Energy Center
Tue Jun 05 – Detroit, MI – Joe Louis Arena
Wed Jun 06 – Grand Rapids, MI – Van Andel Arena
Fri Jun 08 – Chicago, IL – Wrigley Field
Sun Jun 10 – Louisville, KY – KFC Center
Mon Jun 11 – Indianapolis, IN – Conseco Fieldhouse
Wed Jun 13 – Atlanta, GA – Philips Arena
Fri Jun 15 – Ft. Lauderdale, FL – BankAtlantic Center
Sat Jun 16 – Orlando, FL – Amway Center
Tue Jun 19 – Nashville, TN – Bridgestone Arena
Thu Jun 21 – Buffalo, NY – HSBC Arena
Thu Jun 28 – Albany, NY – Times Union Center
Fri Jun 29 – Hartford, CT – XL Center
Sun Jul 01 – Boston, MA- Fenway
Tue Jul 03- Pittsburgh, PA- Consol Energy Center
Fri Jul 06- New York, NY- Yankee Stadium
Mon Jul 09- Raleigh, NC- RBC Center
Tue Jul 10- Charlotte, NC- Time Warner Cable Arena
Thu Jul 12- Washington DC- Verizon Center
Sat Jul 14- Philadelphia, PA- Citizens Bank Park
(Added 27 Oct)
---
Let Him Go Argentina! Well we can't say it was unexpected, but it's still gratifying to finally learn that Roger Waters will perform for the 9th (yes, we said ninth!) time at the River Plate Stadium in Buenos Aires on March 20th. The Roger Waters pre-sale in now on. In addition pre-sales are now on for all previously announced Brazilian shows. (Added 14 Oct)
---
 Roger Waters Rescheduled Brazilian Shows Announced. Following the unprecedented demand for Roger Waters The Wall Live tour in Argentina, the previously announced Brazilian dates were removed from the tour calendar to be rescheduled. The rescheduled dates have now been announced as:
Mar 25 Porto Alegre Beira Rio Stadium

Mar 29 Rio de Janeiro Engenhão Stadium

Mar 31 São Paulo Morumbi Stadium

Apr 1 São Paulo Morumbi Stadium

(Added 10 Oct)
---
 The Wall Heading Back To The USA Roger Waters has confirmed in This Interview that he will be taking his sensational Wall Tour back to the USA. UPDATE Roger has told rollingstone.com that he intends to bring the tour back to the USA in 2012. Roger is planning on hitting the cities he missed first time around (Austin gets a mention) as well as baseball stadiums in a few big cities. He said "But we want to base the tour around Saturday nights in baseball stadiums. As we speak, I'm at my office working on an outdoor version of the show." Roger also confirmed that they have already done light tests at Fenway Park, Wrigley Field and Yankee Stadium and it works fine.He also said that 'they' are trying to get him to go back to Europe next year, but added "But I think I'll be completely cooked by the end of July next year." (which indicates to us that the USA leg will be sometime between late March (after the South American leg concludes) and July. Full Story . (Added 27 & 28 Sep).
---
More Roger Waters Dates! Seems the world can't get enough of Roger Waters and his Wall Tour. Hot on the heels of his 6th show in Buenos Aires being announced, comes some more Australian dates. Put these in your diaries: Perth January 28th, Brisbane 4th February, Melbourne 11th February. UPDATE Reports are coming in that a 7th show for Buenos Aires has been scheduled for March 17th. This date has already been set aside for a show in Brazil, so we are investigating if there has been a change in the schedule. CONFIRMED As we reported a few days ago, an additional show now been confirmed for March 17th in Buenos Aires. The dates previously announced for Brazil will be rescheduled and announced soon. We also understand that more dates in Brazil will be added. EVEN MORE!!! Bloody Heck, will Roger ever be allowed to leave Buenos Aires? A record smashing 8th show has just been announced for March 18th, at the River Plate Stadium. (Added 26 & 31 Aug & 2 Sep)
---
Roger Waters Third Buenos Aires Show Announced. Demand for tickets to Roger Waters' The Wall Live performances in Buenos Aires has been unprecedented. Online ticket sales set a new record for fastest-ever sales in Argentina and both previously announced shows (7th & 9th) are now sold out. Due to this overwhelming success, a third performance of The Wall Live in Buenos Aires has been announced for March 12, 2012. UPDATE: Massive rush for tickets! The March 12th show SOLD OUT (55,000 tickets) in 6 hours! A 4th show has been announced for 10th March and we understand that negotiations are underway for a 5th show. More when we get it.UPDATE We are reliably informed that a 5th show has been scheduled for 14th March. ANOTHER ONE! 6th show announced for 16 March. (Added 17 & 19 & 23 Aug)
---
Dave Kilminster (ROGER WATERS Band) - interview @Linea Rock 2011 by Barbara Caserta
---
Chile gets the nod. The Estadio Nacional stadium in Santiago Chile will see Roger perform there on 2 March 2012. (Added 18 July) (Chile show now definitely confirmed)
---
New Zealand gets it's 4th show on 18 Feb, tickets on sale 25 July. (Added 14 July)
---
Second Brisbane & Third Melbourne Show Brisbane gets a second show on 2 Feb and Melbourne a third on 10 Feb. (Added 10 July)
---
Third Auckland Show Announced The Kiwis are to get a third show in Auckland, this one on the 23 Feb . ( Added 9 July)
---
Second Sydney, Melbourne & Auckland Shows Confirmed As we part indicated below, additional Roger Waters shows have now been announced for Melbourne, Sydney & Auckland. The second Melbourne show will be on 8th Feb and the second one in Sydney will be on 15 Feb and the second in Auckland on 22 Feb (Added 5 July)
---
News Flash! Second Sydney and Melbourne Roger Waters shows about to be announced. (Added 5 July)
---
South America Official For Roger Waters Wall Tour The first of Roger Waters Sth American tour dates have been announced as follows:
7 Mar River Plate Stadium Buenos Aires Argentina

9 Mar River Plate Stadium Buenos Aires Argentina

17 Mar Beira Rio Stadium, Porto Alegre Brazil

22 Mar Morumbi Stadium, Sao Paulo Brazil

23 Mar Morumbi Stadium, Sao Paulo Brazil

25 Mar Engenhao Stadium, Rio de Janeiro Brazil
Tickets on sale for Brazil as from Sept 19. Tickets on sale for Argentina as from Aug 8. The Auckland New Zealand show originally announced for 19th Feb has been moved to 20th Feb.. (Added 1 July)
---
Ticketing Info Australian tickets will be available through Ticketek.com.au and are on VISA Pre-Sale from 4 July 3pm until Thursday 7 July 5pm. There will also be a My Ticketek Pre Sale from 7 July 3pm until – 10 July 5pm. Both Australian and New Zealand tickets go on public sale Mon 11 July @ 9am. The NZ show (Which has now been officially announced) is advertised as being on the 19th July at the venue itself and at Ticketmaster NZ However RogerWaters.com have this show listed for the 20th July, which we think is incorrect. (Added 27 June)
---
NOT official yet but being advertised on TV – VECTOR Arena Auckland Sunday 19th February 2012 tickets from Ticketmaster on sale 11th July 2011 (Added 26 June)
---
Roger Waters Touring Band
Drums: Graham Broad
Guitars: Dave Kilminster, G.E. Smith, Snowy White
Keyboards: Jon Carin, Harry Waters
Lead Vocals: Robbie Wyckoff
Backing Vocals: Jon Joyce, Mark Lennon, Pat Lennon, Kipp Lennon