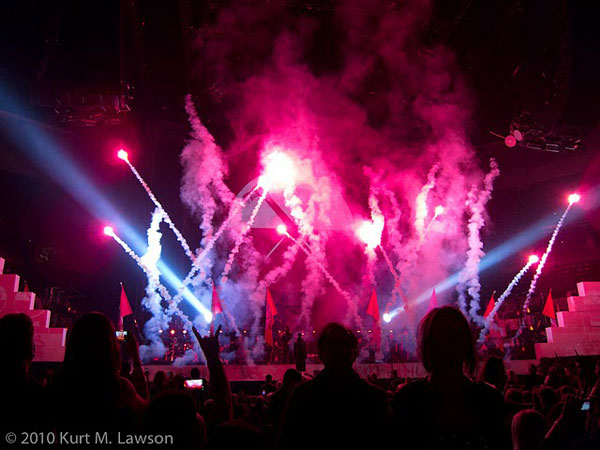 All images (Except where noted) thanks to Kurt Lawson
Just met Roger and got his autograph. I'm off to the show again tomorrow! Roger was a bit more talkative than the previous 3 shows I saw, especially at the end saying thank you to the crowd.
Great show as usual. One more to go….
Above 3 images & review thanks to John (SeaNile)
---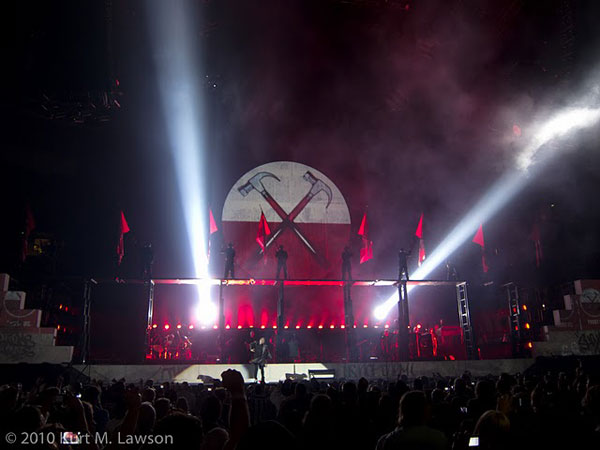 Wall to Wall: A Short Essay Pt. 7  Part 1 – Chicago and Part 2 – Kansas  and Part 3 –  Las Vegas and  Part 4 – Los Angeles  and Part 5 – Oakland and Part 6 – San Jose and  Part 8 – Anaheim (14th)
And here we are…the 2nd to the last night of the US leg of Roger Water's The Wall. It was a beautiful sunny warm day in Southern California with record breaking high temperatures throughout the area. Hard to believe that you can wear shorts and a t-shirt in the middle of December here, especially knowing the East coast is getting slammed with rain, hail, sleet, and snow, and the Northwest is getting record breaking rainfall. But that's life here on the southern coast of California, and I'm certainly not complaining. Anyways, with a perfect day to bask in the sunshine, the setting was just right for another great performance of The Wall.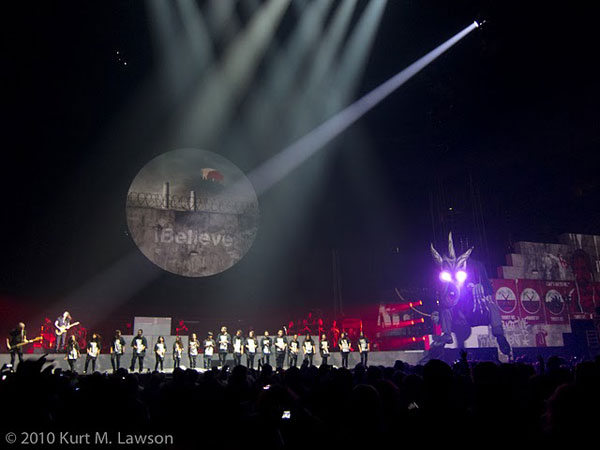 I met up with Simon, Kami, and several others for a pre-show meet-up at JT Schmids Brewery right across the street from the arena. After a few beers, we headed to the venue and scouted out our seats. I knew I had a great seat for tonight, but didn't realize how great it was until I actually found my spot. It turns out I had an 8th row dead center seat which provided a great perspective of the Wall, the stage, and everything else. Not too far, though maybe a bit too close…but no complaints whatsoever. The sound was LOUD and clear from that position! A few screw-ups took place during the show, and I don't remember seeing one as major as when Rogers mic went out during The Thin Ice…quite a glaring glitch, but he didn't bat an eye and for the most part the show went on without any more noticeable glitches of that calibur (although I think DaveK's guitar/amp may have screwed up somewhere later). And I don't recall Roger interacting with the crowd at previous shows quite in the same way he did tonight. At one point ( I believe it was during the intro to Mother), Roger stopped his intro and joked with someone in the first few rows, laughing and saying "I finally got that bloke to react to something"! As much as Roger is at ease with himself and the show, so are the band members. The guitar players (specifically G.E. Smith) seem to have been given more freedom to express their individuality in a more pronounced way than at previous shows I've seen. We've all seen DaveK pose and adjust his hair mid-guitar solo as he is known to do, but now G.E.Smith is posing and playing with an intensity that seemed like his life was on the line. For those who remember him as the bandleader of SNL, you'll recall G.E. with his grimacing face, banging away on his guitar and posing in every cliche guitar hero pose that is possible. Well here he is now posing onstage – which might be visibly distracting from the show itself for some -but the solos he's playing are amazing and truly heartfelt. Something I've been meaning to get off my chest since the first show I saw in Chicago is that while Robbie Wyckoff does a great job with his vocal parts, he certainly doesn't seem to quite have the heart and the soulful voice of David Gilmour. I understand he's not there to replicate Gilmour's voice, and I'm sure he's a great guy in person, but at times he comes across as someone at a karaoke bar belting their lungs out to their favorite tune. He's definitely a professional and a great one at that, but the one and only true thing that has rubbed me a bit the wrong way for every show I've seen this tour is Wyckoff's singing during certain parts of the show (although I suppose it could have been worse). But enough bashing…he's got big shoes to fill and he's doing a fine job for the most part, so for that I tip my hat to him and give him two thumbs up. Venice and Jon Joyce do a great job and know their place, as does the rest of the band. Snowy White is a guitar players guitarist, and he certainly knows his way around the guitar without doing any strange posing or giving funny facial expressions. He doesn't demand attention in the spotlight as the others seem to do, and he lets his guitar do the talking. All in all, it was a great show aside from the few minor glitches mentioned above, and I'm thankful and grateful that I was able to witness it.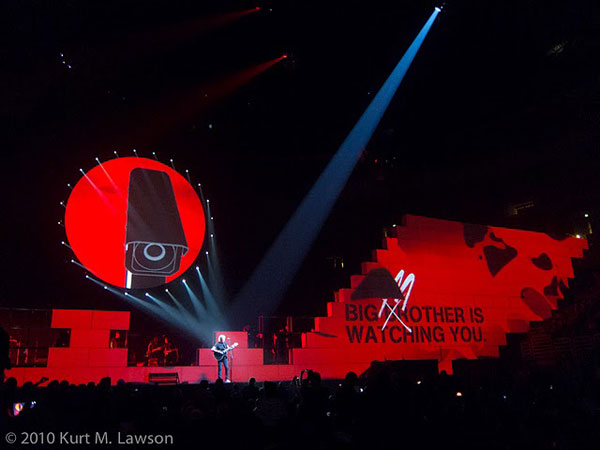 And thus concludes another batch of random thoughts and impressions. I'll be seeing the final show of the US leg tomorrow night, and while it has been an incredible journey these last few months, there's a bittersweetness in knowing that another chapter of my life is about to be over. With that said, the memories will last a lifetime, and I will cherish every moment I've experienced forever. Thank you Roger Waters! Until the next time, stay tuned…
Review thanks to Eric "DiamondHead"
---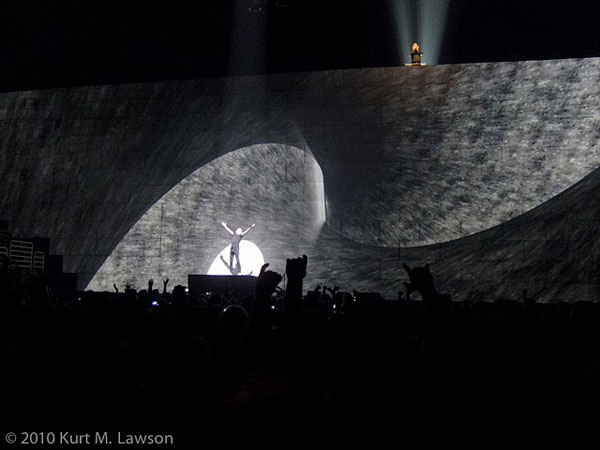 It was truly an amazing show. My favorite so far. It did suck that his mic went out on The Thin Ice, but it was only for a second.
My seat was 202 Row AA Seat 3. It was literally behind the $250 dollar seat except my seat was leveled up so when I stood up to watch there was no heads in the way. It was the perfect seat and I saw everything and the view felt like a center seat too.
Can't go today since I am now broke after I went to see him at the Staples Center and all the money I spent on merch.
Oh well, at least I saw him twice.
Review thanks to AlphaWolf
Videos from this concert have been removed as Pink Floyd claim copyright on them
---