Within seconds of In The Flesh starting I could tell this was going to be a great show, the sound was incredible! It was SO damn loud, probably the loudest one yet but every instrument was crystal clear!! Hassan, Amin and I all turned and looked at each other I think we all knew at that point that we were in for an amazing show.
Now here's why I shouldn't leave the reviews too late as I forget things! Honestly I can't remember any of the problems or technical hitches if there were any but from memory there were a couple. I do remember how good the kids were at this show though! And they were all having a fantastic time!
This is probably my favourite one of the tour so far as I'd seen this picture a few times in my head and tried at several shows to actually get it but hadn't been able to till tonight!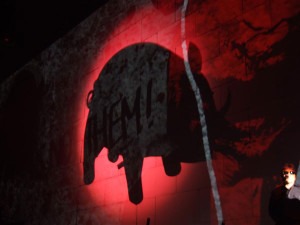 I was loving every minute of tonight's show! the plane came down at the beginning at EXACTLY the right time, the timing was dead on, it hit the wall exactly as the last pyros went up and the last note was played! If you're at the front at one of the shows watch the press camera guys that are there for the first 4 tracks. Tonight they were all stood milling around while the trumpet music was playing and not expecting the pyros at the beginning of In The Flesh and you should have seen them all jump when the flares went up!! I've seen this a couple of times and thanks to Hassan for reminding me about it.
At intermission we all hung out and discussed how loud and powerful the show seemed tonight, there was also soooo much energy coming off the stage, I don't think I've ever felt as much at a show.
Everyone sat down for Hey You apart from Amin, as I'm so tall whenever I stand up I can always hear the people behind me complaining and grumbling so I sit down so they are able to see, hey it's like 1 of 52 shows for me, it's probably the only show they will see so its the least I can do.
The backing guys and Robbie are still doing their head turning thing when the hummers go round the wall, they've been doing this at most shows but I keep forgetting about it!
Second half of the show seemed like it was in fast forward, before I knew it Comfy Numb had been and gone, as had In The Flesh and we were on Waiting For The Worms! Dave's solo in Comfy Numb was simply stunning, not a single mistake that I could hear.
We were unable to see Dave on top of the wall due to being front row and in a way that makes you concentrate more on the sound and the music rather than watching him actually play! I love the ending where Roger stands and raises his arms and the drums and amps come up through the stage, it's just a shame that so many people don't get to see this due to where they are sat and even people sitting near that can see are just so consumed by what's just happened when Roger hits the wall with his fists that they don't get to see it either, they just completely miss what's going on in front of them!
There was one slight difference tonight and one addition! When the demon come up and slaps its hand across the whole wall, instead of it turning red it went white and I preferred this and it looks a LOT better. He has also added what looks like a huge post it note projection on the right side of the wall at the end of Run Like Hell, I wasn't able to see exactly what it said but it had a couple of peoples names on and said "we always remember you" under them, Roger then took his machine gun and shot at the "post it note" after which it fell down to the bottom of the wall. He did this again in Atlanta last night but I missed it again, I'll be ready tomorrow in Houston:)
*** Hassan just emailed me the following: Hey Si, the banner that gets thrown over the wall at the end of Run Like Hell has the names of the Reuters cameramen that were killed in Iraq, you know, in the clip that is projected on the wall. Namir Noor el-Deen and Saeed Chmagh.
It always makes me laugh when I'm on the front rail for a show, as soon as the instruments go down into the stage and the crew have done their thing with taking the instruments and mics off the stage and Roger makes his way over to the right hand side to start the Trial sequence the security always come round the front and move everybody back to their seats and off the rail in preparation for the wall coming down in six or seven minutes time. The look on peoples faces is funny, they have no idea at all what's going to happen and wonder why on earth they are being moved back when they have been stood in the same pace all night!! Then when the wall comes down and they see it actually happening its great to watch the crowds faces and see the amazement in their eyes!
Tonight's wall fall was fantastic, it came down in two sections and the first few rows went forward towards the crowd then the second couple of rows backwards and then the rest of it falling forward.
The band looked so happy during Outside The Wall, you can always tell its been a good show by how they look when they come out onstage. They knew it was a good show and you could see that, Dave was so appreciative of the audience as was Roger and the rest of the band. I must say though that G E Smith is an odd one! He never seems to smile or look happy and has the same expression on his face the whole show!
It's hard to decide which was the best show of the tour so far between this one and the first Ft Lauderdale one, I think the first Ft Lauderdale one just took it to be honest, not exactly sure but it had a touch more energy, the crowd were a bit better and the whole show just seemed faultless.
Review & images on this page thanks to Simon Wimpenny
---
What a show, what a show. I can't offer up any words right now, other than DAMN and I LOVE ROGER! The Tampa crowd needs to get LOUDER though next time! I think I was the only one yelling in my section. I loved how everyone seemed to be paying attention during the "13 channels of shit", though. Absolutely fantastic performance. 🙂
Review thanks to Ryan Horseshoes
---
This was worth our six hour drive. Roger sounded great, the acoustics for the show were excellent and the Wall props were fantastic. I don't know if it was just in Tampa but 'Bring the Boys Back Home' played very well here-emotional. The excitement of the crowd was great, looking back, I just wish we rushed the stage.
Review thanks to Ted Vaughen
---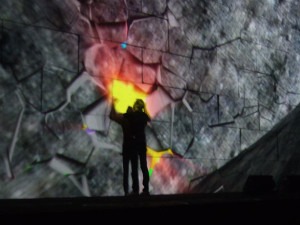 At around 10:00 am on the day of my show we went over to the forum to check things out. We had seen the trucks the night before. As we walked up to the venue a security guy came out and we began talking. I finally said " how many c-notes does it take to get in right now cause I have to be inside there"? I expected the next word to be 2 or 5 or something but he looked at me and said here is what you do go through that door take this elevator and so on. He said nobody would fuck with us and the fact that I had my online bought RW TRUST US HOODIE on wouldnt hurt as that wasw what all the crew were wearing. So after finding our way through the maze of the forum when its closed we found the arena. We watched the crew setup for 1 1/2 hours. They were hoisting the lights and puppets, building the stage and putting the wall sides up. It was an amazing feeling watching it all come together and knowing in 10 hours I would see it all come to light.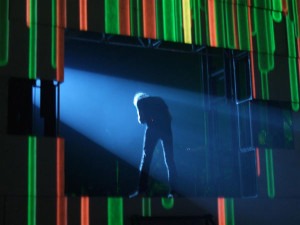 At around 4:30 I went to the box office to get my V.I.P stuff laminate, wristband and special tour ticket. I went straight to the rear entrance of the venue and my buddy said the band just drove throuh but not Roger. 10 minutes later Here comes Mr. Roger Waters. It went exactly as described here by others about 15 people were there and Roger signed for everyone. I was caught of gaurd with no pen and nothing to sign. But then I remembered the ticket I just got. I had all kinds of stuff in my hands including a soda. As my turn came I was struggling to get the ticket out of the plastic it came in and holding the soda in between my arm and body. As I went to hand him my ticket I spilled soda all over myself. which Roger said "opps good thing your wearing black"! I then said I had made this armband for him and he actually took 2 and said "very nice thank you"!
I walked away like I had just seen a UFO. I relise now that I was to floored or afraid or star struck (which I dont get) to actually look at him for more than 2 seconds at a time. The thing is that I never have wanted to meet anyone with this one exception and it happened. I was on top of the world and had not even seen the show yet.
The show was amazing!!! It is the greatest concert I have ever seen and probobly ever will. The new concept IMO is perfect. I have never seen the original and always loved the PINK narrative but this, this was Universal, had no boundries and really works so well. I cried just like the rest of you during Vera and Bring the Boys. I mean cried. That in itself is a testament to the great genius and character of Roger Waters.
For those who have said I wish he would just do it like the original or I dont like the new concept you should jog on. We should all be gratefull that we get to see Roger and the Wall in any form. but I am forever gratefull to Roger for taking the time to care about us and them enough to make the statement he has made with this show.
Which is why I wanted to meet him for the longest time. Because to me he is more than a rock star. He is a hero to me because he cares enough to try and really make a change.
I will have to post pics later of the setup and my signed ticket. I am starting to make plans already for European leg.
November 16th, 2010 is a day that will forever be etched in my brain and holds the top ranking of most exciting and one of the greatest days of my life.
Thanks to AFG and everone here for the great inside info and build up to that day.
Review thanks to lafouc28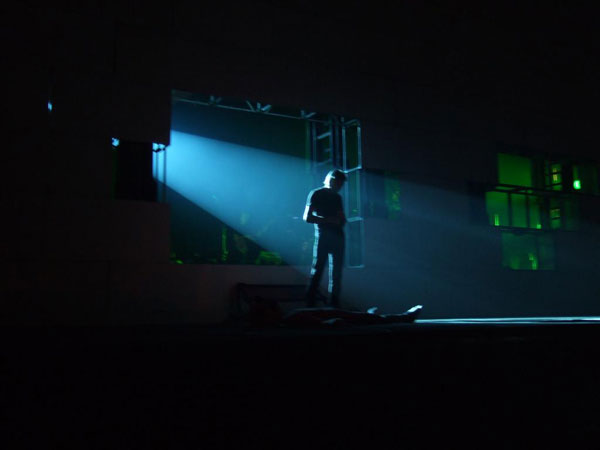 ---
Videos from this concert have been removed as Pink Floyd claim copyright on them
---
St. Petersburg Times Review
Thanks to Elliot Tayman
---