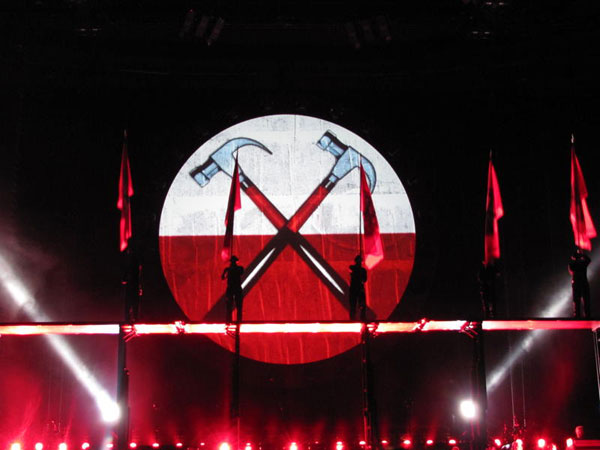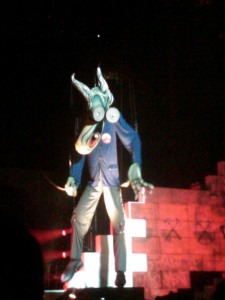 This show was a dream come true for me, and it exceeded even my wildest dreams in terms of delivering what I came to see.
I'm 37 years old and one of the first songs I remember from my childhood is "Another Brick in the Wall," though I wouldn't say I really became a true fan until my middle school years in the mid to late '80s. Previous to this I saw Pink Floyd back in 1994 at Foxboro, and I saw Roger last time around on the DSOTM tour. Both of these count among my best live music experiences, and I have had many great ones. However, I have to say that seeing "The Wall" live last night was something I never actually thought I'd get to do, and I'm not sure that any these past performances could compare to the intensity of this.
My wife and I had great seats, pretty much dead center on the floor in section 5 of Philips Arena. I think it was the best spot in the house because any closer and I wouldn't have been able to take in some of the stunning visuals and pyrotechnics.
Roger has amazing energy for his age, and his performance on a personal level was vibrant and impressive to say the least. I was worried about how all the Gilmour parts would come out, and though the vocalist handling Dave's part did a commendable job, it was really the lead guitarist that outdid himself. The solo parts during "Comfortably Numb" were nothing short of transcendent, and I was absolutely blown away.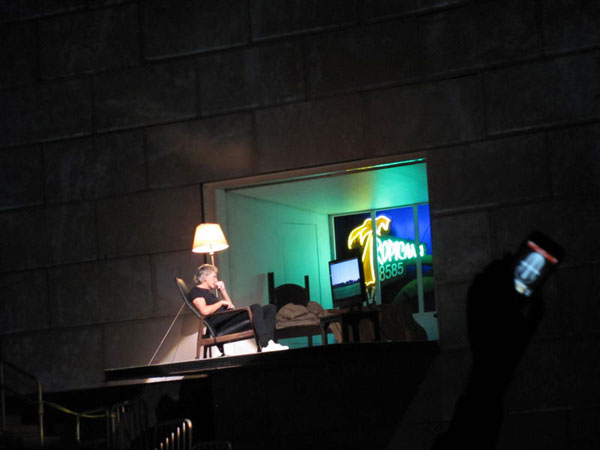 Except for a couple small, barely noticeable rough patches, the band was spot on, and I had chills running through my spine, and tears in my eyes all night long. This was such a special night for me, as someone who has identified with this album for over 20 years, and I'm glad that I can say that there was no letdown whatsoever.
At the end we were showered with red confetti cut in various rreligious and logoistic shapes, and Roger came out with the ensemble and talked about the irony of this tour. That is that when he wrote "The Wall" 30+ years ago, it was in response to the alienation he felt from his fans, even at times bordering on disdain and disgust. Now "The Wall" is something that has brought him closer to his fans, and he said that it's amazing how all of those feelings of alienation have turned into feelings of goodwill and gratitude.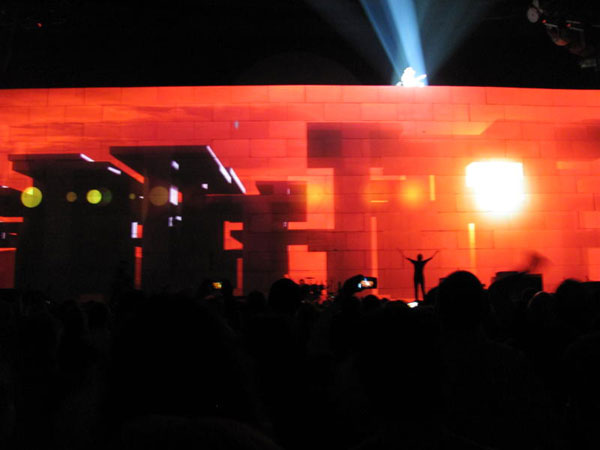 I have to say that for hours after leaving the show I was on a tremendous high, not fueled by drugs, but by sheer admiration and awe. I have found that most things in life that we get excited about end up being disappointing to some degree. This is one of those rare occasions where my expectations were sky high, but what I got was ever better than what I imagined. For that, I will always remember and be grateful for this show.
Review & all above pictures thanks to Adam Dean
---
Superb show
Slight problem with our seating. Bought the tickets the day they went on sale in May. The section I booked was center, one section up from the floor. Get to the arena, guard says the tickets are not scanning. Go to box office, guy comes back with new tickets and says something like we've (myself and my brother) have been moved up. Go into the arena, check with the usher, points us to the stairs to take. Find our row (which was in the section we booked) and sit down. Halfway through the first number a group show up and it turns out we're in the wrong section. Check with the usher. We're the last row on the floor, left of the soundboard.
It didn't ruin the show but I would have preferred to sit in the section that I paid for, instead of looking over a sea of heads, hands, and cellphones. And everyone stood throughout the entire show, unlike DSOTM show where they only stood during the first number, applause, and encore.
By the time we got to our seats the band was halfway through Another Brick 1.
The show was great. During the "Mother" introduction Roger says, "There's a lad up in front who thinks I'm on mushrooms. I'm not. I promise."
Slight glitch during Young Lust. David plays the first guitar note and then the sound dropped. We could faintly hear the sound from the stage but no sound was coming from the P.A.
The problem was fixed just as the drums came in.
One annoyance: the 8 foot tall guy who "WHOOOO" all night long. Hurt me ears more than the music did. Real annoying during the Trial as he was singing along and serenading with his beer bottles. Not too bad since the music drowned him out but I could still see him out of the corner of my eye.
Review thanks to Echoes In Pompeii
---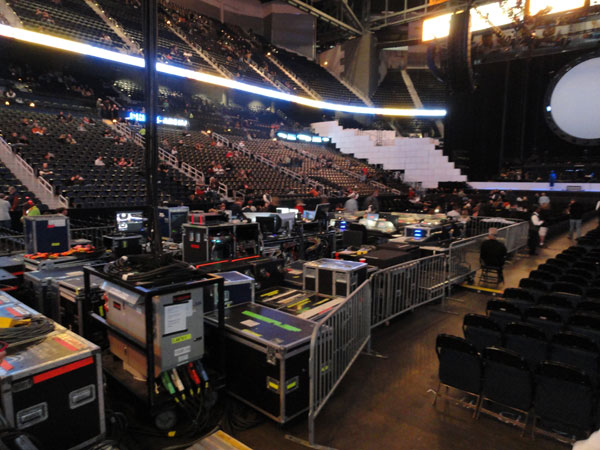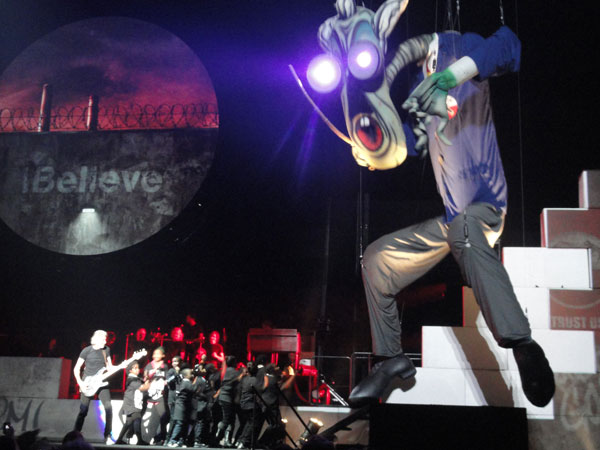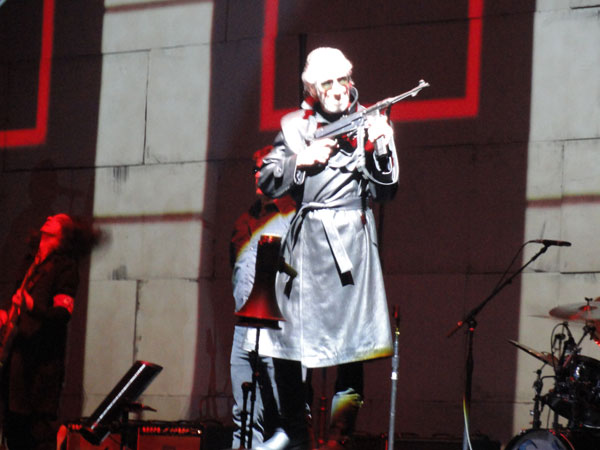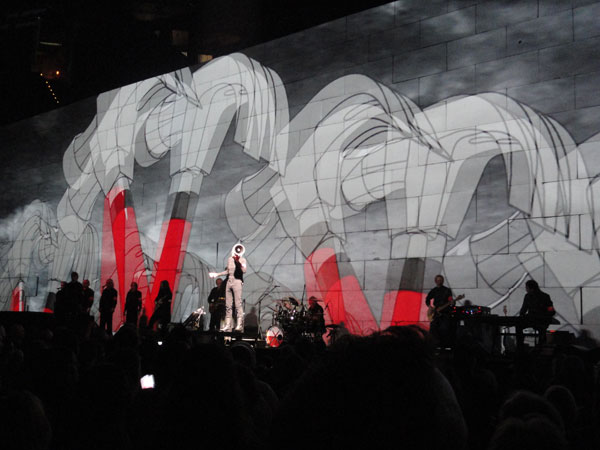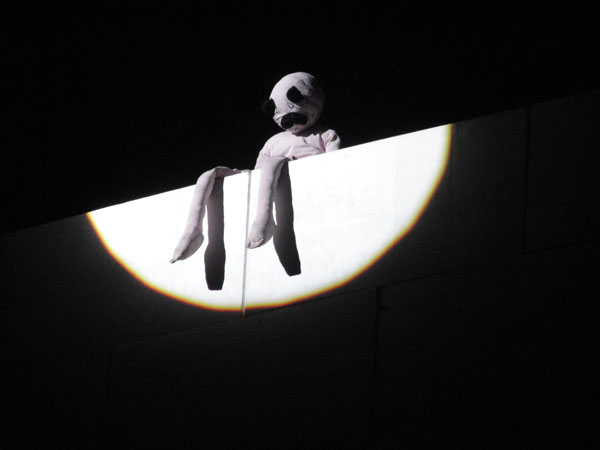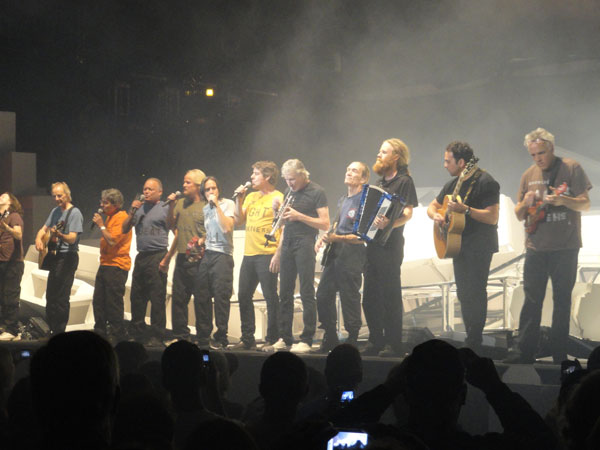 Amazing Gig
It took a huge effort to get to the Phillips Arena , after a long trip from Brazil, however, it was worth every cent. As I'm not sure if the tour will reach South America, I had to go to it.
The band, as always, was perfect and small problems here and there were immediately forgotten. It's impossible to describe in words what "The Wall Live 2010" is. You have to see it to believe it. Roger Waters is still rocking and he seems to be like wine: the older the better. Thank you Rog for giving my life a sense.
Review & above images thanks to Edison Vaz Melonio
---
Thanks to unionturf
---
The band sounded a touch off to me tonight to be honest, just the timing of their entries into the first couple of songs, wasn't real bad and maybe it was because I'd just seen a couple of amazing shows a few days before in Ft Lauderdale and Tampa who knows. I could see Jim and Jaime's face during In The Flesh and they were completely blown away, that made me happy! I didn't take many picture at this show but the ones I did came out kinda cool.
Jim and Jaime came back to stand with me for a few tracks as the guy in front of them was apparently all over the place and drunk before the show had even started. How can people pay $250+ for a ticket and go to the show like that! Do they even remember the show the next day? OK I know I did once in New York in 2007 but that was a mistake,lol
At intermission Jim, Jaime and I chatted about the show, Amin came over to see us and said the same as me, he thought it was good but the band were just off slightly. Dave's guitar went down in what was probably one of the worst places it could have done for him, right at the opening riffs of Young Lust! It was only down for 10 seconds or so though.
Everyone stayed seated for Hey You, and then started to stand up during Is There Anybody Out There, by the time the hotel room came down for Nobody Home the whole place was standing up again.
Roger now has a holder type thing for his machine gun, Robbie doesn't have to hold it and hand it to him, Roger just picks it up and places it back in the holder to his right. A few shows ago Roger started rolling his R's at the beginning of Run Like Hell, he did this again tonight "this is Rrrrrrrun Like Hell" he said. Once again I noticed there was mayhem on the floor when Roger threw his armband into the audience and I then saw someone hold it up in the air triumphantly pronouncing they had it!
The post it note type projection made another appearance and Roger shot it down as he had done a couple of nights before in Tampa.
Dave K has been suffering from a chest infection for the last few days but you would never know it to watch him play he doesn't show any signs of faltering at all. They have changed a little guitar bit during Run Like Hell, kinda hard to describe but Dave has a little bit of a riff he now does on his own half way through.
The wall came down pretty good tonight.
I'd rate the show as probably an 8 out of 10 however to anyone that hadn't seen the show before the only mistake and problem they would have noticed was Dave's guitar going down during Young Lust.
Review thanks to Simon Wimpenny
---
---
Videos from this concert have been removed as Pink Floyd claim copyright on them