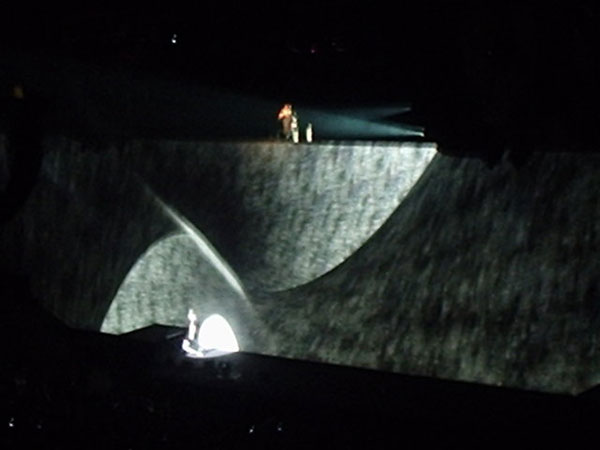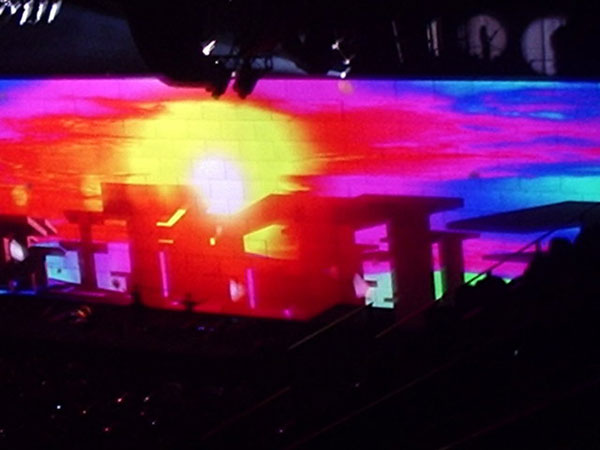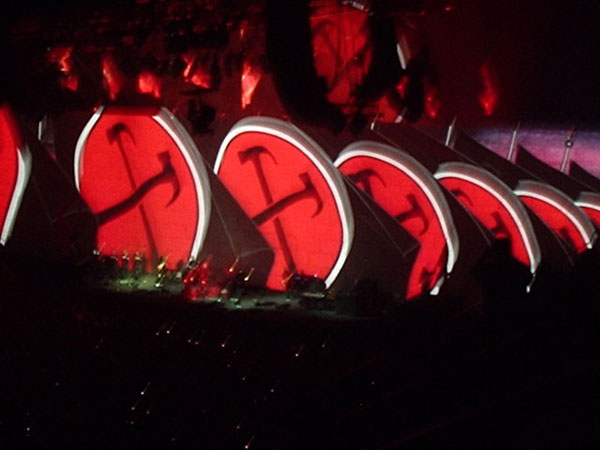 ---
Came back from the Oakland, CA show not too long ago. Went with my dad using tickets I won off a radio station. Gosh..that show met my expectations and then some.
Some quick thoughts: If you're a Floyd fan, you owe it to yourself to go to this if you can. It was absolutely fantastic. Waters was in perfect form, as was the band. Then of course there was the wall and all the crazy projections/props. It was an experience, to say the least. On that note, I found myself getting choked up a few times by it. The kids coming out to Another Brick in the Wall Pt. 2 and the Vera/Bring the Boys Back Home bit just got to me.
Well done, Roger, well done.
Review & above images thanks to dank
---
Wall to Wall: A short essay pt 5 Part 1 – Chicago and Part 2 – Kansas  and Part 3 –  Las Vegas and  Part 4 – Los Angeles  and Part 6 – San Jose and Part 7 – Anaheim (13th) and Part 8 – Anaheim (14th)
Some random thoughts and impressions.
As dismal and decrepit as the area around the Oracle arena in Oakland is with only fast food restaurants, car dealerships, and gas stations, etc., we made up for it by providing our own good vibe for the night. It was around 4:00 in the afternoon and I hadn't hear from anyone yet, so I went to the AMPM mini-mart for a 6 pack of beer and returned to the hotel. I thought I'd be having my own pre-show meet and greet with only me, myself, and I, and that's when the phone rang from Matt who said they just arrived at the hotel. Maria, Simon and Kami were also there, and after google-mapping out the area to see if there was anywhere decent to go to, we decided to hang in the room and have our mini pre-party there.
After several beers, we made our way to the arena which was a short walk, and decided to get in a bit early. Matt wanted pics with the homeless guy, and Maria wanted to meet with DaveK. Sure enough, after milling about for a while, everyone got their wishes. Matt walked around with the homeless guy, Maria got to meet DaveK, and I stayed at my 11th row position taking in all the pre-show vibe attempting to take pics of them all (and everything else) from across the section. I was talking with one of the young security guys who was a Floyd fan and was happy to be seeing the show while he was getting paid for it….defnitely one of the perks of the job. After he left, someone next to me sparked up a joint before the show started, and some other huge mindless security guy came up and said "this is your first warning and it will be your last"! Lol…what an asshole! I couldn't help but laugh at him, and told him he's going to be up in his ears in smoke once the light go down. I'm not sure he found that funny, as he stormed off prowling around looking for more victims of his power trip. So the lights went down, and sure enough there was a giant cloud of smoke coming not only from the explosions on stage, but everywhere you looked…honestly, it would have been hard to find anyone who was NOT smoking weed.
The show itself was kick ass of course, and as I've mentioned before there is always something new and unique to be experienced. Little nuances here and there that somehow went under the radar, and now stand out loud and clear. One particular part that never fails to shake me is during Don't Leave Me Now, when the tears of paint start dripping from the woman's eyes and keep cascading until her face and then the entire Wall is covered in dripping tears. As a painter and visual artist myself, I realize and understand why this show continues to blow my mind aside form the music itself. The multi-media over-the-top production is a spectacle that covers everything possible in the arts. There's animation, film, sculpture, painting, installation, theatrics, and performance art that is matched by amazing music, and all is combined into a sensory overload sensation that is hard to describe with mere words. It's something that needs to be witnessed in person, with all of the elements bombarding, caressing, and saturating the mind and the soul to the point that I always feel physically and mentally exhausted when it comes to an end. As my friend Mike said the next day after the Vegas show: "I'm not recovering from any hangover…I'm recovering from witnessing The Wall".
Tonight's the final night at Staples Center, and I plan on meeting up with my sister and 16 year old niece. My sister is definitely a fan of everything Pink Floyd and was at one of the original Wall shows with us, and while she knows somewhat what to expect, I know she will be totally floored when she see's the show tonight….she really has no idea what lies in store for her. As far as my niece, she's familiar with Another Brick pt II and that's probably about it. But she's at a prime age to have this experience embedded into her psyche, and as a lover of art, music, theater, and musicals, this will be a show that she will certainly never forget, and one that will always be looked back upon as perhaps the greatest concert she has ever attended.
Several more shows to see out here in the West, culminating with the grand finale at Anaheim on December 14th. Until then, I'm still in the process of processing all of these shows I've seen, and will continue to write more random thoughts and impressions whenever they come to me. Stay tuned…
Review thanks to Eric "DiamondHead"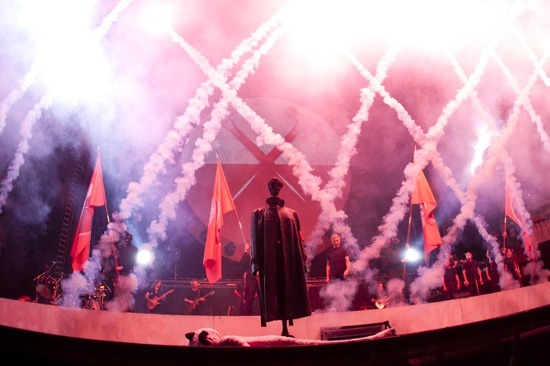 The above picture is one of a number that accompany a great review at sfweekly
Videos from this concert have been removed as Pink Floyd claim copyright on them
---