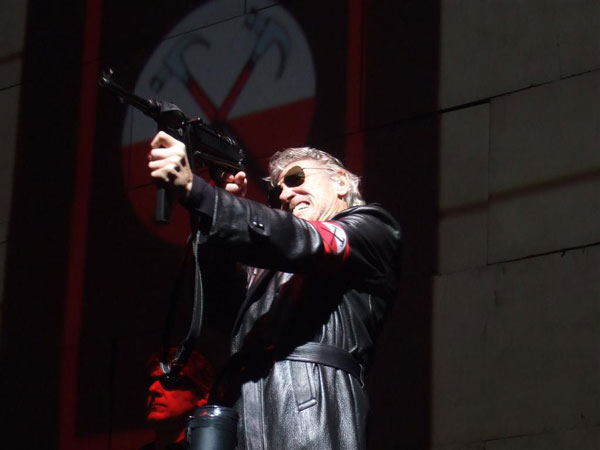 After picking up tickets, getting into the venue we all headed down to take our seats. Lori and Ralph were in the rear section of the hall about 10 rows up from the floor, Greg and Mike were 7th row right and Mari and Jack were 3rd row stage left on the block off the floor.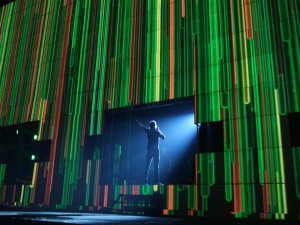 A good friend of mine Hassan was also at tonight's show and we had been texting for the last couple of hours, he was running late for the meet up and even later for the show! He texted me at 8pm that he was just getting in the venue, I asked him where his seats were and lo and behold they were right next to my friend Gary and his wife Debbie where I was standing!! Amazing how these things happen! Gary and Hassan had never met but had posted on the Roger Waters message board I've run for the last few years.
With 5 minutes to go I walked over to see Maria and Jack before the show, they were amazed at how good their seats were and couldn't wait for the Nobody Home part of the show where Roger comes down in the hotel room set, it would be like Roger was performing just for them they were that close!
I was standing on the rail tonight next to Hassan and his brother and Gary and Debbie, I also said I would have a look round on the floor to see if there were any vacant seats during the first set that Ralph and Lori were able to use for the second set.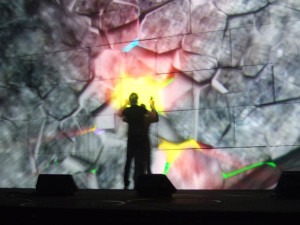 The instant that In The Flesh started I thought holy crap this is loud!! It was unbelievably loud – the bass was going right through my chest within the first few notes and that wasn't the loudest part of the show by far! It was fantastic to be on the rail with such great friends. I had spoke to Gary earlier about watching out for the plane crash at the end of ITF and tapped Gary on the shoulder just as a reminder. It's amazing how many people don't see this happen till its too late and I like the fact that when I turn around to watch the plane say 15 seconds before it's due to crash that a lot of people around me wonder what I'm looking at and turn around to see, it's only then that they see the plane and watch it as it comes down the wire and crashes into the wall.
The kids during Another Brick were fantastic, one came out right in front of Roger playing air guitar and really went for it, Roger was laughing to himself as he watched her writhe around on the floor mimicking the guitar actions of Dave as he played his solo. Two other kids right in front of me came out and did their own dance routine as did two other further down the line. At the first few shows I thought this show dance thing was a bit cheesy but I'm beginning to like this part of the show more and more.
It was great to see Hassan and Gary's face during the first half, it was pure delight, it was the first time they had seen the show and I know Gary had stayed away from any spoilers that had been put online and it was so paying off doing that now, he was having the time of his life.
There was so much energy coming off the stage tonight, it was a combination of the people I was with, the loudness of the show, the performance and the position I was in. It was turning out to be THE best show I've seen on the tour so far and I know I say this after every show but this was seriously the best so far!
I had noticed a couple of seats free dead centre second row, I kept an eye on these the whole first set and no one came and sat in them at all. I made a mental note and carried on watching and enjoying the show.
So at intermission I went up to find Ralph and Lori and bring them down to the two empty seats on the floor. They were outside smoking a cigarette and told me how bad the crowd were around them, they were not enjoying the show at all, everyone around them were sat there with their arms folded and just not into the show much at all. I knew when they got down to the floor things would be totally different.
Once sat in their seats another girl had spotted the empty 3rd seat next to Ralph and Lori and made her way there too. She was from Belgium, had seen the show in Washington DC and had brought a picture of Dave K and herself that she was hoping to get signed by Dave after the show.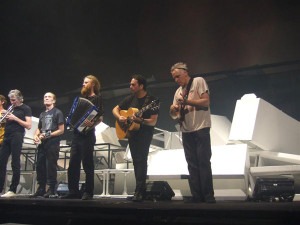 Everyone sat down as usual for Hey You and then started to stand during Is There Anybody Out There. By the time to hotel room set had finished coming down from the wall and Roger was sat in his chair the whole floor were back to standing up and cheering.
Hassan and Amin were on the rail again with Gary and Debbie next to them and me stood slight behind them, again it was fantastic to see the second half of the show with us all together in one place. Only thing that could have made it better was if Greg and Mike were there along with Maria and Jack but we could see the four of them from where we were.
I know when I saw the Dark Side shows with Ralph that Bring The Boys Back Home is his favourite song, seeing this live on the Dark Side tour also gave it another dimension for me, I've never seen something as powerfully performed as it was them. Don't get me wrong, it's still good now but I think the Dark Side version was a lot more powerful. I looked over at Ralph as I knew he would be enjoying it so much and seeing how much he was enjoying it and getting into it nearly brought a tear to my eye!!
Roger was in fine form for the In The Flesh track and playing the fascist character just great tonight. The machine gun was on hand when he needed it along with the gunfire sounds which had been missing at a couple of previous shows.
I tried to position myself on the front rail for when Roger takes off his armband but he walked a bit further across the stage than he normally does and threw it a touch further into the crowd tonight so someone in the second or third row got to take it home tonight!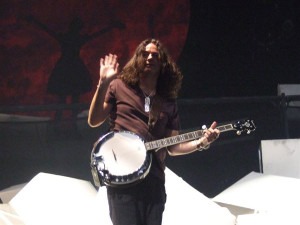 The security were really strict on moving people back in preparation for the wall falling at the end of the show. Lots of people who didn't know about the wall falling down couldn't understand what was going on, they had been lent on the rail all night and then all of a sudden security was telling them to move back and sit down!
The wall got a great wobble on tonight and must have wobbled for a good 30 seconds before the first brick fell from the centre on the top row. The first 4 rows fells forward which was great and we all felt the wall wind as if fell past us all, the next 5 or 6 rows all fell backwards and that left only 2 or 3 rows to fall forward. To be honest I think the crew have really got the wall fall down to an art now and it's way more controlled than it was in the first 10 to 15 shows. It's a shame but I guess that's what happens.
I get a bit embarrassed now when I'm stood along the rail for outside The Wall as usually Jon C, Harry, Marky, Robbie, Snowy and Dave all spot me stood there and laugh and smile however tonight as they all walked past each one of them pointed at me and smiled! At the last show Dave stood in front and posed with his banjo but I wasn't quick enough to take a pic, tonight I got him as he was waving though and laughed as he did.
Review & above images thanks to Simon Wimpenny
---
Great show tonight in Ft. Lauderdale. Had main floor seats, so my friend and I had a look at the soundboard. I was commenting on how the projections on the Wall seem to be activated when each brick is put into place and maybe one of the projection guys clicks it on manually, etc. At this point the sound guy turned and gave me the stink eye as if to say, "Now I've heard everything." lol.
Just before the start of the show I saw a guy arguing with the usher about where he could pick up his VIP package. Good luck with that one pal.
The show is now tighter, more relaxed, and better sounding than those that I saw in Chicago. Great audience tonight too. They knew when to participate and when to stand there with their mouths gaping. Aside from the teenage girl next to me that belted out most of the lyrics, but she wasn't much of a bother.
The ABITW kids were cool as usual. Two of them were having a great time air guitaring. Roger really seems to be hitting his stride as the ringmaster as well. His rant before RLH has more venom to it and just before "firing" the machine gun at the audience he was making neck slashing motions.
The trumpet during OTW gave him trouble again and he said, "I knew I should have taken up the harmonica!"
Dave Kilminster's guitar solo during CN was a good, loud ear shredder, but that's what a proper face melter is all about, yes? A great evening and am looking forward to tomorrow's show which is the last one I can attend on this leg.
Review thanks to cobray
---