These pictures were taken at Roger's press conference in Paris on 18 Oct. With many thanks to Nicolas Barbet
OFFICIAL PRESS STATEMENT In The Flesh World Tour – 2002
Date: Thu, 18 Oct 2001 19:25:24 -0400 (EDT) From: Columbia.Records@columbiarecords.com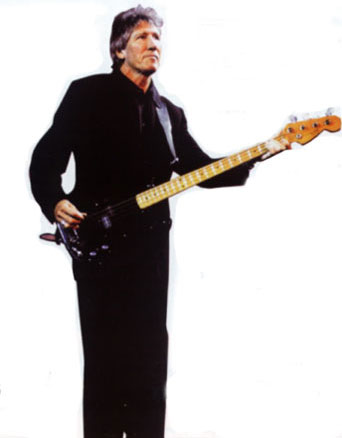 Pink Floyd founder Roger Waters is bringing his historic "In The Flesh" show to the UK for his first homeland concerts since his "Radio K.A.O.S." performance at London's Wembley Arena in 1987. In addition to marking his first UK performances in 15 years, Waters' "In The Flesh" World Tour 2002 will be the rock legend's first European solo shows since 1984's brief "The Pros & Cons Of Hitchhiking" sojourn.
Prior to his 1999-2000 North American presentations of "In The Flesh," Waters sole major performance of the 1990's was the legendary 1990 production of "The Wall" in Berlin, an historic event which took place in front of more than 350,000 people at the site of the then- newly-destroyed Berlin Wall. "The Wall" attracted a live television audience of more than 100 million viewers.
The summers of 1999 and 2000 found Roger Waters and his newly-created "In The Flesh" retrospective shows selling out 50 North American concerts. Demand for tickets was so intense that many concert venues were changed mid-tour and upgraded to larger capacity arenas and amphitheaters.
The popular demand for seats was matched by critical acclaim for the shows. Music writers praised the power of Waters' performances, the timelessness of his music, the show's intimate production values and seamless structure. The San Jose Mercury News reported that the show "was rock as art, with the kind of concern for sound rarely seen today." And the Fort Worth Star Telegram raved that "his long, luscious two-set show made up mainly of Floyd classics was on a more human scale… this show felt like a celebration." The Los Angeles Times was equally enthusiastic and wrote, "the show illustrated the extent to which Waters operatic rock has influenced generations."
"In The Flesh" presents, for the first time, a comprehensive overview of Waters' music including: early Pink Floyd material;
classic compositions from his masterpieces "The Wall" and "Dark Side Of The Moon"; less well-known pieces from "Animals," "Wish You Were Here," and "The Final Cut"; songs from the solo tours de force "Amused To Death" and "The Pros and Cons of Hitch Hiking"; and the debut of a new song "Each Small Candle."
The "In The Flesh" shows utilize elaborate large-scale video projections, theatrical set-pieces, and a dazzling array of special effects to underscore and accentuate the power of the music which is delivered via a state-of-the-art 360° quadraphonic sound system immersing the audience in a 3-dimensional hyperworld.
Waters is accompanied by his hand-picked group of world-class musicians: Andy Fairweather-Low (guitar), Snowy White (guitar), Doyle Bramhall II (guitar and vocals), Graham Broad (drums), Jon Carin (keyboards), Andy Wallace (keyboards), Norbert Stachel (saxophone), Katie Kissoon (vocals), Susannah Melvoin (vocals), and PP Arnold (vocals).
Roger Waters co-founded the groundbreaking Pink Floyd with Syd Barrett in 1966 and became the group's sonic architect upon Barrett's departure, creating such undeniable classics as "Dark Side Of The Moon" (which spent nearly 15 years on the Billboard 200 album chart), "The Wall" (which has been certified 23x RIAA platinum), "Animals," "Wish You Were Here," and "Final Cut." Following "Final Cut," Roger Waters left Pink Floyd.
His first full-length solo album, "The Pros and Cons of Hitchhiking," was released in April 1984, to great critical and popular success, generating his first solo tour. June 1987's "Radio K.A.O.S." continued the path of solo success, bringing Roger back to the stage. His last full-length solo album, the moody and ironic "Amused To Death," considered by many to be a comparable achievement to "Dark Side Of The Moon" or "The Wall," was released in August 1992.
Waters has been working on "Ca Ira" (pronounced "sa-ira"), an opera in English and French, as well as a new rock album to be released in 2002.
---
The original announcement on A Fleeting Glimpse (Early 2001) Hot rumours are saying that Roger Waters will tour Australia, Japan/Asia and South Africa next year. (Possibly as early as March). The 'Visa Preferred Seating' people started advertising on their web site that Roger would be touring Australia 'soon'. A friend of A Fleeting Glimpse decided to follow this up and has had it confirmed by 2 sources that this is going to happen. One of the sources is the promoter who arranged for the tickets for our correspondent to see In The Flesh 2000 in California. Yet another source is stating that Roger will be in Austria in June 2002.
---
Here's what we reported some weeks prior to the tour dates being announced! It's understood that the 2002 tour may commence in South Africa, probably commencing in February. It's then expected that he will head for South America & possibly include Mexico, probably around March. He is then expected to tour Australia and then on to Japan, probably in April and then head to Europe in May.
---
Russian article about Roger & Piink Floyd supplied by Dmitry