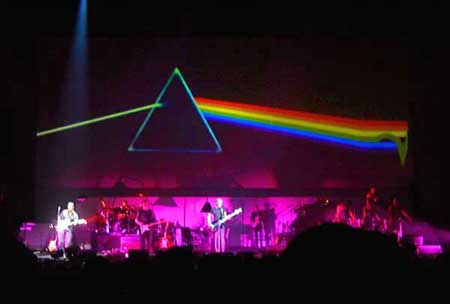 On the afternoon I went to "Eye of the storm", exhibition of the graphics by Storm Thorgerson and enjoyed it very much. Then we headed for the concert venue. I thought audience was better in reaction than the 1st night but Roger was not in performance.I think that Roger's performance of 1st night was better than 2nd night. The encore was Flickering Flame. Great show but I preferred the 1st night. I should write about the other members' performance as well. Harry made some mistakes on both nights but did a nice job. Chester was different guitar player from Doyle. But Chester did a great job on vocal and lead guitar, I didn't disappointed in him. Linda sang very well. Norbert played Sax on Shine On 1-5, Money and played Ewi on Southampton Dock, Shine On 6-9 and Flickering Flame.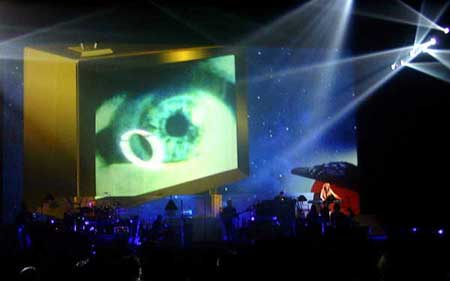 Those new members are all talented musicians. As always, Andy's solo on Money was great and I loved it! But Osaka audience's reaction was small. I don't know why. It was pity! Other members did a great job, too. I loved Graham's drumming more than I did before. He's really a great drummer.
I heard that Roger gave his autographs for some fans, but I was not there. I lost a chance to meet Roger, it was a sad thing. But this was not the last chance to meet Roger. Next day, I went back to my home in Tokyo.
Thanks to Hideshige Harada
---
All around music sounds in my ears. Many songs Roger sing, brick in wall and many Pink Floyd. At back was problem with sound, speaker no good? All play good really.
Thanks Yasuharu Dando
---
In The Flesh
The Happiest Days Of Our Lives
Another Brick In The Wall, Part 2
Mother
Get Your Filthy Hands Off My Desert
Southampton Dock
Pigs On The Wing, Part 1
Dogs
Shine On You Crazy Diamond, Parts 1-5
Welcome To The Machine
Wish You Were Here
Shine On You Crazy Diamond, Parts 6-9 INTERVAL
Set The Controls For The Heart Of The Sun
Breathe (In The Air)
Time
Money
The Pros And Cons Of Hitch Hiking, Part 11
(5:06 AM – Every Stranger's Eyes)
Perfect Sense (Parts I and II)
The Bravery Of Being Out Of Range
It's A Miracle
Amused To Death
Brain Damage
Eclipse
Comfortably Numb
ENCORE
Flickering Flame
---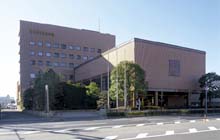 It is only 5 minute from Takamatsu station by taxi. Wonderful facilities like a multi-use hall, conference rooms, banquets, wedding reception halls, and restaurants are there. It is also known for the rare hall with a waterfall. The waterfall pleases visitors and makes them feel peaceful..