Brain Damage/Eclipse (Real Video Zip file)
Tokyo International Forum is a new and beautiful venue. Its capacity is about 5,000. I like this venue. I was at 26th row, middle. So I experienced the quadrophonic sound! (other nights, I didn't have my seat in the center) Fantastic!! Lighting was also fantastic. I want to let you know the difference from 2000 tour. Another Brick 2 finished after the 1st guitar solo by Chester. Wish You Were Here sequence was expanded, just like the album Shine On was divided into 2 parts. Wish You Were Here faded out but segued into Shine On 6-9. Acoustic guitar part of Dogs was played by Andy, and he sang many backup vocals. 1st guitar solo of Dogs was played by Snowy. Roger did a great performance for us Tokyo audience.
I think that this is one of the best shows. Reaction from audience was much better and hotter than Osaka audience. Set list was the same and Flickering Flame was for encore. I could listen to this song for the third time. Now I hoped Roger play Each Small Candle too. I always bring a lighter for this! But of course, I LOVE Flickering Flame. Anyway, I wanted to listen both songs for encore! Now I got tired a little.
Tomorrow is off for the band before 2 more shows.
Thanks to Hideshige Harada
---
In The Flesh
The Happiest Days Of Our Lives
Another Brick In The Wall, Part 2
Mother
Get Your Filthy Hands Off My Desert
Southampton Dock
Pigs On The Wing, Part 1
Dogs
Shine On You Crazy Diamond, Parts 1-5
Welcome To The Machine
Wish You Were Here
Shine On You Crazy Diamond, Parts 6-9 INTERVAL
Set The Controls For The Heart Of The Sun
Breathe (In The Air)
Time
Money
The Pros And Cons Of Hitch Hiking, Part 11
(5:06 AM – Every Stranger's Eyes)
Perfect Sense (Parts I and II)
The Bravery Of Being Out Of Range
It's A Miracle
Amused To Death
Brain Damage
Eclipse
Comfortably Numb
ENCORE
Flickering Flame
The Tokyo International Forum was built on the former site of the TMG in Marunouchi, a major business hub of Tokyo, and symbolizes a new area for the internationalization of Tokyo.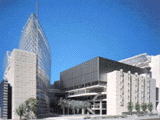 The Forum is Japan's largest convention facility and is equipped with a variety of halls, including 1,000 and 5,000 seat conference rooms, an exhibition space, and an information center –all of which have the most innovative equipment and technology. The Forum opened in 1997