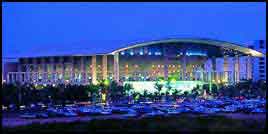 Roger Waters was at his dark and gloomy best last night in an electric show that proved Bangkok to be not just another "Brick in the Wall". Waters, appearing on stage at Impact Arena dressed in a short-sleeved black shirt and black pants, played a three-hour set of Floyd hits and solo material before a wildly appreciative near-capacity crowd.
Backed by an 11-piece band that included well-travelled session musician Andy Fairweather Low and a trio of female vocalists, Waters played a first set that showcased some of his best work with Pink Floyd.
Beginning with 1979's "The Wall", the man dubbed the "creative genius" of Pink Floyd appeared on a platform above the rest of his band as the Dictator character from "In The Flesh", which is also the title of his show.
The opening number was followed by "Another Brick In The Wall", "Mother", and "Southampton Dock".
The show featured an array of sound effects that ranged from barking dogs to cruise missiles being fired.
After a medley from "Animals", Waters – whose voice was occasionally drowned out – moved into "Wish You Were Here", a poignant tribute to Pink Floyd founder Syd Barrett, who left the band in the late '60s after subsiding into mental illness.
---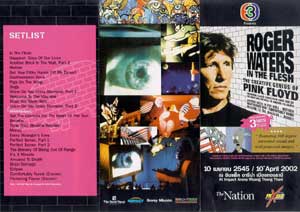 In The Flesh
The Happiest Days Of Our Lives
Another Brick In The Wall, Part 2
Mother
Get Your Filthy Hands Off My Desert
Southampton Dock
Pigs On The Wing, Part 1
Dogs
Shine On You Crazy Diamond, Parts 1-5
Welcome To The Machine
Wish You Were Here
Shine On You Crazy Diamond, Parts 6-9 INTERVAL
Set The Controls For The Heart Of The Sun
Breathe (In The Air)
Time


Money
The Pros And Cons Of Hitch Hiking, Part 11
(5:06 AM – Every Stranger's Eyes)
Perfect Sense (Parts I and II)
The Bravery Of Being Out Of Range
It's A Miracle
Amused To Death
Brain Damage
Eclipse
Comfortably Numb
ENCORE
Flickering Flame