All pictures on this page (Except where noted) thanks to Col Turner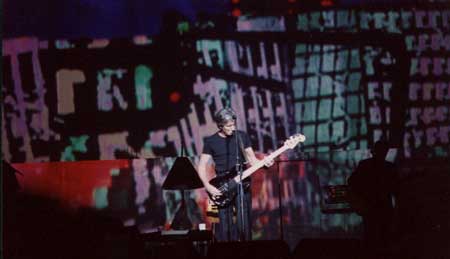 Wish You Were Here  (Real Video Zip file)
Dogs (Real Video Zip file)
Melbourne rehearsal pictures and videos can be found at
Back Stage With Roger Waters
Sydney Morning Herald 8 Apr 2002
(Above) Thanks to Paul Trotman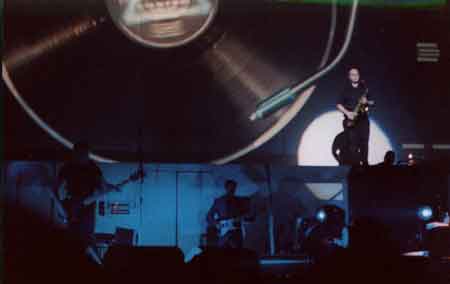 Feeling somewhat apprehensive that I was about to see an expensive Pink Floyd cover band I was greatly disappointed by the opening four songs (from my favourite album no less). They lacked any enthusiasm and passion, very much going through the motions. The crowd and the general vibe picked up during Southampton Dock and on into Dogs. It was almost as if Dogs allowed the band to stretch out and cut loose. Chester Kamen while playing with a fair amount of distortion really carried the song and gave it the right amount of power and aggression. The show I felt really started there and proceeded at a much higher energy level.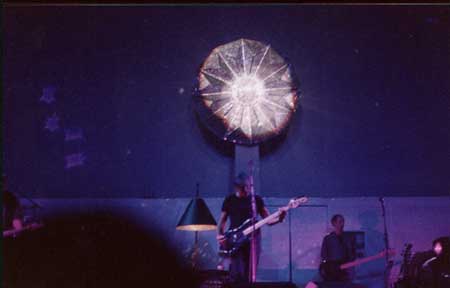 Set the controls was very strong and has aged very well. The songs from Wish you were here got considerable crowd response but I am afraid I am in the camp of "Gilmour or nothing" and these songs in particular showed the considerable talent gap. Poor old Snowy White despite looking like he didn't want to be there had the further embarrassment of having his amp mike pack it in and we spent Shine On part two and three with him picking away in silence. I don't think we missed much. Shine On parts 6-9 surprised me a bit with Chester doing some neat slide and a melodic close in part nine closed a reasonably strong first half. We slipped into 1974 as the ancient mirrored reflector sparkled. I am not sure if there is a dry sense of humour in Waters to bring out such an old prop.
The second set openers were spoiled by audience members walking in front of me returning with their chips and coke (why spend $132 and miss a single minute of the show?). The highlight of the night for me was Every strangers eyes which I have always felt to be Waters' strongest piece post 1983. It was superb with Andy Fairweather Low really adding some emotion in his playing. It was fascinating to see Rogers post Floyd material being played and I thoroughly enjoyed the Amused to death songs played with considerable energy and power. Brain Damage and Eclipse I thought would have been a nice way to end the main set because they are natural closers and leave with you with a dramatic high but unfortunately Comfortably numb was added and after seeing Pink Floyd many times Snowy White and Chester between them could not do what Gilmour can do on a bad night. With the two of them tip toeing on a low wall I really thought I was looking at a cover band trying hard but needing more practice.
Having listened to an MP3 of flickering and not being that impressed I was hoping for each small candle. We got flickering flame but I was very impressed and it closed the night on a gentle up uplifting note.
Having spent 25 years following Pink Floyd I spent half the night feeling awed by the fact that I was in the same room with Roger Waters and felt somewhat melancholy at the end knowing it was probably the last chance to see the man. A memorable evening that will stay with me and remain to savour for a very long time.
Thanks to John McAlister
---
On Monday night I attended "The Greatest Show On Earth" "and then it was over" all too quickly I'm afraid.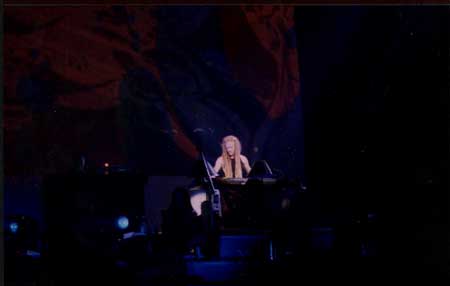 I first learnt of Roger's tour back in October last year. Given that the Australian promoters were painfully languid, it wasn't until February that I secured tickets that were certainly worth the wait – positioned centrally to the stage and only six rows back. At approx. 7:40 PM the lights went down and shadows appeared on the stage. The last one to appear was unmistakably that of Mr. Roger Waters. I began to burst with excitement. Then, at the call of "eins, zwei, drei, der vierte…." it all began. The almost capacity crowd were then treated to close to three hours of musical, lyrical and theatrical magic that only this man, Roger Waters, can produce.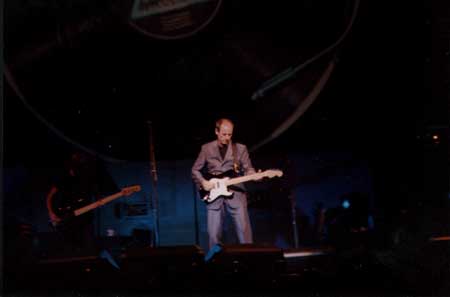 I must pay a few tributes. Firstly, I'm a huge rap for Chester Kamen, as I thought his performance was a stellar one. Particularly his guitar solos during "Dogs", which were the closest sounding to those from Dave Gilmour I've ever heard. His guitar work on "Shine On Parts 6-9" also rates highly.
Another highlight was PP Arnold's vocals in Perfect Sense Part 1. For me, she certainly lived up to the expectations she set on "Amused to Death" and "In The Flesh" and undoubtedly deserved every accolade the Melbourne crowd thrust her way, of which after her solo I must have been the loudest.
Then when it was time for "It's A Miracle" and "Amused To Death", Roger and the band at this point triggered my emotional switch. The songs in themselves possess very soul-stirring qualities, but when an amazingly talented band, who are lead by the world's premier singer/songwriter and backed by some very moving video footage and tape effects, the feelings I experienced were overwhelming. My entire body was tingling and there was even a tear or two.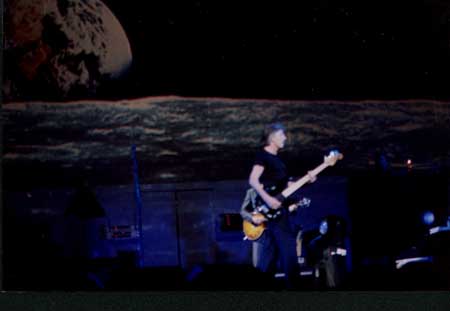 I also thoroughly enjoyed Chester's and Snowy's guitar duo which closed "Comfortably Numb" and also the set. Roger's new song "Flickering Flame" was played as the encore. If it was any indication of the quality of material we fans have to look forward to, this rock legend will continue spoiling us with many a masterpiece yet.
Two other worthy mentions must go to Graham Broad's fantastic work on the drums (particularly the intro to "Time") and Harry Waters inspirational keyboard and synthesiser movements, with "Shine On" being his trump card – I don't know about his Bob Marley hair-do though.
I only have two thumbs down. To the roadie responsible for the volume control on Snowy's guitar amp. It took him from the guitar solo on "Set The Controls" until after the first solo of "Shine On" to turn it up, until which time Snowy was plucking away, with nothing coming out. Wake Up Boys!!!! My second is to the idiot who decided to get out his little red laser light after "Comfortably Numb". Maybe this is the same crazed fan Roger spat on in 1977 in Montreal. I'm sure if Roger had seen it (which thankfully I don't think he did) he wouldn't have hesitated in "clouting that little ingrate into shape".
However, all in all, "Roger Waters In The Flesh 2002" was an experience I shall savour for many years. To anyone in two minds as to whether or not to attend one of Roger's shows, should you decide to, I guarantee more than satisfaction. To those waiting with baited breath and tickets in hand – rapture awaits you.
Finally to Roger himself, my admiration and thanks. For both touring, and for making Melbourne, Australia one of your stops. But, in your words "it was a long long way – but well worth it" THANK YOU!!
Thanks to Mike Burrows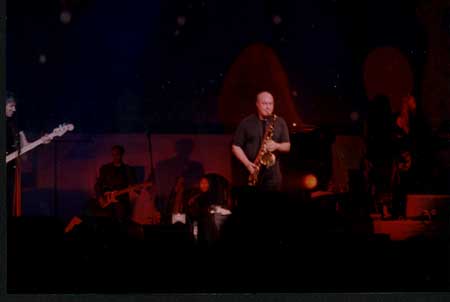 ---