Snippets:
Linda Lewis left the tour and was replaced by Carol Kenyon (From 4 May)
A NEW song was played at the soundcheck in Barcelona! It has the working title 'WOMAN' and runs for around 6 minutes. Roger (and now Graham Broad) have confirmed that Roger will start on a new album. Roger is hoping to have the album finished and released within a year. (14 May 2002)
Nick Mason Played on Set The Controls at Wembley Arena (26th & 27th June) Play below to hear Roger introduce Nick on the 27th.

Well the tour is now over and what an experience it has been! Millions of fans from around the globe have now had a chance to see Roger Waters In The Flesh. For myself, it was an unbelievable thrill to meet Roger and then to discover that he has actually visited the Fleeting Glimpse tour site was just fantastic! I also just want to say a really big thank you to the hundreds of Roger Waters fans who have contributed to this amazing exhibition. Without their support I would not have been able to see this project through. The tour site will remain here as a permanent tribute to Roger and his fans. Col July 2002
---
Col. Thank you for the great place you give to all of us, all the Floydians around the world, here as one. Manuel Mariño
---
The Flickering Flame Campaign
This site was proud to be a founder member of the Flickering Flame Campaign.
At the start of the tour, this site in conjunction with another Roger Waters tour site, launched the Flickering Flame Campaign. The idea was that if you attended one of Roger's concerts, you could wave a poster during Comfortably Numb and hope that Roger would see the posters and play Flickering Flame as the encore. A Fleeting Glimpse's posters were used at Caracas, Osaka, the 2 Sydney shows and in Melbourne, each time Flickering Flame was chosen to be played. Was it as a result of the posters? We will never really know for sure I guess.
At the first Sydney show, Col was a guest of Roger's and went backstage prior to the show and asked Roger to sign one of the posters. He was familiar with A Fleeting Glimpse and aware of the campaign being run from this site.
Flickering Flame became the standard encore for this tour, our objective was reached and the campaign, as far as this site was concerned, ended with a fantastic result.
---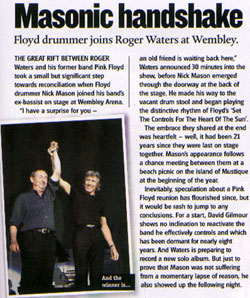 This page is dedicated to the life & spirit of Annie Keenan