Today is the last show, time flies. My seat today was on the 10th row. I wanted to remember everything. The set list was the same as April 30th with Each Small Candle as encore. More people used their lighters than last night. This was a great show, too. There're no major mistakes and Roger didn't forgot lyrics. But I thought the night before was even better, it's just my opinion. Solo part on Money, Andy cut his guitar string and he got angry. All in all 3 Tokyo shows were fantastic and Roger did a great performance for us. And Tokyo audience was much better than Osaka.
Thanks for the great shows, Roger!! His last words were "Thank you so much. See you again. Good night!". Yes, I hope these words are true. Please come back Japan again. After the show we went to the hotel again and waited for them. At last, time had come! Roger and some band members (I can't remember who!) came back from dinner at 11:30pm. In front of Roger I felt the tension and my body was shaking. So I couldn't speak any word except "Thank you for coming to Japan". He smiled and gave his autograph and I could took picture with Roger!!! Yes, my dream came true. At last I could meet Roger on the last day of his Japan tour.
Thanks again Roger! I really hope you come back Japan soon again! Now a week with Roger is over. I feel sad. But when Roger tours again, I will go everywhere! See you Roger!!!
Thanks to Hideshige Harada
The Tokyo International Forum was built on the former site of the TMG in Marunouchi, a major business hub of Tokyo, and symbolizes a new area for the internationalization of Tokyo.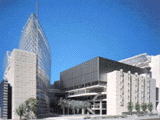 The Forum is Japan's largest convention facility and is equipped with a variety of halls, including 1,000 and 5,000 seat conference rooms, an exhibition space, and an information center –all of which have the most innovative equipment and technology. The Forum opened in 1997.