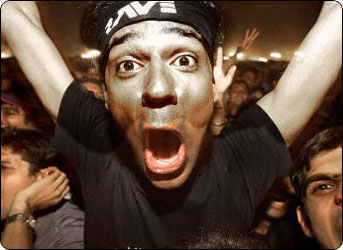 The 42 hour train journey from Delhi to Bangalore in the sultry, Indian summer ceased to matter as soon as he came on stage and starting belting out the magic. Who says India's rock scene doesn't…well…rock? The fans knew every single word, every single chord, every emotion behind the powerful music by heart. For many, it was India's answer to Woodstock as grass and sheer emotions of peace with each other and war with the world did the rounds. Although we missed David Gilmour's magical voice, it was the best one could have hoped for. Floyd lives on…. Parul Sharma
---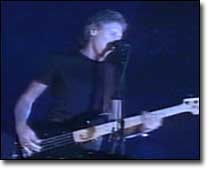 Roger Waters, co-founder of the legendary rock band Pink Floyd had his first ever concert in India. Bangalore was the lucky city where he sang to a sell-out crowd of around 30,000 people.
Waters, 58, formed Pink Floyd with Syd Barrett in 1966. He became the group's sonic architect after Barrett's departure, creating classics such as the Dark Side Of The Moon (which spent nearly 15 years on the Billboard 200 album chart), The Wall (which has been certified 23x RIAA platinum), Animals, Wish You Were Here, and Final Cut.
The concert, part of the Roger Waters — In the Flesh tour included songs written by Waters after he left Pink Floyd in the 1980s. But it were the classic hits from his years with the band that really got the crowd going.
The response to the man and his music has been overwhelming. Bangalore clearly loved the concert of this former Pink Floyd musician, with quadraphonic sound, giant screens and above all the timeless music, this was a musical event that those present will remember for a long time to come.
Thanks to Saleem Aboobacker
---
World renowned legendary star Roger Waters — the creator of Pink Floyd — held his die-hard fans spell bound with his numbers at a three-hour musical show here last night in his first performance in India. It was a rollicking time for his loyal fans, who danced to his Pink Floyd numbers in the extravagant show called `In The Flesh,' performed amidst tight security at the sprawling Palace Grounds.
The show featured, among other numbers, classic songs such as `Another Brick in The Wall,' `Mother, Wish You Were Here', `Shine On You Crazy Diamond' and `Animals'.
Most of the content comprised the hit songs of Pink Floyd rendered by Waters, who had brought 32 tonnes of equipment in his private jet to perform and re-create the magic of Pink Floyd.
The mega concert, with 400,000 watts of sound, virtually brought the 50-feet-high elevated roof down. Pink Floyd audiophiles were treated to signature effects of thundering helicopters, wailing sirens, cash registers, alarm clocks, dogs barking and singing choirs by a 11 piece band of top flight musicians accompanying the legendary musician.
---
Reached the venue at around six. show started at 7.45p.m. A little bit of delay but no one seemed to notice. the quadraphonic sound was great. Couldn't get a good view. I guess the venue should have been bigger. All the enclosures were totally packed. the show lived up to the hype. The whole crowd was singing along for another brick in the wall, brain damage, wish you were here, perfect sense and comfortably numb. in total it was a great show, I would even go as far as saying it was the show of a life time.
Review thanks to Nanda Kishore
A crowd of 30,000 turned out to listen to Roger Waters of the legendary group Pink Floyd belt out hit songs in Bangalore on Saturday, cementing the technology city's reputation as a rock music hub. "This is the first gig we've done in India. You are a fantastic audience," the veteran British rocker told an open-air crowd of roaring teenagers, sari-clad women and forty-something men full of nostalgia.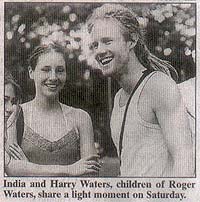 India has not really been on Asia's rock music circuit but a fast growing economy and a software boom have made a big difference, especially for Bangalore, where a rock-starved audience is ready to cheer performers who are past their prime.
Deep Purple, Bryan Adams and the Scorpions have performed in Bangalore in the past year, and the city has won pride of place as a rock centre, bypassing the bigger centres of Delhi, Mumbai, Kolkata and Chennai.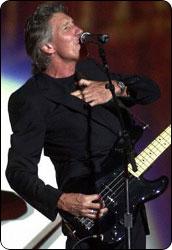 Tickets priced from Rs 900 a head — or about half the average national monthly income — were no deterrent, and fans were ready for Waters at the airport.
Waters, who is over 50, arrived with 30 tonnes of equipment as part of a world tour to promote his In The Flesh album, but much of his three-hour show comprised Pink Floyd hits, including classics like Time and Another Brick In The Wall.
"You can take Roger Waters out of Pink Floyd, but you can't take Pink Floyd out of Waters," the weekly City Reporter quoted a fan as saying.
The world is divided in to two: those who have seen Roger Waters live and those who haven't. The 30,000-odd fans that swarmed Palace Grounds in Bangalore belonged to the former category. An opportunity that brought them shoulder to stage with the rock moguls as they unleashed all of that timeless talent and zestful charisma. In true Pink Floyd style, deafening sound of thundering helicopters, sirens and throaty canine calls cut through the still night to work their magic on an eager crowd.
Such "artificial intoxication" wasn't needed for an audience that was already in high spirits. The fans crowded the streets, packed the pubs and rocked the garden city like never before.
Music was their religion; their common bond. And Roger Waters, co-founder of the groundbreaking Pink Floyd with Syd Barrett in 1966, was the high priest who was to take them on a musical journey to heavenly heights.
The media-shy Waters began the Bangalore show with the second version of Brick in the Wall, immediately taking the euphoric crowd to ecstasy. So what if the enthusiastic fans expected the longer version of the Brick In The Wall. They weren't disappointed at all. Never mind also that the makeshift stage with the bamboo pillars seemed a little out of place. For all through it was pure, unalloyed, blood rushing sound that claimed the crowd.
Perhaps the ultimate experience, as the organizers would say, lay not just in the strength of the much-touted 360-degree quadraphonic sound system and 32 tonnes of equipment, but with the display of sheer musical talent.
All too soon curtains came down with Comfortably numb. But the legion of fans were just in no mood to relent, forcing Waters to come back with Freedom.
Needless to say it was a "once in a life-time" opportunity for the faceless fans. To the avid music buff, it was a dream come true, a moment frozen in time. And for Bangalore, the Roger Waters show sealed its place as India's rock capital.
In the Flesh, Waters' world tour, which began in Cape Town this February, swept over 18 venues in Latin America, Asia and Australia before reaching Bangalore, which is slowly emerging as India's pop capital. In fact the high priest himself reportedly called the city India's rock hub.
Thanks to saleem t aboobacker
---
The concert was scheduled to start at 7.30. My friend and myself got there at about 7.15, we found our way through the crowd to the best available place. We did not wait long for the show to begin – and Roger was up on stage along with the band and started throwing out Pink Floyd numbers one after the other beginning with In the Flesh. Almost all the great ones were there – right from "Set the Controls.." to "Final Cut" – and we all ate everything with a lot of passion. The one I enjoyed the most was "Dogs" in the middle of which Roger and some of the other band members put their guitars down, sat around a table, had a drink or two, and played cards until their turn came up to play again. It was the usual Pink Floyd creativity shining through. There was a break for about 20 minutes, for the band and us to rest a little. And then, they were there again playing tracks from Dark Side of the Moon, Wish you were here, and Amused to Death. Roger introduced the band after they played Brain Damage and Eclipse – and I thought it would be the sad end to the experience. But no, we were still hungry for more and almost the entire audience began to cry "Numb", "Numb", "Numb",…. and Roger obliged. At the end of it, Roger and the band bowed to the audience and went off the stage. We were craving for more shouting "Hey you", "Hey you", "Hey you", … Though the band came back on stage, they did not perform what we asked for – some of us (including me) felt a bit let down as we started walking out of the arena.
But you can't satisfy a hardcore Floydian, can you? I would keep listening to Floyd stuff for my lifetime and still ask for more. I'm sure there are lots more who would do the same too.
It's been about a month since and I did read some of the articles about the concert published on the website (www.pinkfloyds.com) and this may just be one more of the proud Floydians who happened to be there. Nevertheless, it was a great night for me and my friend….and we're proud to say that we were there – Wish you were (t)here too..
Thanks to P Ashok
---
It appears that a special documentary is going to be made about the concert in India that will be aired soon after the show.
It's understood that tickets will be limited to 30,000-35,000 which is the grounds capacity.
The show is being dubbed as "the most awaited event ever" (In India). The press will be allowed to cover the event for the first 2 songs. After that no more photographs and recording will be allowed.
The show will be broadcast live to music store Planet M in Bangalore.
There are also various contests. Planet M has a contest where you can meet and greet Roger Waters if you are a winner in a lucky draw. They will also give a free t-shirt with every purchase above 400 rupees.
Their rivals, Music World have a contest where you can win a guitar autographed by Roger!!
They are giving a free t-shirt with every purchase of 2 CDs from the Roger Waters shelf.
(which incidentally includes Pulse, Momentary Lapse of Reason and Division Bell too!!)
The t-shirts will be different. The Planet M t-shirt is white while the Music World t-shirt is black.
Thanks to Sreedhar
---
It's understood that there will be no promotions, fan meetings or autograph signing sessions Standard rules of no photographs and video cameras. It also seems that if you are a Pink Floyd or Roger Waters fan then you have no chance of being selected for any of the volunteer positions.
---